Have you ever heard about a particular restaurant through multiple friends?  Some say it's great while others steer you away.
This weekend, I visited one such spot and wanted to share my experience with all of you food lovers out there. Normally, I'm not one to go out to birthday dinners because they get overcrowded and I seldom enjoy being on the farthest end of the table.
However, one of my best friends invited me to dine at Maxine's On Shine. Instantly, I was transported back to memories of friends saying, "It's delightful" and "Oh, it's tacky." Well, I decided to be the judge myself. If you've never driven in the residential area that parallels East Colonial near Mills 50, you're in for a bumpy awakening. In fact, Maxine's On Shine is in the Colonial South neighborhood near the YMCA. If it weren't for the restaurant lights and row of cars, I'd never find the place. To be honest, I was really impressed with the ambiance; it takes a lot to knock my socks off with décor but the combination of deep colors with romantic light really gave it a "sensational" feel. My only pet peeve with the physical establishment was the bathroom. My friend Annie from The Feisty Foodist once told me to look at the bathroom first because that hints at how clean the place is.  I'm not sure if they were too busy to check but the bathroom was not in the best shape.
Here's the part you probably care about – the food.  The menu was slightly overwhelming as the pricing was extremely high for a few things. However, the Chicken Maxine's was $17.00, which is composed of diced chicken breast, shallots, and shitake mushrooms in a marsala sauce over penne pasta. It's a fair price but the restaurant is setting high expectations. Maxine's doesn't strike me as a high-end restaurant. It's cute and has great decor but the overall cuisine doesn't scream top chef.
After scanning the menu, I asked to try the vegetable soup. As a struggling vegetarian, I love any soup filled with veggies but their soup was bland and awkwardly sweet. When I asked our server what was in it, she struggled to remember and I felt as if she made up a few things. Instead, I told her that I'd take the Mussel soup instead. A few of my other friends received their orders early. One ordered the Rainbow Trout and the other selected the Chef's Select Steak.
The North Carolina Rainbow Trout was smothered in a lemon butter sauce and accompanied with potatoes and broccolini but the whole dish ended up being  too salty. The texture of the trout was perfect but it was literally so salty I pursed my lips without even realizing it. We passed the trout around and everyone agreed. The accompanied broccolini was also too salty.
Another friend ordered the Drunken Mussels, which tasted overly fishy and almost vinegary. My friend and I absolutely love mussels, so this was rather disappointing. A few moments had passed by until I had an epiphany.
I asked the server earlier for the Mussel soup but she may have been confused. When she came back out, I asked her about it. She told me she put in the order for the Drunken Mussels. I frowned and said, "There's been a misunderstanding because I ordered the soup." She paused, opened her mouth and said, "The order has already been put in. I can't do anything. Sorry." At that point, I was in disbelief and ready to leave.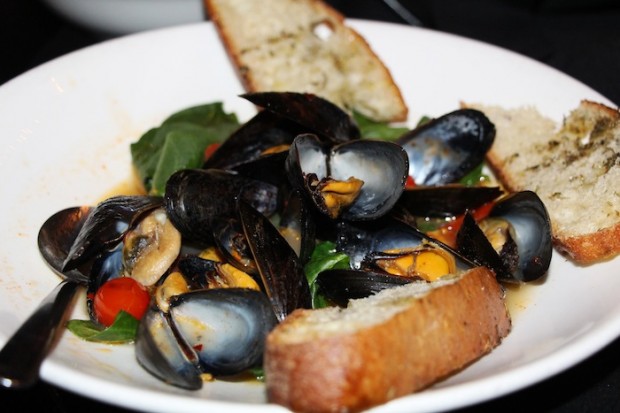 Drunken Mussels in white wine and garlic butter sauce, served with toast points.
Instead of coming out and saying something like "I talked to the manager and we canceled it out. Can we get you something else?" she put the plate of mussels in front of me and walked away awkwardly. My friend and I looked at each other in silence. She tried the mussels and agreed about the salty tasty – it was bad. Finally, the server came back and took the food away after seeing our expressions.  She asked if we wanted anything else and I asked her about the fries. She didn't speak much about it until I asked, "Is it fresh cut or frozen?" Her response was short; she admitted to carrying frozen fries, which wasn't a problem but it isn't epicurean like the restaurant claims to be. Ten minutes passed.
Our friend silently ate his steak and looked at me with a blank expression. He ordered a 10-ounce bone-out ribeye, black angus with mushrooms and a baked potato. I asked to try his steak but before I did, I noticed the small piece of meat was drenched in gravy. Imagine giving a six year old a bottle of maple syrup to put on his pancakes. That's how smothered it was. I asked my friend if he was okay with it and he shrugged. Ultimately, the steak's flavor was lost in the sauce.
At this point, we were all extremely disappointed with the food. I turned to my friend who ordered the trout. She also ordered the bruschetta, which she didn't seem happy about; I gave her an inquisitive look. She handed me a forkful of it. I took a bite, preparing myself for crunchy goodness. To my dismay, I was chewing on a soggy piece of bread. I asked her if it was crispy when it came out and she said no.
Finally, Maxine came out and apologized for how the dinner was. She seemed genuine. However, she made it a point to blame the mussels on the company they get it from. She asked if we wanted anything else, which was nice of her but it was too late at that point.
Finally, dessert came out. We tried the Apple Strudel, which was delicious in flavor but absolutely cold. It's not uncommon for this dessert to be served chilled but it felt kind of frozen.
Granny Smith apples and pecans in phyllo dough, served with vanilla ice cream. 
Overall, the bad service and food disappointed me. I'm not saying you shouldn't go there and try it but read the reviews out there first. You'll see a handful of great ones and a handful of not so great ones.  It's a great place to have a few drinks with friends but I wouldn't recommend the food at all.