Founded by Florida native Ricky Ly, TastyChomps.com is a food and restaurant blog dedicated to finding culinary adventures throughout Central Florida and around the world. His first book, Food Lovers' Guide to Orlando: The Best Restaurants, Markets & Local Culinary Offerings (Food Lovers' Series)
is available  now on Amazon.com and BarnesandNoble.com.
TastyChomps.com has been honored in the past as Winner of the Orlando Sentinel Orbbies 2010 Best Food Blog award, as well as featured in Orlando Weekly, Central Florida Future newspaper, Asia Trend Magazine, and more. Visit us also on youtube.com/tastychomps ! =)
---
About the Author


My love for food began when I was quite still a suckling baby. I remember my very  first memory as a drooling toddler, taken by my parents to dim sum on Sunday mornings, and the sweet taste of the soy sauce on some wet and slurpy shrimp rice paste.
Many years have passed since that time. I graduated from the University of Central Florida a few years or so ago, where I had spent my days as a student leader, serving student government, and even writing once in a while for the Central Florida Future student newspaper and Asia Trend Magazine. I decided to begin a food blog  here in Orlando to catalog the different "Tasty Chomps" that I encounter and enjoy each day.
I love finding new or different places to eat and exploring different cultures through food. In the past year, my little blog has continued to grow, thanks to our loyal and amazingly awesome friends and fans and supporters, eventually placing as a finalist for Best Local Blog by the Orlando Sentinel Bests Bets of 2010, Best Food Blog by the Orlando Sentinel Orbbies Web blog Awards for 2010, and the covetous yet fickle #1 ranked Orlando Food Blog by Urbanspoon.com .
---
Ricky Ly, is a graduate of the University of Central Florida (UCF '08), currently working as a civil engineer in Orlando, FL. He is the author of the book, the Food Lovers' Guide to Orlando and the founder of the local award-wining Orlando food blog, TastyChomps.com.
He currently serves in the community as a board member for the City of Orlando Families, Parks, and Recreation Board, UCF Alumni Governmental Affairs Committee, and the National Philanthropy Chair for Pi Delta Psi Fraternity.
In the past, he served as a member of the WMFE Community Advisory Board, founder of the Asian Pacific American Coalition at UCF, and as a UCF Student Government Senator.
His work has been featured on ABC's The Chew, WESH 2 Sunrise News, Orlando Sentinel, Orlando Weekly, New York Post, and many other media outlets including Asia Trend Magazine.
His passions include giving back to the community as well as traveling and eating around the world with his wife, May Wong, UCF '07.
---
About the Author

KRYSTLE NGUYEN is a food enthusiast and Creative Director to TastyChomps. Many of her childhood memories were created in the restaurants that her parents owned while she was growing up – trying new dishes and interacting with customers. You can catch her on the weekends helping her parents manage the family's restaurant, Saigon Noodle and Grill.
Krystle earned a Bachelor of Science degree in Health Services Administration from the University of Central Florida and took a job at Florida Hospital following her graduation. She's currently attending Rollins College Crummer Graduate School of Business to pursue a master's degree in Business Administration. Her passion is to support the Central Florida community, serving on the board of many local non-profit organizations.
————————————————————–
Major is seasoned publicist with a knack for food, writing, fitness and all things Orlando. Having worked with many of Florida's top chefs, she knows her way around the kitchen. She also stays rooted in the culinary world as a foodpreneur with her organic line of kettle corn, Project Pop. French fries and squats are two things that give her stomach butterflies. Connect with her on Instagram at @majorcreates!
---
Katherine Nguyen is a student at the University of Central Florida majoring in Molecular Biology and Microbiology and minoring in Health Service Administration with a goal of going to dental school. She enjoys playing soccer and has been captain of an intramural team for 3 years now at UCF.
Photography is her number one hobby in which she has dabbled in the field since 2008; she is very diverse in the field, but her favorite sub-fields include portraits on location, nature, food, and sports photography. In her free time, she also tutors any subject in high school and middle school as well as volunteers at Camp Boggy Creek in Eustis, FL. Link: Katherine Nguyen Photography
---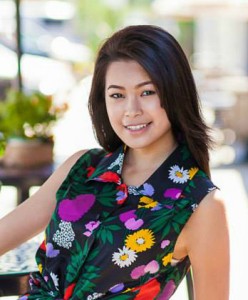 Nhi Nguyen has always been adventurous, especially when it comes to trying new foods. All of her friends will say that her most overused phrase will be "I'm hungry" and they would always reply "when are you not?" You can say that Nhi loves to eat and is willing to try any dish at least once.
Nhi earned her Associate of Arts (A.A) at Valencia State College, and is currently working on her Bachelors of Preclinical and Health-sciences at the University of Central Florida. She's hoping to become a traveling Physician Assistant, because she wants to explore and travel the world while enjoying the career that she loves.
---
We want to thank you for taking the time to visit our blog. Please take a second to "Like" us on Facebook (see left side) to be the first to get the latest updates, subscribe to us on google, and follow us on twitter.com/tastychomps.
For questions or contact:
Email us at media@tastychomps.com
---
Press/Media:
Ricky Ly (of TastyChomps.com) is "indefatigable." – Orlando Weekly
Central Florida Blogger Conference 2012 – Blogger Panelist
Orange County Public Library – "Culture Through Food: Local Asian American Eateries" Workshop
Local Orlando Foodie News
Orlando Sentinel's The Dish
Orlando Weekly – Salivation Army
Local Orlando Food Blogs
Beyond Orlando – National
NYTimes – Diner's Journal Blog
The Tampa Tribune's Jeff Houck – The Stew
Follow us Instagram @TastyChomps