Springtime in Orlando means lots of warmth and sunshine, making it the perfect time of year to enjoy a delicious weekend brunch. Orlando's food scene is vast, and that remains true when it comes to breakfast and brunch. From hearty bites to bottomless mimosas, here are the 20 best brunch spots in Orlando for spring 2021.
20 Best Brunch Spots in Orlando for Spring 2021
1. White Wolf Cafe
Located in Orlando's Ivanhoe Village District, White Wolf Cafe offers a weekend brunch that is both delightful and affordable. Choose from a mouthwatering variety of specialty brunch dishes, salads, sandwiches and more. You'll want to get there early though, as it's almost always packed.
2. Maxine's on Shine
Maxine's on Shine serves up a tasty "Rejuicination Brunch" every Friday, Saturday and Sunday. This spot features outdoor seating, live music and most importantly: great food.
3. Boca Winter Park
Boca Winter Park is a lovely food spot with a focus on farm-to-table and locally sourced ingredients. Brunch is available every weekend, offering fantastic eats as well as bottomless mimosas and bloody marys.
4. The Stubborn Mule
The Stubborn Mule serves up brunch every Saturday and Sunday from 11 a.m. to 2:30 p.m. Some crowd favorites include the $20 bottomless mimosas in addition to tasty menu items like the Chicken & Waffle and The Frenchmen french toast.
5. Santiago's Bodega
Santiago's Bodega offers a weekend brunch specializing in all-you-can-eat tapas for the price of $44.95 per person. You can choose from a variety of delicious hot, cold, sweet and savory tapas. Alcoholic beverages are available at an additional cost.
6. The Glass Knife
The Glass Knife is a Winter Park staple, serving brunch every Saturday and Sunday from 8 a.m. to 4 p.m. Choose from delightful menu items like the Ultimate Cinnamon Roll, Cheddar Biscuit Sandwich Plate, Avocado & Egg Toast (pictured below), Strawberry Lemon Waffles and much more.
7. The Ravenous Pig
The Ravenous Pig is brought to Central Florida by husband-and-wife duo James and Julie Petrakis. In addition to its impressive dinner, beer garden and wine menus, this restaurant also offers a brunch that is both delicious and unique.
8. Russel's on Lake Ivanhoe
Russell's on Lake Ivanhoe is an upscale dining spot offering guests a number of exclusive offers throughout the week, from happy hour specials to lady's nights and of course; Sunday brunch. We recommend trying the Cinnamon Roll Waffle or the Breakfast Club.
9. Tapa Toro
Every Sunday, enjoy a "Bottomless Brunch" at Tapa Toro Orlando. Unlimited sangria and mimosas, a la carte specials, all-you-can-eat paella and live flamenco dancing entertainment are all included in the price.
10. Soco Thornton Park
Soco Thornton Park is a downtown Orlando must when it comes to weekend brunch. From Brunch Burgers to Salmon Potato Cakes to Chicken -N- French Toast (pictured below), Soco Thornton Park is sure to have a breakfast dish for everyone to enjoy.
11. Another Broken Egg Cafe
Another Broken Egg Cafe is the ideal brunch spot open seven days a week from 7 a.m. to 2 p.m. Whether you're looking for traditional breakfast dishes or more unique menu items with a twist, you'll want to check out Another Broken Egg Cafe.
12. Loading…Gastrobrunch
Loading…Gastrobrunch is a charming brunch spot located right outside of Orlando in St. Cloud, Florida. With generous serving sizes, mouthwatering dishes and a variety of coffee sourced from Lineage Coffee Roasting, Loading…Gastrobrunch is certainly worth a try.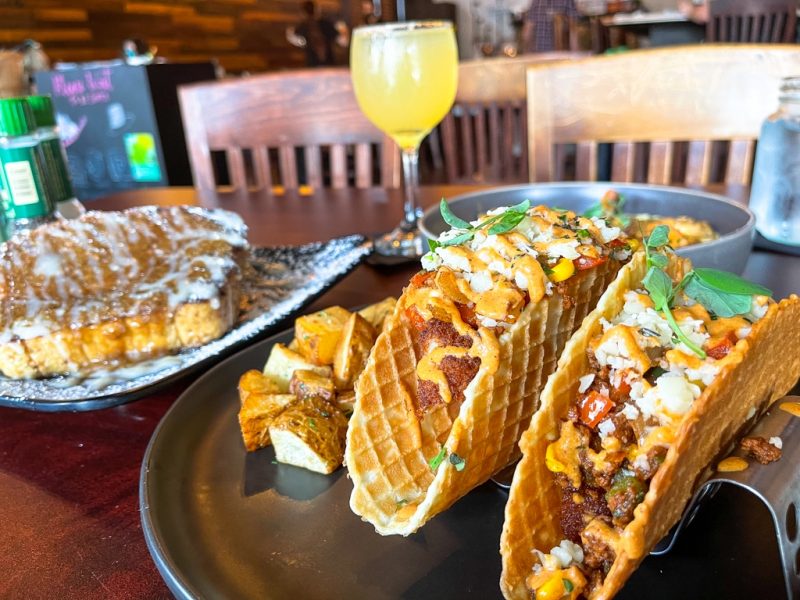 13. American Social
Located on Sand Lake Road, American Social offers everything you could wish for in a brunch menu, from small bites to heartier breakfast dishes. We recommend trying the Avocado Toast with Egg (pictured below), the Donut Holes and the Smoked Salmon Benedict.
14. First Watch
First Watch is a Central Florida staple, and for good reason. It's a wonderfully reliable spot for all things breakfast and brunch. First Watch offers menu items made from quality ingredients that you can trust, and they taste just as great as they look.
15. Hamilton's Kitchen
Hamilton's Kitchen, located within The Alfond Inn in Winter Park, offers a lovely weekend brunch. Brunch is offered every Saturday and Sunday, featuring brunch classics, salads and so much more.
16. Yard House
Yard House has locations all over the country, but that doesn't make the weekend brunch at the ICON Park Orlando location any less wonderful. The food is delectable, and the drink deals are fantastic (you can enjoy bottomless beer in addition to the typical bottomless mimosas and bloody marys).
17. Bulla Gastrobar
Brunch at Bulla Gastrobar consists of your choice of breakfast tapas, small plates and three courses of brunch must-haves. Specialty brunch cocktails are available in addition to bottomless mimosas.
18. Omelet Bar
Located right by UCF, Omelet Bar offers an extensive menu of breakfast must-haves from its famous omelets to waffles, pancakes, crepes, sandwiches, wraps and more. Bottomless mimosas and Bellinis are also available every Sunday Funday.
19. Briarpatch
Briarpatch is a quaint breakfast restaurant conveniently located in Winter Park right on Park Ave. Open daily until 5 p.m., Briarpatch features a charming atmosphere and tasty brunch bites.
20. Delaney's Tavern
For a less traditional brunch, try Delaney's Tavern. Whether you're craving something sweet or savory, light or hearty, Delaney's Tavern has it.
Orlando offers an impressive variety of tasty brunch bites. With the warmer months approaching, you're going to want these 20 spots on your list of foodie spots to keep in mind.