The restaurant has a soft opening starting this Thursday May 15, 2014 starting at 6 pm, and then regular hours with lunch every day after, and plans for a grand opening later in June. I dropped by with some friends on their friends and family run-through today and checked out the new digs. I left feeling quite impressed with the quality of burger being served here at Burger and Beer Joint and hope to return soon.
Quite the renovations have been made for the opening of the new Burger and Beer Joint, a Miami based restaurant with plans to expand to International Drive and other locations in Orlando.
Brick is layered inside the entrance ceiling creating the feeling of a tunnel, and an urban design is added to the bar area making it very inviting. You would never realize just a few years ago this place was the home to a Perkins, then a Chinese/Japanese buffet, and finally Culpepper's before it.
Burger and Beer Joint has a sports and rock 'n' roll theme and of course lots of burgers and beers on the menu.
Their restaurant specializes in "massive burgers with a gourmet twist – You pick a beer, then pick a burger."
Though the drink menu is a bit limited in terms of beer, they have some very nice options ranging from IPAs to lagers. I had a nice, smooth, lemony Shandy to go along with my burger on my visit.
My friends had the HOTEL CALIFORNIA ($13.99) – a very filling, cooked to ordered medium 1/2 lb. Premium Black Angus beef burger topped with guacamole, grilled Vidalia onion, jalapeno relish, cilantro sour cream, sharp cheddar, and a sunny side up fried egg between two brioche buns, and served with skinny fries.
I ordered the THUNDER ROAD ($13.99), a more standard burger (think of it as a very good, bacon cheeseburger) made with 1/2 lb. Premium Black Angus beef, smoked Duroc pork belly bacon, American cheese, sesame bun, a side of BBQ sauce, and served with skinny fries. Overall, one of the best burgers in town, and reminiscent I think of the burgers found at Metrowest's Teak Neighborhood Grill – huge, juicy, delicious burgers.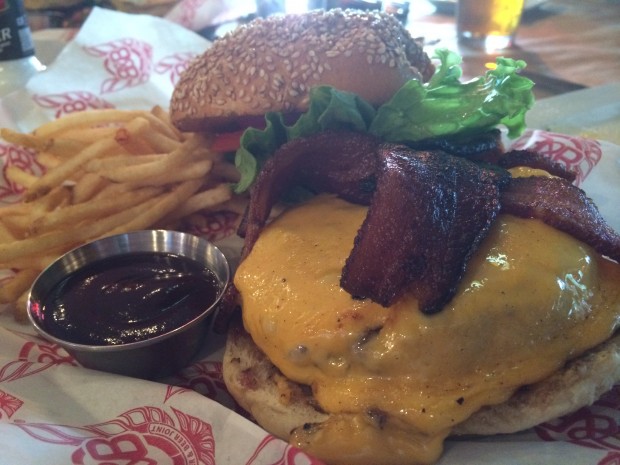 For more info, visit: http://www.bnbjoint.com/menus/burgers
Burger and Beer Joint
11662 University Blvd
Orlando, FL 32817
(407) 381-1999
http://www.bnbjoint.com/