The Whiskey recently launched a brand new menu featuring new fantastic dishes such as the Surf & Turf Burger featuring house patty, crab meat, and Whiskey Onions, and the War Pig – a wild boar patty burger topped with an addicting habanero bacon jam.
The Whiskey is known for their live entertainment 7 nights a week, some of Orlando's best burgers made from 100% angus beef, handcrafted cocktails, and a selection of over 500 types of whiskey all over the world right here in Orlando.
The Whiskey's New Menu Dishes Include:
* The Surf & Turf Burger – Whiskey Onions , Swiss, Crab meat sautéed in Char Grill Butter , Crab Mayo
* Tuna Poke – Ahi Grade Tuna, Poke Sauce, Avocado-Mango Salsa, Crab Meat, Wonton Chips
* The War Pig – Wild Boar Patty, Arugula, Tomato, Whiskey Onions, Sautéed Granny Smith Apple , Creamy Brie Sauce, Habanero Bacon Jam
* Crab Fries – House fries seasoned with Old Bay, Crab Mayo, Crab meat sautéed in Char Grill Butter
* The Olive Burger – House Patty, Arugula, Tomato , American Cheese, Olive Mayo.
* Pulled Pork Tacos – 3 grilled Flour Tortillas, Citrus Marinated Pork, House Slaw, Pico, Pickled Onions & Jalapeños, Cotija Cheese, Cilantro.
* Whipped Feta & Ricotta Dip – with Hot Honey
* Whiskey Chips – House cooked chips, Chunky smoked blue cheese sauce and crumbles, citrus marinated pork
The Whiskey
7563 W Sand Lake Road
Orlando, FL 32819
Ph: (407) 930-6517
Tasty Chomps Interview with The Whiskey's Chef Hector J. Tolentino
Tasty Chomps: What led you to pursue a career in the culinary arts? Can you share a bit about your culinary journey?
Chef Hector: I was offered a job preparing and serving out of a quick service kitchen that was off to the side of the actual restaurant. I was super nervous because I had no restaurant experience but once I got into the kitchen I felt at home. One day a grill cook could not make it in, giving me the opportunity to work the line, this ignited my passion and I never doubted what I wanted to do again.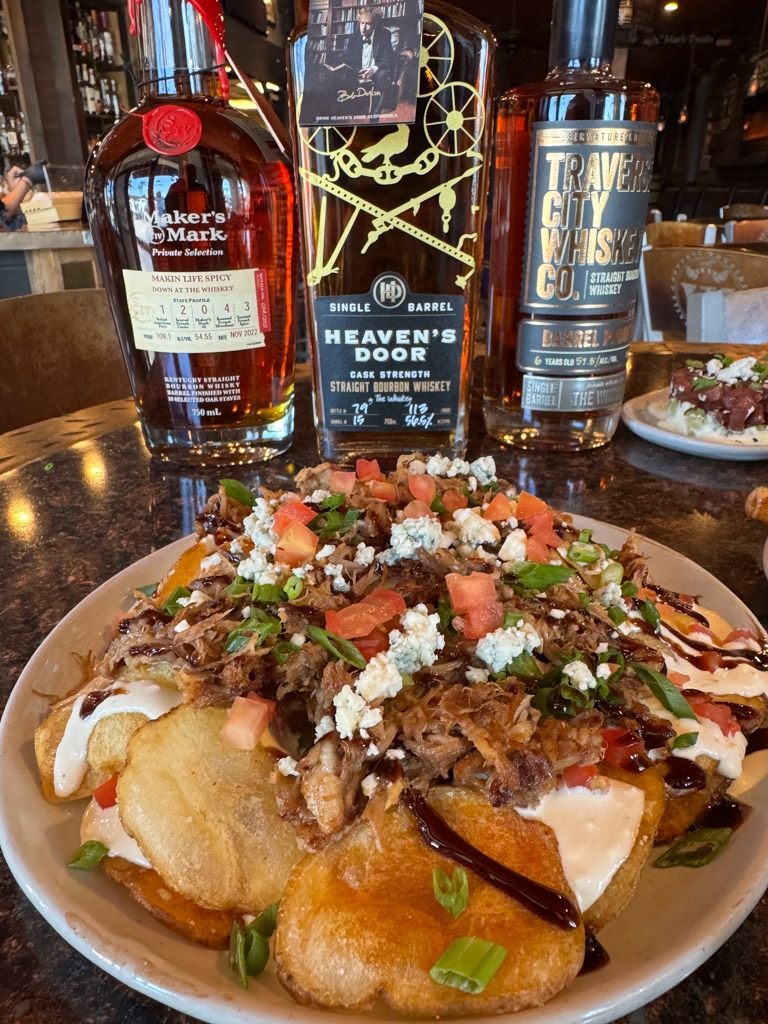 Were there any significant influences or experiences in your early life that ignited your passion for cooking?
It would 100% be watching how effortlessly my mother would cook for my brothers and I. Almost like dancing, even after working all day you could taste the love she put into every meal.
Can you share some of your most cherished culinary memories or experiences that have shaped your approach to cooking?
I believe the best experiences are when a guest returns after some time with new friends or family and we surpass the expectations from their first visit. Being able to consistently deliver on that level is how we approach cooking here.
Are there any chefs, mentors, or culinary figures who have had a profound impact on your career and cooking philosophy?
Yes, Chef Winston B. is retired but still makes time to mentor and coach me. He has always preached that when you cook for any guest you do it as if it was for you and your own family sitting out there. I carry that wisdom with me every shift.
How do you go about finding inspiration for these new dishes or menu concepts?
We have an incredible team that worked hard to put these new items together. Having awesome burgers already was motivation itself to deliver the same value with the newer additions.
Can you share a particularly challenging or memorable moment in your culinary career and how you overcame it?
Well my first year here at The Whiskey has been memorable. So many little details here make it unique from other restaurants. From the atmosphere to the kitchen concept, at first it was so much to learn but it's all been a great experience.
What culinary trends or movements are you currently most excited about, and how do they influence your work?
I'm most excited about the challenge of continuing to be the best at what we do. Obviously with inflation and finding labor being a constant issue in the industry people are going to be innovative with how they save money. I want The Whiskey to be the standard when it comes to great burgers and consistency.
How do you approach crafting the perfect burger, and what sets your burger creations apart from others in the area?
I believe it's important to really invest time into each aspect of your burger which will show in the final product. That is something we do well here from our homemade sauces to our pesto marinated mushroom caps or bourbon poached pears. Every part of the burger is going to contribute to the experience so we take our time and do it right!
Can you recommend any whiskey and food pairings that you believe work exceptionally well together with these new menu items?
I would recommend pairing Widow Jane Applewood Rye with The War Pig burger (Wild Boar Patty, Arugula, Tomato, Whiskey Onions, Sautéed Granny Smith Apple, Creamy Brie Sauce, Habanero Bacon Jam). The whiskey has just enough apple essence to go with the sweet heat of the burger.