It's that time of year again!
Turkey – stuffing – the fixin's – time with family and friends. Thanksgiving is upon us once again here in Orlando. But – sometimes we want to leave the cooking to others for Thanksgiving, or want to find a place with very good turkey to cook at home. Or perhaps you are visiting Orlando and are looking for a place to celebrate Thanksgiving while vacationing here.
Discover Orlando's Thanksgiving dinner specials as local restaurants and hotels prepare to serve up a delicious blend of traditional and inventive dishes. From classic turkey dinners to creative pumpkin desserts, this year's offerings promise a satisfying dining experience.
Join us in exploring the diverse and mouthwatering options available in Orlando, where culinary craftsmanship meets holiday traditions.
Below are some of our featured highlights for Thanksgiving in Orlando this year – take a look and make sure to make reservations ASAP!
A Foodie's Guide to Thanksgiving in Orlando 2023 – Specials and More
6677 Sea Harbor Dr, Orlando FL 32821
https://www.opentable.com/tradewinds-restaurant
Renaissance Orlando at SeaWorld introduces you to a world of culinary delights and Tradewinds Restaurant is no exception. Offering an elevated buffet of classic Thanksgiving comfort foods, traditional fare and carving stations accompanied by additional unique offerings such as sushi and fresh seafood selections, charcuterie and artisan breads. Finish with over ten dessert offerings all made from scratch with only the freshest, locally-sourced ingredients.
Thanksgiving Brunch Buffet
12pm-4:30pm. Adults: $70 | Children: $35
Salad Bar
Garden Greens | Tomatoes | Cucumbers | Shredded Carrots | Radish | Honey Glazed Squash | Roasted Pears | Citrus Beets | Dried Cranberries | Candied Walnuts | Shaved Parmesan | Feta Cheese | Kalamata Olives | Croutons | Pesto Marinated Mozzarella

Florida Citrus Vinaigrette | Buttermilk Ranch | Caesar Dressing
Charcuterie
Prosciutto de Parma | Salami | Soppressata

With Pickled Vegetables, and Marinated Peppers
Artisan Cheeses & Spreads
Creamy Brie, Aged Cheddar House Pumpkin Jam, Garlic Hummus With Gourmet Pickles, Marcona Almonds, Honey, and Grapes, Grilled Naan, Crostini, and House-made Bread
On Ice
Shrimp Cocktail | Smoked Clams

With Smoked Salmon Dip, Local Hot Sauce Bar, Lemon, Cocktail Sauce, and Drawn Butter
R Sushi
California Roll | Spicy Tuna Roll | Cucumber Roll

With Wasabi, Pickled Ginger, and Soy Sauce
Traditionals
Traditional Stuffing | Whipped Yukon Gold Potatoes

Candied Sweet Potatoes with Pecans and Marshmallow Topping, Green Bean Casserole with Mushroom Cream and Crispy Onions

Salmon with Wild Mushroom Farro Risotto

With Kale, Peppadew Chimichurri Roasted Chicken and Gnocchi With Garlic Spinach and Herb Gravy

Parmesan and Butternut Squash Soup with Gingerbread Croutons and Candied Pumpkin Seeds | Rigatoni with Roasted Garlic Cream, Charred Broccolini, House-made Sausage, and Ricotta Salata

Roasted Sweet Baby Peppers, Cauliflower, Broccoli Vegan Cauliflower Gratian
Carving Station
Free Range Roasted Turkey

with Gravy and Cranberry Sauce

Smoked Prime Rib

with Au Jus and Horseradish Cream

Honey Bourbon Glazed Ham

with Ale Mustard
Desserts
Pumpkin Brownies | Ginger Molasses Cookies | Chocolate Amaretto Tarts | Pecan Squares | Apple Pecan Crisps

Pumpkin Pie | Sweet Potato Pie | Vegan Carrot Cake | Chocolate Pumpkin Cheesecake | Cranberry Cheesecake | Pumpkin Roll
Unreserved Food Bazaar at JW Marriott Orlando Bonnet Creek Resort & Spa
14900 Chelonia Pkwy, Orlando, FL 32821
https://www.opentable.com/r/unreserved-at-jw-marriott-orlando-bonnet-creek-orlando
Enjoy a traditional Thanksgiving feast with all the trimmings.
UnReserved Food Bazaar will feature an extensive range of offerings including live music, specialty cocktails and an array of culinary treats featuring a turkey and meat carving station, fresh raw bar and seasonal sweets to end the feast.
Includes a welcome beverage and farewell gift.
4012 Central Florida Pkwy., Orlando FL 32837
https://www.opentable.com/primo
Highball and Harvest at Ritz-Carlton, Grande Lakes Orlando
4012 Central Florida Pkwy., Orlando FL 32837
407-393-4034
https://www.grandelakes.com
Citron at Grande Lakes Orlando
4012 Central Florida Pkwy., Orlando FL 32837
https://www.opentable.com/citron-an-american-brasserie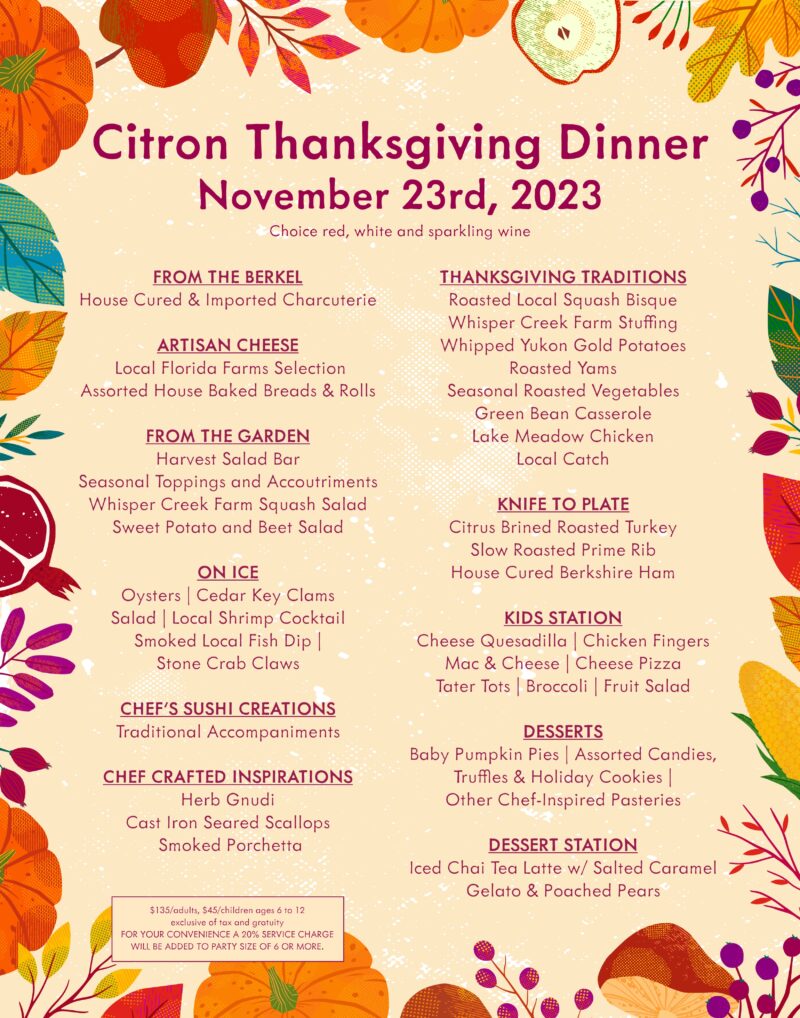 STK at Disney Springs
1580 E Buena Vista Dr, Orlando, FL 32830
https://stksteakhouse.com/thanksgiving/
Reservations highly recommended, it will be a very busy day
Give thanks at STK! This Thanksgiving, dine at our home or yours with STK Thanksgiving Specials featuring Roasted Free-Range Turkey with all the sides and trimmings. Available for Dine-in or Takeout November 23 – 26. Pre-Order your Turkey Dinner beginning 11/13 for pickup on Thanksgiving Day or Book your reservations today at STKsteakhouse.com!
Tap Room at Dubsdread – Thanksgiving To Go
549 W Par St, Orlando, FL 32804
https://taproomatdubsdread.com/
Dine-In is fully booked, But Thanksgiving To Go is Available