Artisan Pizza in just 90 seconds – all served from a food truck.
That's what Chef Drew Soifer, a long time resident of the greater Orlando area, is cooking up with a new concept in the food truck world – a one-of-kind truck called 900 Degreez.
This converted container truck features a bespoke imported Italian wood-fired oven that can cook a pizza in an unbelievable 90 seconds.
The truck façade features an all-glass panel that allows customers to view the chefs at work. Chef Drew created a menu consisting of artisan pizzas, which includes his specialty, the EIEIO pizza that is a white mozzarella pizza with sliced fuji apples, apple bacon and garlic. 900 Degreez also serves garlic knots, Italian breads, baguettes and other baked goods.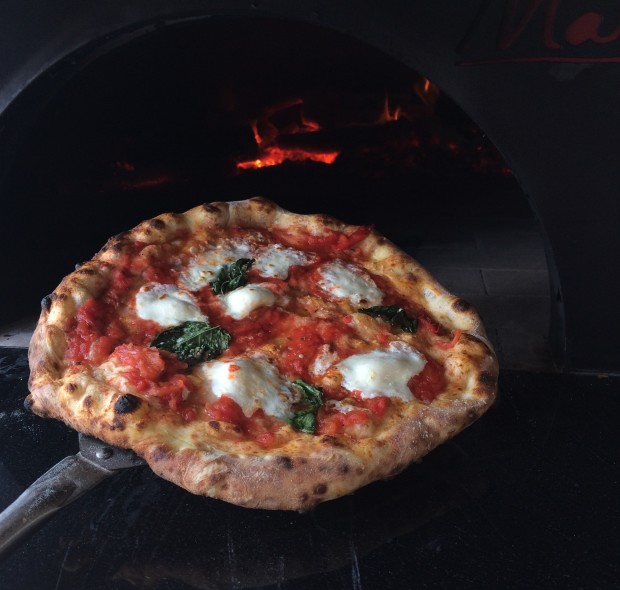 Other pizzas include:
The Greek $11
Spinach, minced garlic, shredded mozzarella and feta cheese.
Hercules Court $10
Sliced Fingerling potatoes, walnut pesto sauce and shredded mozzarella.
The Big Island Pizza $10
Fresh sliced pineapple, sliced ham, red sauce and shredded mozzarella.
Farm to Table $11
Rendered pork, caramelized onions, blue cheese and shredded mozzarella.
Spade & Hoe $10
Sliced heirloom tomatoes, Kalamata olives, onions, red sauce and mozzarella.
The 35-foot truck weighs 33,000 pounds, with the oven itself weighing in at 3,500 pounds, so large in fact that Chef Drew was required to obtain a CDL.
Chef Drew says, "As the popularity of food trucks increases, Orlando has experienced unparalleled growth in this market. I believe food trucks will be around for a long time and I look forward to being a part of it."
"I decided to open the artisan pizza truck because it made more sense to be mobil versus being at a fixed location. I could have opened in a great location but then I would have had to deal with all the overhead that comes with that. Like rent, electric, water, a much larger staff etc.. In addition when I lived in San Francisco I experienced my first wood fired brick oven pizza and the experience was amazing. The flavor and the texture of something that was cooked in 90 seconds was awesome. Something so simple and flavorful was what I wanted to bring back to Orlando. Our pizza dough is made fresh daily and doesn't contain any preservatives or stabilizers that are often found at a majority of pizza chain restaurants."
Chef Drew is a graduate of New England Culinary Institute. He honed his culinary skills with top rated chefs including the late Jean Louis Paladin, as well as Charlie Palmer and Cindy Hudson while working in renowned restaurants such as the 4-Seasons, NAPA restaurant and Paris Hotel in Las Vegas.
"Throughout my experiences with the different chefs, they always placed a huge emphasis on the quality of the ingredients and making sure the customer was always satisfied. This rings true with me today. Quality is far more important than quantity," Drew told us in a recent e-mail interview.
900 Degreez has been in operation since mid April and we can be found all over the Orlando area. The best way to find them is to go on their website at www.900degreezpizza.com and go to the "Find Us" page. There you will see all of their upcoming events with times and locations.
Contact:
Chef Drew Soifer
900degreezpizza@gmail.com
www.facebook.com/900degreez
www.twitter.com/900degreez
www.900degreezpizza.com