CFL Food Bloggers gather for a beautiful evening of food, coffee, and inspiration with CEO Jonathan Smiga.
Park Avenue (Winter Park, FL) is home to one-of-a-kind boutiques, well-known shops, world-class restaurants, and sidewalk cafes. Tucked in a Spanish-style courtyard, Barnie's CoffeeKitchen continues to bring charm to the neighborhood by using all of the right ingredients – creating a place for relaxation, sharing, and conversation.
The cozy and inviting atmosphere at Barnie's CoffeeKitchen is an ideal space to enjoy coffee and artfully-made lattes. On this evening, I had the pleasure of joining the CFL Food Bloggers meet up in January to taste the new dinner entrees and appetizers.
The appetizers and cocktails served in the beginning of the evening were refreshing. I enjoyed every bit of the Tuna Carpaccio and went for seconds..or maybe thirds. Barnie's CoffeeKitchen's cafe menu focuses on fresh and seasonal ingredients by working with local farmers to bring a farm-to-table experience. Each dish was beautifully composed with the perfect proportions of foods.
To complete the evening, desserts and coffee were brought out with a spotlight on the new microroasted coffees. Micro roasts are small roast batches to maximize the sweetness of the coffee by caramelizing the sugars without burning the coffee. To highlight the individual flavor characteristics, close attention is given to the roast profile based on where the coffee is grown, the type of plant varietal, and how the coffee was processed.
Featuring the Kenya AA Kia Ora Estate, this cup starts off bright and sweet with distinct tart apple, complex citrus flavors of ruby red grapefruit, and lemon for a crisp finish. Kia Ora is the first certified organic coffee farm in Kenya, known for its awareness of global environmental issues and the production of high quality product through environmentally friendly farming techniques.
Barnie's CoffeeKitchen's Chef Camilo Velasco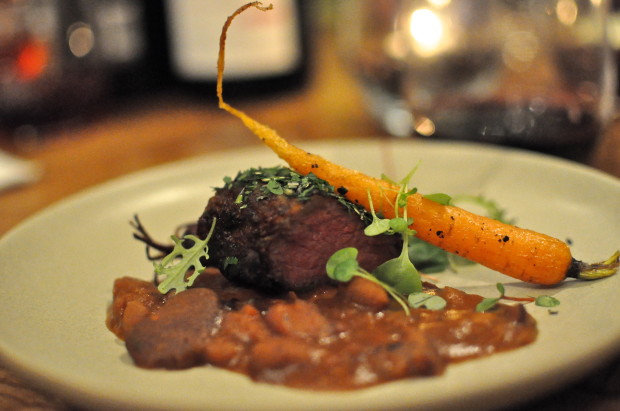 Barnie's CoffeeKitchen
http://barniescoffeekitchen.com
118 S Park Ave, Winter Park, FL 32789
(407) 629-0042
Sunday: 7:30am – 4:00pm
Monday – Wednesday: 7:00am – 4:00pm
Thursday – Saturday: 7:00am – 10:00pm