Food and wine lovers rejoiced this past Friday, January 31st when Txokos Basque Kitchen held their Spanish Wine Experience event at the East End Market. No, it was not inside the restaurant itself (only a few more weeks to completion by the looks of things), but instead was hosted upstairs at the East End's Apex event space.
Revelers tasted over 50 wines from Spain's most popular regions such as: Rioja, Ribera de Duero, Txakoli, Rias Baixas and more (see below for the complete list, all available for sale through Winter Park's Wine on the Way now).
Txokos Basque Kitchen Owners,  Chef Henry & Michele Salgado also own the popular Spanish River Grill Bistro Latino in New Smyrna Beach.  Chef Henry is a James Beard Award Semi-finalist & will be cooking at the upcoming James Beard Benefit  Dinner at the Alfond Inn.
Chef Henry & Michele Salgado featured an impressive list of Tapas and Pintxos (peen-chos) from the Basque region of Northern Spain along with a Jamon carving station, all soon to  be part of the new menu at Txokos when they open up, possibly as part of a happy hour concept as well. Pintxos, of course, are little bite sized dishes skewered on a stick, similar to a kebab.
Inside the Apex's open kitchen, the husband and wife team joined by their assistants, deftly put together their pintxos and tapas (from fig and cheese to salmon tartare and my favorite, the pulpo octopus with cheese), under some pressure from onlookers, while guests traveled from table to table sampling the many wines available. Great wines and great food with friends gathered around their glasses and plates with good conversations throughout the evening.
I can't wait for this to be a regular occurrence when Txokos finally opens in a few weeks.
Note: The letter X is pronounched like the "ch" in Basque. so think of pronouncing "Tchokos" when seeing "Txokos", "pinchos" when seeing "pintxos"…
Steak and cheese pintxos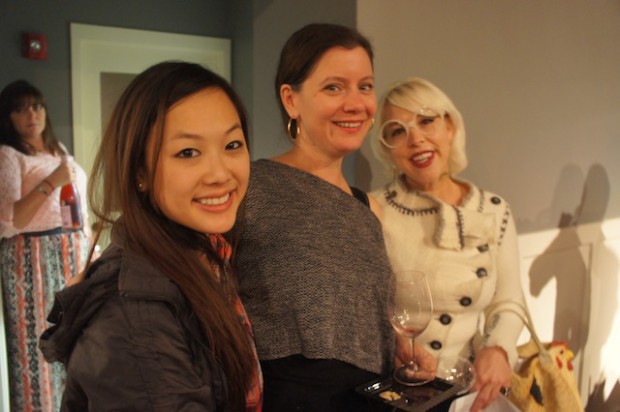 Krystle Nguyen with Kendra Lott and Emily Ellyn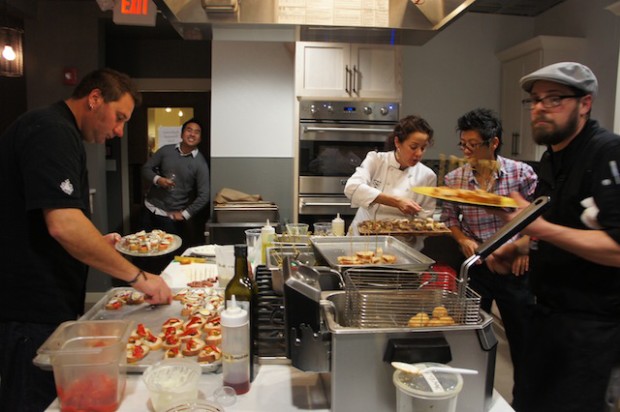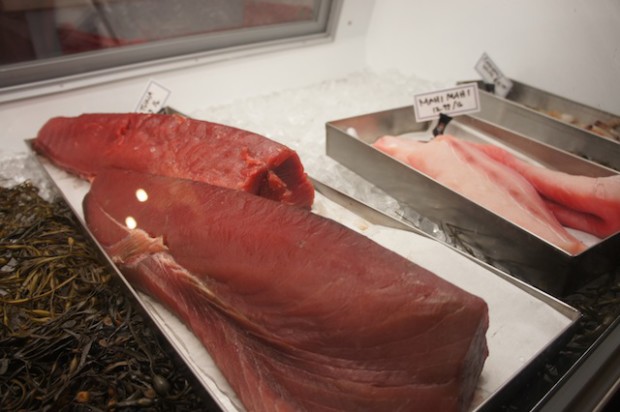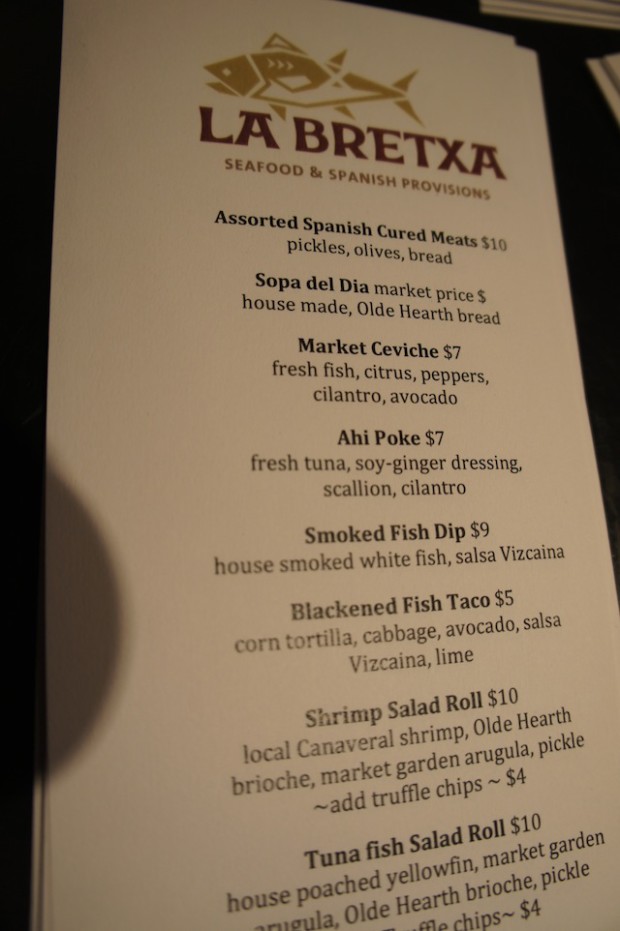 C&B – Alconde Vineyards
Ribera del Duero "TORRE PINGON"
2012 Torre Pingon Verdejo
Ribera del Duero "ARDAL"
Ardal Tradicion
Spain Navarra "BODEGA ALCONDE"
2006 Alconde Seleccion Garnacha
2012 Rosado Fresco
2012 Blanco Fresco
Vina Sardasol Crianza
Premier
2012 Marques de Caceres Verdejo
2011 Telmo Rodriguez Gabo do Xil
2011 Telmo Rodriguez Dehesa Gago
2009 Artadi Vins de Gain
Augustan
2011 Raventos L'Hereu
2012 Raventos Silencis
2010 La Cartuja Priorat
2012 Berroja Berroia Txakoli
Noble
2012 Lolo Albarino
2012 Palos verdejo
Paco Grenache tempranillo
2009 Las Hermanas
2011 Pieza el Coll
Stacole
2012 Rafaele Palacios "Louro do Bolo", Godello, Valdeorras
2012 Nisia, Verdejo, Rueda (Stacole)
2010 Vetus "Flor de Vetus", Tinta de Toro, Toro (Stacole)
2011 Volver,  Tempranillo, Castilla- La Mancha (Stacole)
2012 Botani Muscat
NV Alvear Fino Montilla
2008 Sierra Cantabria "Unica"  Reserva, Rioja
1994 Lopez de Heredia Gran Reserva  94
NV Dibon Cava, Penedes
2009 Mustiguillo Mestis Valencia
Opici
2006 Valensico Reserva, Tempranillo, Rioja
2011 Vespers, garnacha-samso, Monsant
2009 Dinastia Vivanco Coleccion, Maturana, Rioja
2011 K5 Txakoli Txakoli
2009 Peza do Rei, Mencia, Riberia Sacra
2011 Vina Gormaz, Tempranillo, Ribera del Duero
2010 Tinto Pesquera, Tempranillo, Ribera del Duero
2001 Condado de Haza Alenza, Gran Reserva, Ribera del Duero
2012 Flor del Paramo Rosado, Prieto Picudo, Tierra de Leon
2006 Dehesa La Granga, Tempranillo, Castilla y Leon
NV Mont Marcal Rosado Brut Reserva, Penedes
Askari OH
Hacienda Lopez de Haro Rosado Rioja 2011
Proyecto Garnacha de España "Salvaje del Moncayo" Ribera de Queiles 2011
Bodegas Matsu "El Picaro" Toro 2012
Hacienda Lopez de Haro Reserva Rioja 2005 92pts Parker
De Bardos "Suprema" Ribera del Duero 2005
Bodegas Matsu "El Viejo" Toro 2009 92pts Guia Piñan
Vinecraft
2009 Caraballo, Listan Blanco, La Palma
2011 Los Bermejos Rosado, Listan Negro, Lanzarote
2010 Tierres de Aponte Tinto, Vijariego Tinto-Ruby Cabernet, Tenerife
RNDC
2012 Marques de Vizhoja, Chardonnay-Albarino, Rias Baixas
2009 Torres "Celeste", Crianza, Ribera del Duero
Clos de Mas Priorat
2006 Bodegas Roda II, Rioja
TransAtlantic
2004 La Rioja Alta Vina Ardanza
2006 Vina Herminia Reserva, ,Rioja
El Coto Crianza Rioja
2012 Santo Cristo, Garnacha, Campo de Borja
2008 Reserva de Familia Juve y Camps
Global
Lacrimus 5  2011, Rioja
Capitulo 8 2011 Garnacha, Castilla La Mancha
Iriensis 2011 Albarino, Rias Baixas
Alvarez de Toledo 2010 Godello, Bierzo
Clos de Tafall 2012  Red, Priorat
2001 Rioja Urbina Reserva, Rioja
Wines are all available for sale through Winter Park's Wine on the Way