Basketball player Quentin Richardson, a small forward for the Orlando Magic, is working on the next steps of his career by partnering with Chicago-based JacksonBrown Hospitality Group to bring North Carolina-based East Coast Wings & Grill to open 10 new restaurants in the Orlando area in the next seven years. The restaurant has in fact already opened two in the Orlando area, one on 588. S. Alafaya Trail just south of Waterford and another at 3138 Orange Avenue, both owned by Quentin Richardson.
East Coast Wings and Grill is known for its 75 flavors and 675 combinations of buffalo-style wings but also has quite the list of other offerings from salads to burgers and sandwiches to satisfy the non chicken wing eaters in the family. Recently, we were invited to preview the menu at East Coast Wings and Grill during the National Chicken Wing day events.
We were impressed with the decor, not typical of a "wing place", much more spacious, modern, and family friendly. Our favorite items included the potato chip basket with the Sam Adams Craft Beer Cheese sauce, the crispy Mongolian Steak Salad, Buffalo Mac and cheese side, and the Original cookie skillet dessert. The Patty Melt Burger was unfortunately over salted and slightly burnt. The wings were all quite good, slightly tangy and sweet, though the pricing was a bit high, coming in at $9.69 for 10 wings, add an extra $0.99 per sauce, and another $0.99 charge for each set of 25 wings, so total $11.69 for 10 wings with the extra fees.

Fresh Sliced Basket of Potato Chips – $4.99 – Sliced daily, cooked to a golden crisp, and then seasoned with ECW Signature Seasoning. Choose from a variety of dipping sauces. Sam Adams® Craft Beer Cheese Sauce
Mongolian Steak Salad $8.99 – Sesame glazed wok-style steak atop a mound of shredded cabbage, iceberg lettuce, red peppers, and carrots tossed with a Shanghai vinaigrette, garnished with sliced cucumbers, crispy rice noodles, sesame seeds and scallions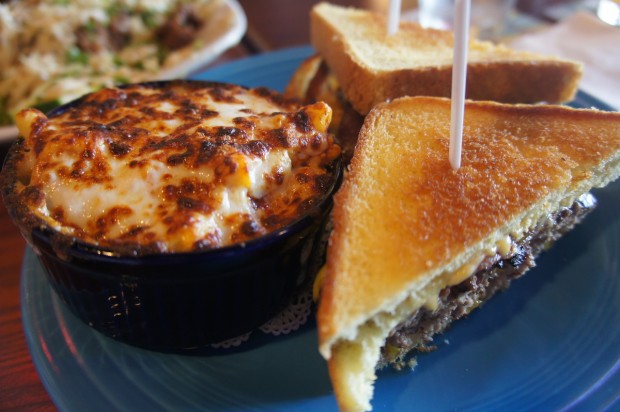 The Ultimate Patty Melt Burger $8.99 with Buffalo Mac 'n Cheese – Seasoned chargrilled Angus burger with applewood smoked bacon, crispy banana peppers, pepper jack and American cheeses and a horseradish smoked BBQ mayo on lightly grilled Texas Toast.
Carne Asada Wrap $8.59 – Lightly seasoned Flat Iron steak sautéed with grilled vegetables, southwestern spiced rice, melted pepper jack cheese, shredded lettuce, diced tomatoes, and drizzled with our ECW Signature Lava Ranch®, all rolled in a warm tortilla.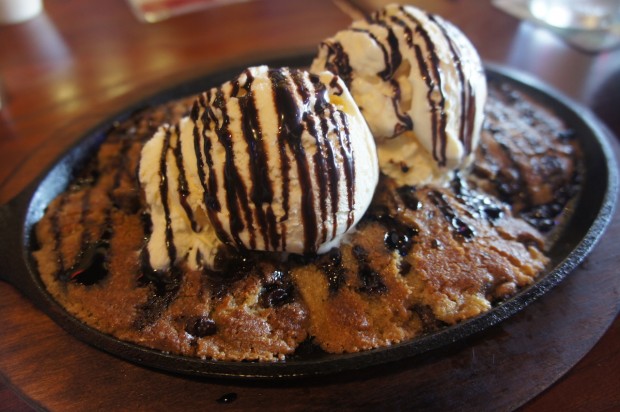 The Original Cookie Skillet $5.99 – Chocolate chip cookies baked fresh on a skillet and topped with vanilla ice cream and drizzled with chocolate sauce.
The Magnificent 75 Flavors –
The Islands: Bahama Mama, Caribbean, Coco Mango, Grande Cayman, Hey Mon Honey, Jamaican Jerk, Key West, Martinique, Maui, Polynesian;
Tex-Mex: Cheddar Jalapeno, Chipotle, Craft Beer Cheese & Jalapeno, Mango Habanero, Monterey, Outwest Ranch, Santa Fe, Southwestern; Classic
American: Bacon Ranch, Boardwalk, Chesapeake, Raging Ranch®;
Asian: Bang Bang, Chili Thai, General Tso's, Kick'n Thai, Sesame, Sesame Garlic, Sweet & Sour, Teri-Ginger, Teri-Ginger Garlic®;
Southern BBQ: Chipotle HBBQ, Golden BBQ, Harvest Apple, Honey BBQ, Kentucky Bourbon, Smokey BBQ, Sweet BBQ, Sweet & Bold BBQ, Spiked Honey BBQ;
European: Blue Cheese, Garlic, Garlic Parmesan, Parmesan, Parmesan Peppercorn;
Fusion: Aspen, Bourbon Honey Mustard, Black n Bleu, Cuban Mojo, Citrus Pepper, Honey Garlic, Honey Mustard, Mango Bango, Peppadew Ranch, Teri-Jalapeno;
Bajou: Bourbon Street, Spiked Bourbon Street, Cajun, Cajun Garlic, Cajun Ranch, Lemon Pepper, Mardi Gras;
Dry Rub: Sour Cream & Onion, BBQ, Buffalo, Peppadew®