Soco, which stands for Southern Contemporary, is the new restaurant in Thornton Park, opened since September 24, 2014 led by Executive Chef Greg Richie.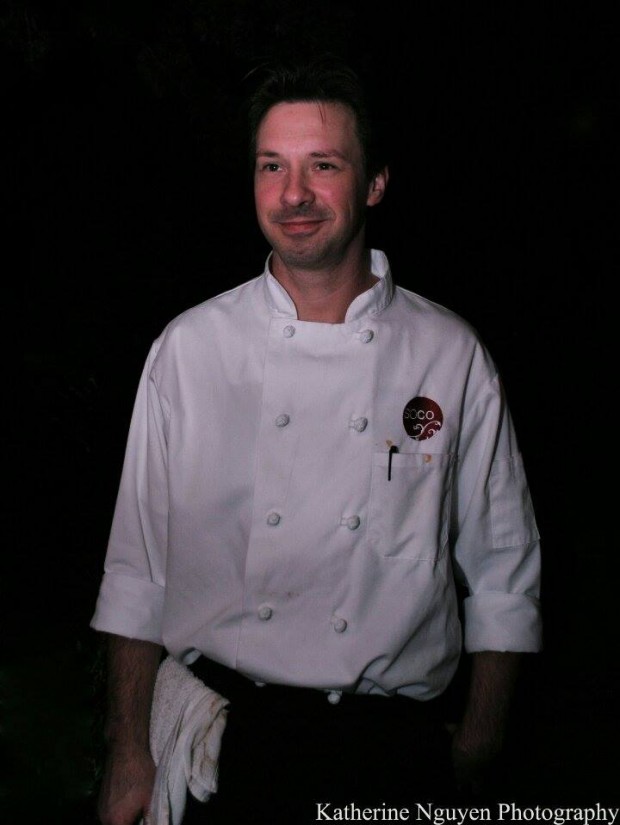 We were more than happy to join in for a media preview tasting of small plates at Soco.
Crab-Stuffed Deviled Duck Eggs contains crisp bacon, lemon and truffle. It was a delightfully creamy and fresh appetizer.
The Slow-Roasted Barbecue-Glazed Pork Belly Biscuits was served with Jalapeño jelly and chow-chow. The flavors were delicious but the Barbeque glaze could be minimized as it created an overpowering of sweetness at the end. The slow-roasted pork seemed to be a little rushed/cooked too long as it was a little dry and tough. The biscuit itself was thick, crunchy and honey sweet.
Soco-Style "Chicken and Dumplings" are lobster dumplings topped with carved chicken breast, local mushrooms, edamame, and soy butter. When the dumpling is split in two, half was eaten with the mushroom and the other half without. The dumpling was sweet and had a cream cheese texture without the mushroom, as the mushroom would add an overpowering saltiness that covers up other tastes of the dumplings.
My advice is to cut the mushroom into smaller pieces and distribute it throughout each bite of chicken and dumplings.
The Cornmeal Crisped Oysters were served on pieces of chicharrones (pork grinds) with pickled green tomato relish and herb cream. The oyster melts in your mouth once you get past its crispy fried cornmeal covering and leaves an ocean aftertaste.
Soco is also known for their wines and whiskey cocktails, such as the Manhattan-ish and White Julep.
The Manhattan-ish contains Elijah Craig 12 year, Grand Marnier and Averna.
The White Julep is super sweet with simple syrup added to Jacob's Ghost White Whiskey and fresh mint.
Last, but not least, is the dessert we had to try before parting ways with Soco. House-Made "Moon Pie" is a pie version on moon-pies served with a really sweet RC® Cola Vanilla Ice Cream Float. It contains rich dark chocolate ganache and a thick marshmallow whipped topping. The crust falls apart into a sandy texture in your mouth and provides a lovely vanilla taste. With or without the RC® Cola Vanilla Ice Cream Float sauce, it is quite delicious!
For this visit, my favorite dishes were the Soco-Style "Chicken and Dumplings" and House-Made "Moon Pie".
Soco is open 11am-3pm for Sunday Brunch and daily 5-10pm.
They are located at: 629 E Central Blvd, Thornton Park, Downtown Orlando, FL.
To make a reservation, please call (407) 849-1800.
For menu items and prices, visit Soco online at: http://www.socothorntonpark.com/our-menus/