In preparation for National Beer Day, I was invited to enjoy some grub and friendly conversation at Toby Keith's I Love This Bar & Grill in Orlando's Artegon Marketplace.
The restaurant is known for its trademark 95-foot guitar-shaped bar, a stage for live country music concerts, Whiskey Girls, beer in mason jars, and a VIP "gazebo" for private parties as well as their smokin' meals, entertainment and hospitality.
At Toby Keith's I Love This Bar & Grill, they like to make everything on location and in-house. This means that they make their own pasta, smoke their own meats and cheese, create their own sauces, etc fresh right in the kitchen.
We started with Slow Roasted Pulled Pork Sliders with country slaw and crispy onion strings on the side. The sliders were easy to bite into and may leave some of its tasteful yet lightly sweet BBQ flavor on your taste buds. The coleslaw stacked on the pulled pork balances the sweetness of the BBQ sauce. The subtly spiced onion strings were crunchy, but dense because it isn't similar to large strips of onions smothered in batter before being deep-fried.
Toby's Wings can be made with Traditional, Honey Gold, or Savory Dry Rub sauces/seasonings. They can be traditional or boneless and are served with Served with celery, carrot, and ranch or bleu cheese. Our Honey Gold Toby's Boneless Wings were sweet, but were a little spicy from cayenne and chipotle mixed into the mustard-based sauce. These wings aren't drowned in sauce and just how I liked them.
The beer served with the sliders and wings was Oskar Blues Dale's Pale Ale 6.5% ABV made by Oskar Blues Brewery in Lyons, CO. It has a hoppy note and is assertive but balanced flavors of pale malts and citrusy floral hops from start to finish. I normally don't drink pale ales, but if I did, this would be the one I sip on when out and about with friends! It is super light and smooth to the palate.
The American Soldier Burger is one of Toby's classics. It is fire-grilled and topped with American cheese. It is free for active military with ID. The burger can be made to your liking (ie well-done, medium, rare, etc). It's a nice item to have when you're in the mood for a quick and easy bite. It was served with fries cut and made fresh with every meal, which you can tell once you bite into them.
From the smoker, guests can choose one meat, two meats or three meats.
The Meats: pulled pork, beef brisket, baby back ribs (1/2), smoked turkey breast, spicy sausage links, smoked pulled chicken. At the event, we were served baby back ribs and they were smoked in one of the largest smokers on International Dr. in Orlando, FL. The meat was covered in a mellow sweet BBQ sauce, but the sweetness doesn't overpower the taste of it being smoked. The meat is mostly lean and falls off the bone really easily.
The baby back ribs were served with creamy coleslaw, sweet potato tots, calico baked beans, and creamy mac & cheese.
The mac & cheese had a lot of cheese, stringy and topped with basil. The noodles were super soft.
The coleslaw was refreshing and cool compared to the other warm sides and dishes served.
The calico baked beans were made with bourbon. These weren't bad, but wouldn't be one of my choices for a side.
Last but not least, the sweet potato tots! These were fabulous and my favorite. The outside was crunchy, while the interior was very smooth and velvety.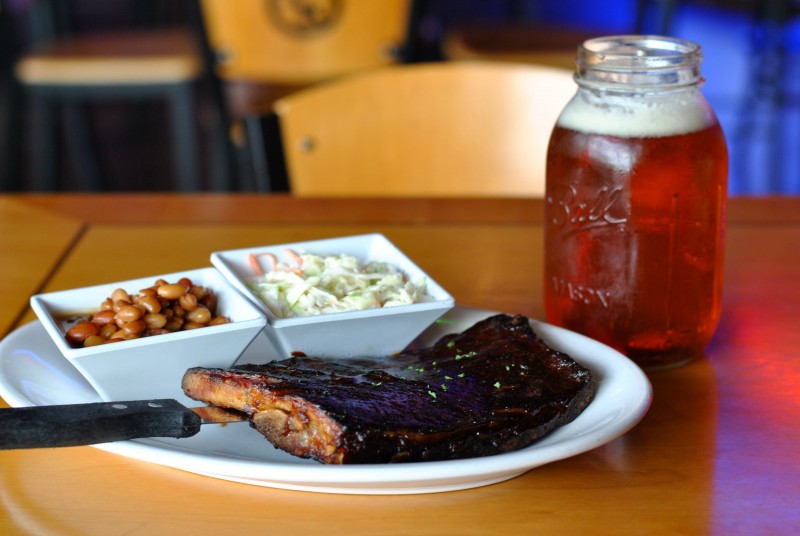 The entrees were paired with Dogfish Head 90 Minute Imperial/Double IPA 9% ABV made by Dogfish Head Brewery in Milton, Delaware. 90 Minute has a great malt backbone that stands up to the extreme hopping rate and packs a punch. The first beer Dogfish Head continuously hopped, allowing for a pungent, but not crushing, hop flavor.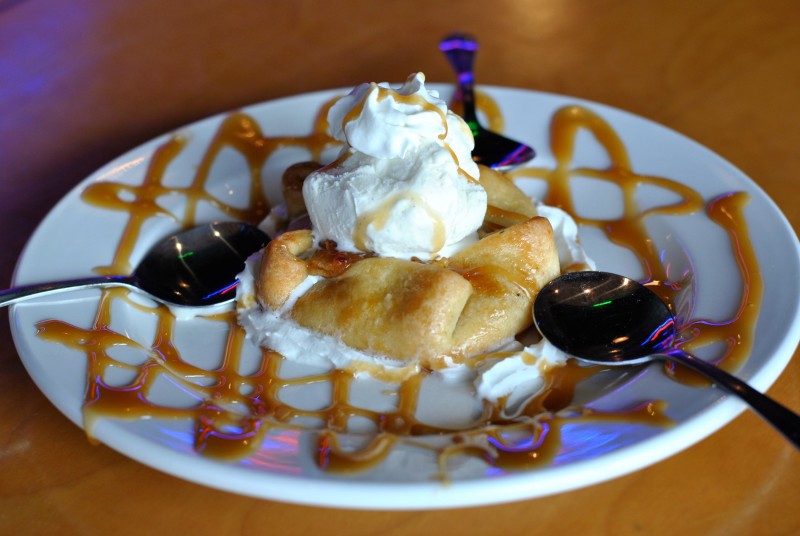 For dessert, we decided to split two delicious sweets. The Hot Caramel Apple Tart is an American classic made with Granny Smith apples, salted caramel, cinnamon and a hint of brown sugar. This was another favorite of mine to have at Toby Keith's I Love This Bar & Grill. Let's just say that I'd order this every time I visit although it could a bit more ice cream.
A popular item of Toby Keith's I Love This Bar & Grill is the Deep Fried Strawberry Twinkie "Shortcake". The Famous Hostess Twinkie is deep-fried and served warm with a berry sauce and sprinkled with sweet powdered sugar. For us, the sweet berry sauce was replaced with chocolate and caramel. This isn't my favorite because it is super sweet, but now I can see why everyone likes Twinkies so much, especially when they're fried because I was able to share my first Twinkie experience with Toby Keith's I Love This Bar & Grill.
Before we finished up the evening, we were introduced to the American Girl Cocktail, which requires 1oz Wave Blue Raspberry Vodka, 0.5oz Blue Curacao, 0.5oz Grenadine, and ½ a bottle of Smirnoff Ice. This can be a nice pink drink for anyone who needs a light social drink.
Toby Keith's I Love This Bar & Grill is open
Sunday – Wednesday – 11am – midnight (kitchen open until 10pm)
Thursday – Saturday – 11am – 2am (Kitchen open Fri-Sat until 11pm)