This Latin, Asian, and Southern American BBQ fusion joint in Orlando's Mills 50 district has a nice list of bites, including Matambre smoked brisket sandwiches topped with egg, Indian Butter chicken tacos and the Latin plantain and fried yuca sides.
But it's all about the Oakwood Smoked St. Louis Barbecue Ribs here. Succulent. Juicy. Sweet, yet refined. Delicious. When you can get it, it's really good. The problem is that it is can sell out fast, so call ahead and make sure they've got some ready for you.
Founded by Thomas "Tito" Ward Esteves, the founder of the Treehouse Truck, one of the first so called gourmet food trucks in Orlando, Pig Floyd's Urban Barbakoa is a an ode to his family's deep love for food. Barbakoa is a form of cooking meat that originated in the Caribbean with the Taino people, from which the term "barbecue" derives.
The menu consists of sandwiches, tacos, platters, and sides, all done very well.

The Oak-smoked St. Louis ribs (half-rack $14.99, full $22.99) are truly among the best, if not the best, ribs in all of Orlando – slow-cooked with a crispy surface yet tender, fall of the bone meat within and a nice sweet flavor. Try it with the crispy sweet fennel apple salad.
The Indian butter chicken ($2.95), flavored in Indian an orange tikka currry sauce and topped with pepitas, jalapeno and cilantro – this was a favorite and definitely would order again.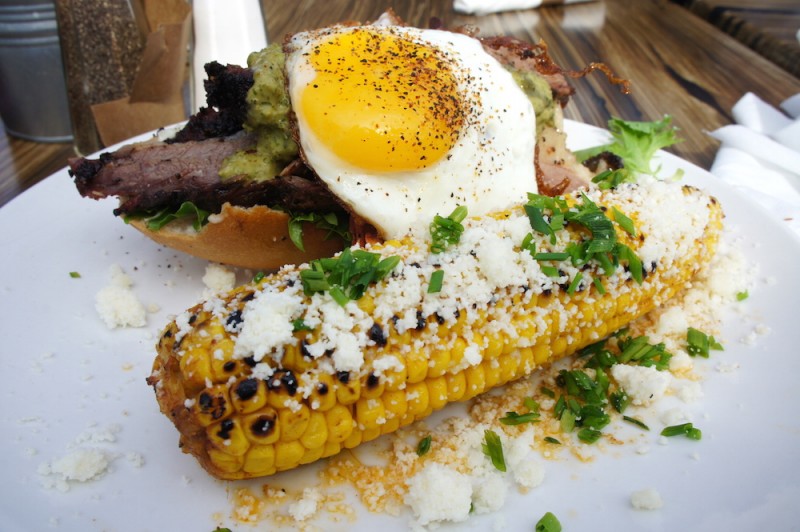 The open faced Matahambre sandwich ($8.99), features slices of Oakwood smoked brisket with dabs of chimichurri sauce,  grilled tomatoes and topped with an over easy fried egg – and slathered a bit too much with mayonaisse. Accompanied with grilled corn on the cob, smokily charred and sprinkled with pepper, lime and salty Mexican cotija cheese