Cocina |214 is a contemporary Mexican and Tex-Mex kitchen. The name is a combination of the Spanish word for kitchen, "cocina" and the Dallas area code, "214." The idea for opening COCINA|214 developed when two of the owners from Texas missed the Tex-Mex and Mexican food they had grown up eating. They wanted the same authentic, fresh and quality food here in Winter Park.
We started off with a this season's local cocktail – The Dragon Fruit Margarita.
It was a sweet, almost dessert like drink, so personally I like the salt rim to balance out the sugar in the drink. And because it is seasonal, it's only here for a limited time.
Fried Avocado Bites (10)
lightly breaded hass avocados fried served with chipotle cream dipping sauce. This was almost too addicting, I had to stop myself before I get full from just eating fried avocados. The chipotle cream sauce does sneak up on you with its heat so dip cautiously.
Isidro's Caesar (13)
romaine, cotija cheese, fried onions strings, grape tomatoes, homemade croutons and Caesar dressing. I actually prefer the fried onion strings over croutons in regular caesar's salad. It adds a subtle crunch and more flavors.
Mango Ceviche (13)
snapper, serrano peppers, red onion, red bell pepper, citrus, mango. I absolutely love cevhice, and although this one had a bit too much lime for me the mango helped bring back a little sweetness to the sour punch.

Mexican Corn (9)
grilled corn, cayenne pepper, lime, cotija, queso fresco. A delicious way to eat corn, that natural sweetness with cheese and loads of spices and hint of lime.
Snapper Frito Tacos (16)
lightly fried wild snapper, coastal slaw, pico de gallo, chipotle cream sauce. Snapper is much less flaky than cod so it won't fall all over the place once you bite into it. It all tasted really fresh and the corn tortilla really aids in bringing out the flavors of the tacos. 

Cauli Frito Tacos (13)
lightly fried cauliflower, coastal slaw, red bell peppers, chipotle cream sauce. I personally prefer this over the cod tacos. The fried cauliflower has a sweetness to it that plays so well with cream sauce and a dash of lime juice. This is probably one of my favorite vegetarian options out there.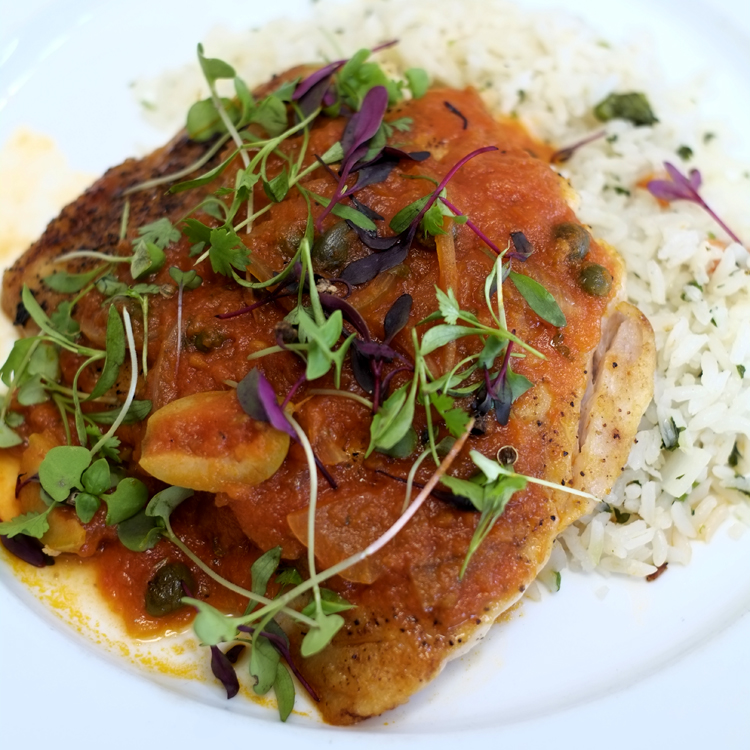 Snapper Veracruz (25)
fresh wild snapper, tomato, olive, caper, with herb topping and veggie rice. It was nice step away from the mundane salmon dish that's offered in a lot of other places.

Combo Enchilada (14)
3 Enchiladas Mexican-style with romaine lettuce, queso fresco, onions, sour cream, grape tomatoes & veggie rice. A hearty dish, that's filling and combination of different textures. 

Maria's Gourmet Burger (16)
grilled pineapple on an Angus beef burger, Olde Hearth Bread poppy seed bun, Monterrey jack cheese, served with grilled Mexican corn. Everything came together so well on this burger. Especially the pineapple, it was a bit odd, but it really made the burger all the more savory. 

and of course we ended things lightly with some Fried Churros and Dulce de lechedipping sauce.
Cocina | 214 
151 E Welbourne Ave, Winter Park, FL 32789
(407) 790-7997