The Osprey Tavern recently began Sunday brunch service in sunny Baldwin Park.
The restaurant  by owners Jason and Sue Chin, is led by an impressive team of acclaimed pedigree including Executive Chef Joseph Burnett, Executive Sous Chef Elek Kovacs, and Kristy Carlucci, Pastry Chef.
WAFFLE 11 – caramelia cream, salted caramel, toasted peanuts
The decor and interior was designed by owner Sue Chin and it deserves to be praised as one of the most gorgeous new restaurants in all of Orlando – a truly breathtaking, rustic, yet refined Southern feel to it. It's like walking into a page of Southern Living magazine.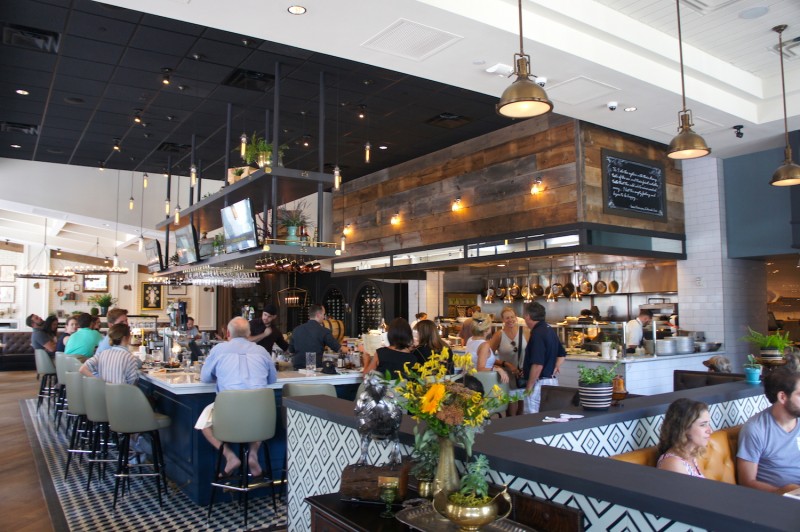 My dining companions and I were in the mood for brunch and so decided to drop by the Baldwin Park location to try out the new menu.
During brunch hour, they have a little charming push trolley full of pastries that get rolled around – kind of like at a dim sum restaurant, known as gueridon service by the French – filled with wonderful house made scones, coffee cakes, chocolate hazelnut turnovers, and more made by the talented pastry team led by chef Kristy Carlucci.
First, we started with some seasonal oysters – all very fresh and delicious, with some house made cocktail sauce accompaniment. I also enjoyed the crunchy shisito peppers, lightly seasoned with salt and pepper, served with a tarragon aioli sauce for dipping.
OYSTERS 11/21 – cocktail sauce, crackers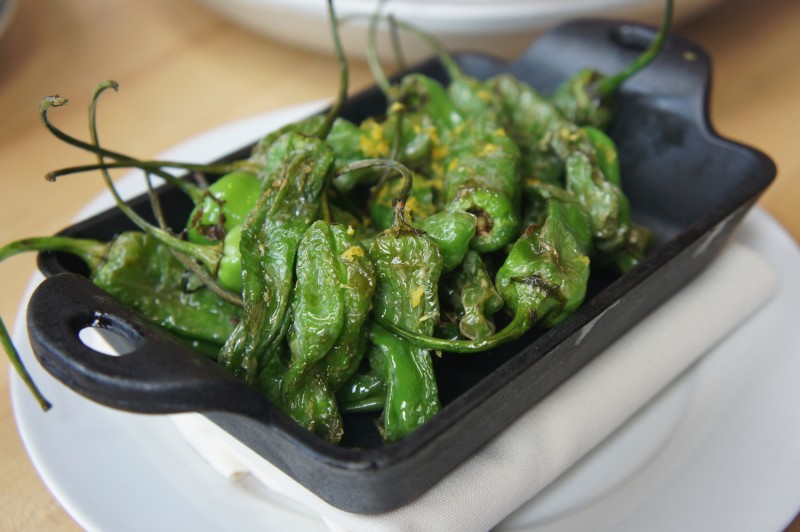 FRIED SHISHITO PEPPERS 5 – tarragon aioli
If you are in the mood for something light, but are tired of the "usual" salads, try the farm stand crudite – a colorful and unique arrangement of the season's freshest vegetables and produce, featuring some of the most vibrant colored veggies we've ever seen – and they are as delicious as they are beautiful to look at.
FARM STAND CRUDITE 9  – creamy herb & french dressing
For my entree, I chose the porchetta with eggs, a healthy slab of pork served with roasted potatoes and an Italian red eye gravy. The nido, a house cured ham with manchego cheese, egg, and tomato sounded tempting but the last one had just been ordered before we arrived, so my dining partners chose the tavern sausage burger and the spicy egg pizza, both very delicious from what I had sampled. I liked the meatiness of the sausage burger and how well all the components went together – a perfect "breakfast" item. The spicy egg pizza was savory and had a sunny side up egg baked right into the middle, perfect for dipping
PORCHETTA WITH EGGS 18
sunnyside up egg, italian red eye gravy, roasties
TAVERN SAUSAGE BURGER 14
beef summer sausage, english muffin, avocado, fried egg, roasties
SPICY EGG PIZZA 12
spicy marinara, snow peas, manchego, bantam egg
Overall, one of the best brunches we've had in Orlando so far – and I really think you should try it soon. Truly, a favorite.
The Osprey Tavern
4899 New Broad Street
Orlando, FL 32814 407-960-7700