Jake's Beer Festival was hosted at Loews Royal Pacific Resort on October 9, 2015.
Jake's Beer Festival happens only twice each year and takes place under the outdoor Wantilan Pavilion at Loews Royal Pacific Resort at Universal Orlando.
There were more than 60 specialty craft beers, delicious food, live music by Beth McKee and more.
Guests are invited to taste almost all of the 60 craft beers offered, and also enjoyed a few tables of savory foods as well as a free collectable glass, additional beers, more generous pours, and Firkin first drafts in the VIP lounge.
The Charcutière table consisted of Cold Smoked Mahi Salad, Liverwurst, German Holsteiner Salami, Butter Kase, Smoked Gouda, Whole Grain Ale Mustard, Cornichons. The Liverwurst was strong and not my cup of tea. The German Holsteiner Salami was the best; if only I packed it away in my camera bag.
Fresh Baked Soft Pretzels were served with Four Cheese Porter Fondue and Jake's pretzel Mustard.
The Pretzels were saltless, but were a delight present to help soak up the alcohol…so you could drink more beer throughout the night.
Grilled Mini Bratwurst in a House Made Pumpernickel Roll topped with Braised Red Cabbage was quite the snack.
The Grilled Mini Bratwurst was delicious and you bet we came back for seconds.
The House Made Pumpernickel Roll was a bit tough for my liking, but the Braised Red Cabbage added a nice acidic vinegar flavor and a crunchy texture.
The Sauerbraten is a dish containing Rich and Savory Braised Angus Beef scented with Juniper and Allspice, Thyme and Parsley Spätzle tossed with Emmantaler Cheese. The Braised Angus Beef was tender and fell apart to the touch; very rich in flavors similar to the familiar Vietnamese Style Beef Stew (Bo Kho).
Chicken and Waffles also made an appearance, here with Crispy Chicken Cutlets with Fresh Made Waffles, and a Jalapeño Glaze.
The glaze was nice and sweet with a little spicy kick from the jalapeños.
Each ingredient was prepared and made fresh at the station. Even the glaze was heated over a fire before poured over the chicken and waffles.
At the last food station, mini desserts are found, including Dark Chocolate Cupcakes filled with Nutella and topped with a cream cheese frosting. This cupcake was nice for a chocolate craving…it's healthy because they used dark chocolate, right?
The Apple Streusel Shot also had raisins and pistachios, with just the right amount of sweet. It was light and airy with the help of a dollop of whip cream on top.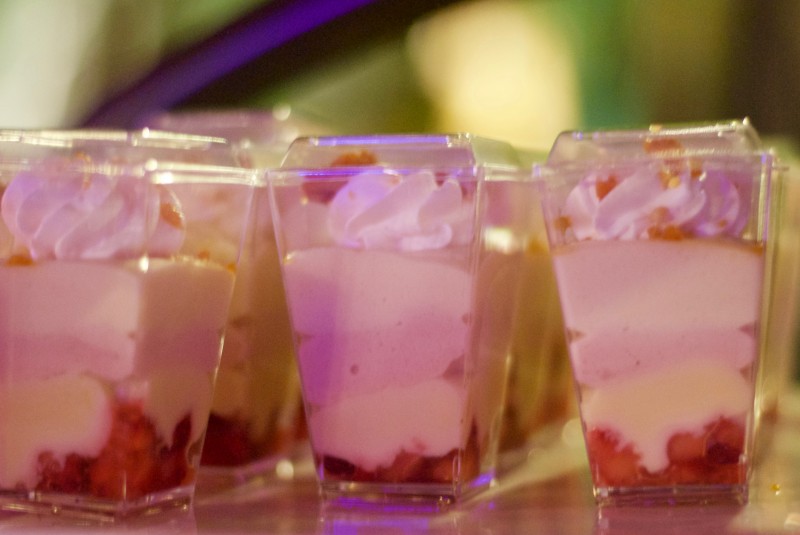 The Key Lime Strawberry Shot was layered with coconut mousse and almond nougatine, like cloud 9 with every bite.
Guests were allowed to sample as many dishes at the food stations during the entire duration of the beer festival.
Guests could socialize at a nearby table, sit at a dining table, or sit by a warm fire with a few friends.
Beer stations were all around for guests to sample one to all available beers at each table.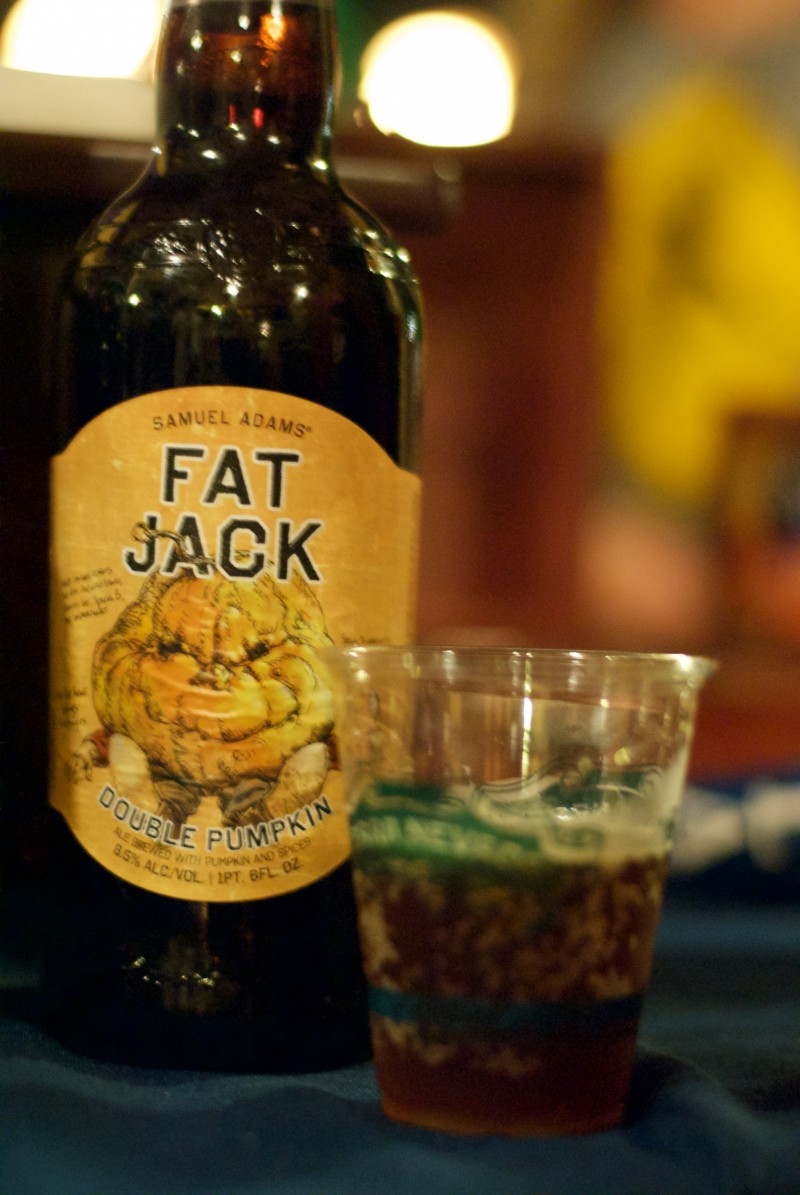 Of course, there were many pumpkin flavored beers, such as Samuel Adams' Fat Jack Double Pumpkin. However, from the beers we've tasted, Ace Pumpkin Cider (5% ABV) from California was the only beer that truly tasted like pumpkin. It was very light and crisp.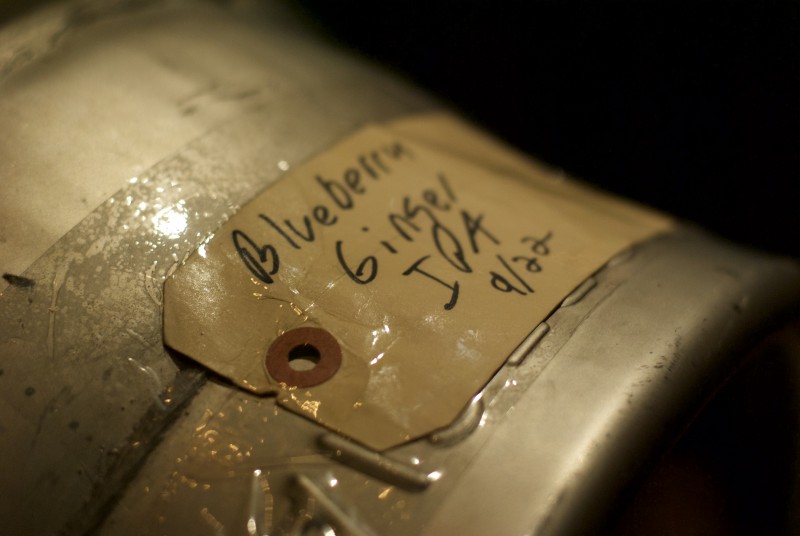 The Blueberry Ginger IPA from the VIP lounge was very fresh, light, and easy to drink on any type of day, whether it is a hot summer day or a cool fall evening.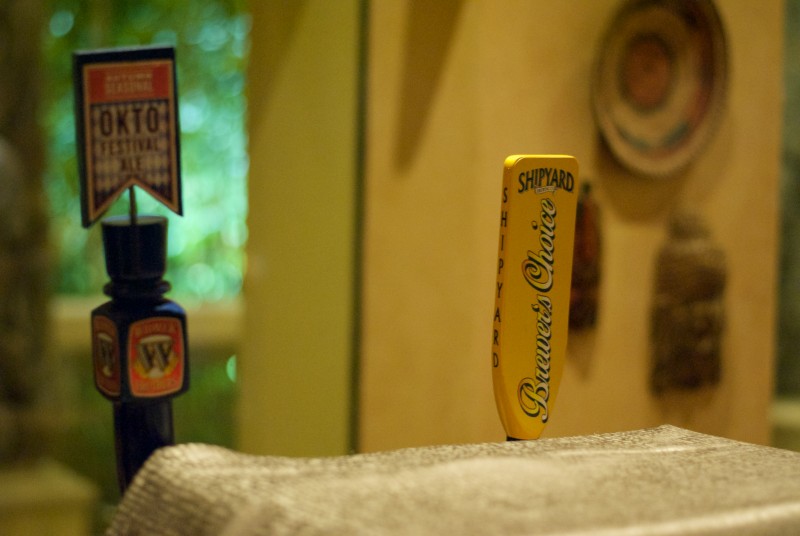 Another delicious beer from the VIP lounge was Shipyard Brewer's Choice. It would be one of my top choices to have, while sitting at the park enduring a family gathering.
Damm Laura Märzen is a gluten-free beer launched in 2006 as the first beer to help normalize the social life of those with Celiac Disease. In my opinion, it is a very delicious beer.
Be careful, it is clear and you can barely taste the alcohol. If I did not taste the malty notes with a hint of sweet fruitiness, I would not have thought it was alcoholic at all.
Below are a few other beers found throughout the festival.
For more information and full lists of the beers, please visit Jake's Beer Festival.
Keep a look out for their next beer festival in May 2016 at Lowes Royal Pacific Hotel. Hope to see you all there!