Each year Omni Hotels' culinary team travels the globe in search of unique and bold flavors. This year, their quest led them to Chile, where on the Western edge of South America, they discovered rustic flavors,
warm and welcoming people, a compelling landscape and some of the best wines in the world.
Chile's geographic barriers – the Atacama Desert to the north, the Andes Mountains to the east, the Patagonian ice fields to the south, and the Pacific Ocean to the west – protect its grape-growing valleys from harsh weather, making it literally, a winemaking paradise.
This year, Omni partnered with Wines of Chile to create a culinary treat presenting a dedicated Chilean dinner and bar menu paired with hand-selected wines that reflect Omni's utter enchantment with the region. This installment of Omni's annual "Flavors of the World" culinary series. will be available at properties across the U.S. from October 1 through December 31, 2015.
We were recently invited to check out the upcoming menu as part of a media preview. For more information, visit: http://www.omnihotels.com/culinary/chile and for the full menu, here.
MILCAOS CON PEBRE DE PALTA (9) – fried potato cakes topped with avocado, banana pepper, tomato and Chilean sea salt. Great combination of crispy and smoothness.

CHACARERITO – Traditional sandwich with beef steak, raw green beans, tomato and banana peppers. The vegetables gave the sandwich multiple layer textures and interest.
SOPA DE CHOCLO CON PINO DE CHAMPIÑONES  (8) – Delicious corn soup with mushroom, acorn squash, hard-cooked egg and basil puree. The hard-boiled egg actually worked really well as a solid component in the soup. 
EMPANADA CON PEBRE (9)
"Pino" chopped beef, onions, hard cooked eggs, raisins and green olive
"Camarón Queso" prawns, cheese and spring onion
"Pequen" traditional country empanada with caramelized onionThe caramelized onion empanada was super savory that you won't even notice there's no meat in it. 
CHORITOS CON PEBRE (12) – steamed mussels with tomato, onion, bell pepper and cilantro. 
BACALAO CON TOMATICÁN (35) – light and flaky seared sea bass with braised tomato, yellow corn and cilantro salad. 
COSTILLA CON PURÉ PICANTE (23) – pork ribs slowly cooked in beer and palm honey with potato puré and Chilean smoked chili pepper. There's a sweetness from the great molasses barbecue sauce as a well a smoked pepper after taste. 
QUINNOTO DE CHAMPIÑONES CON PEBRE DE PALTA (19) – golden Chilean quinoa slowly cooked with roasted mushroom and avocado. A 'healthier' opt from the regular risotto.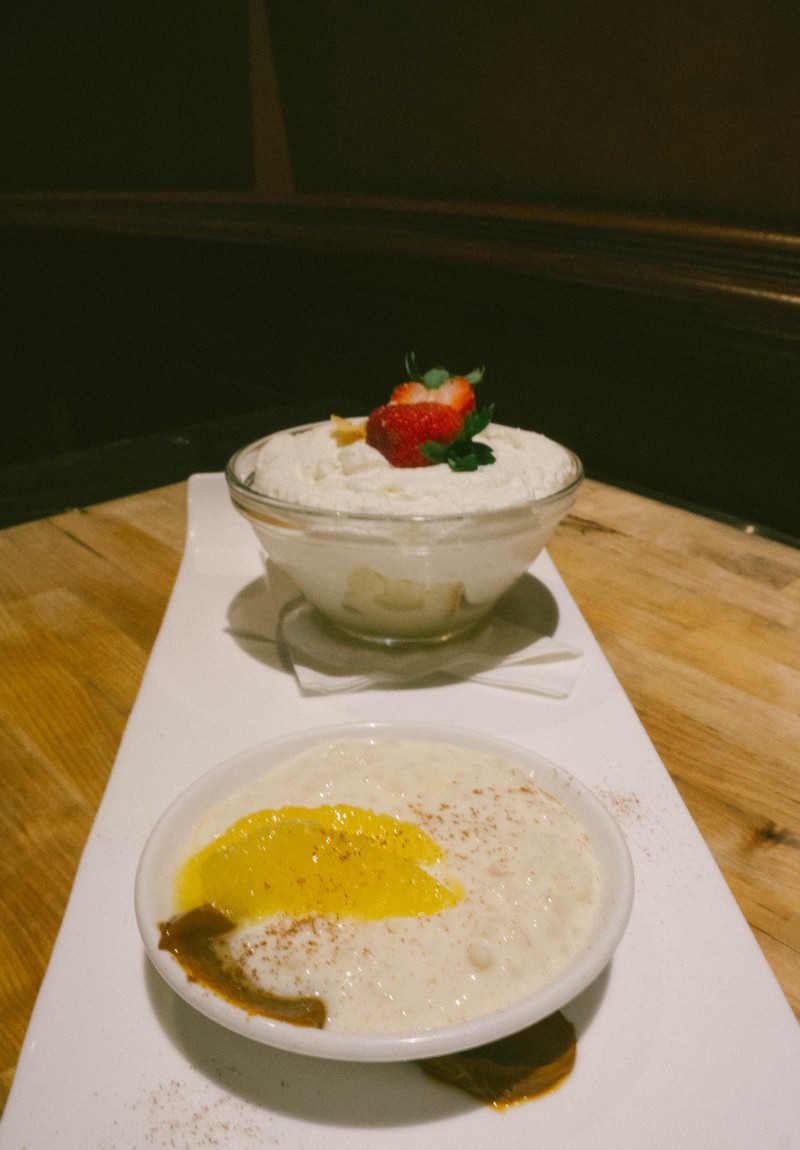 ARROZ CON LECHE Y SALSA DE MANJAR (7) – short grain rice cooked with milk, cinnamon, orange and dulce de leche. I'm not a huge pudding person, but this I can do. 
TRES LECHES CAKE (7) – sponge cake soaked with three milks and served with fresh strawberries. Probably one of the best Tres Leches I've had, and I believe it's the difference in the top layer of whipped cream. Extremely light and fluffy and not overwhelming to pair with the decadent layers that are on the bottom.
PISCO SOUR (10) – Capel Premium Pisco, lemon juice, sugar and crushed ice mixed together to create this Chilean classic cocktail. 
Omni Orlando Resort at Champions Gate
(407) 390-6664
1500 Masters Blvd, Champions Gate, FL, 33896