In February, my boyfriend and I were able to snag some cheap round trip tickets to Washington, DC from JetBlue since they were having a deal( ~97$ for a round trip).
I did some quick research and asked some friends about the places we should hit up since we were on such a tight 2 and half days schedule.
Here's a brief break down of what our day consisted of.
Day 1)
We landed in DC and had already made a rental car reservation through PriceLine since we can cancel the car rental without any additional fees and we can pay at pick up.
We decided to go with Alamo because they had shuttles taking us to and from the location. We didn't have to wait very long for paper work and to pick up our car either! In fact, we ended up getting a free upgrade on our car because they ran out of the smaller car options.
Our first restaurant pick was Founding Farmers
Classic Deviled Eggs (5$)
Fresh farmed eggs with a classic creamy mixture. Simple and generous portions.
My boyfriend went for the Chicken and Waffles (15$)
I became quite jealous as soon as I took a bite of his plate… It was incredible. The chicken was tender and flavorful without that heavy breading some fried chicken may have.
I had the Shrimp and Grits (16$)
Again, the portions were quite generous. It was hearty and earthy with fresh veggies. However, it didn't hit a home run with me as far as the flavor profile wise for that comfort southern meal as I was hoping it would.
The waitress recommended we go check out Renwick Gallery a branch of the Smithsonian American Art Museum that focuses on American craft and decorative arts from the 19th to the 21st century.
There were about 9 rooms and each room is filled with different art installations.
Each art exhibit had their own media specialty
This one was one of my favorite. Guests were invited to lay down on huge carpet and this structure took over the ceiling space above you. The back lights would change color subtly and it would create this wave of moods as the structure reflect the slight hue changes.
It was noted to us that we should take a look at the monuments both during the day and at night since they possess a different experience for each time periods.
The Washington Monument
Lincoln Memorial (looking from Washington Monument)
For dinner we went to Bonchon Chicken
Korean Fried chicken in Soy Garlic and Spicy. (10 pc 12$)


Takoyaki (7$)

Bulgogi (15$)
Honestly, I was a little disappointed with the whole hype. I would either pick out another Korean restaurant or just go for the chicken because that's their main dish. The rest of the dishes fell short or I could've gotten it anywhere else.
Day 2)
I met up with a childhood friend who is currently living in DC and he took us to Plan B. The location was definitely nice since it was close to most Smithsonian museums, Botanic Garden, and the Capitol.
The New Englander (15$). A classic burger with lobster chunks on top. A solid burger but could use a little extra sauce.

The 3 Shrooms (12$). Mushrooms prepared in 3 different ways: sauteed mushrooms, mushroom spread, and truffle mayo in between some pretzel buns. Quite tastier than the New Englander in my opinion.
For next few hours we went museum hopping!
Inside Smithsonian National Museum of Natural History

There are multiple floors with various types of exhibits.
There were some land mammals and some ocean creatures.
We took a stroll down a couple of blocks towards the United States Botanic Garden.


Flowers greeted you as soon as you come through the doors.

Inside the "Tropical" green house
Spotted some wildlife on our walk!
The Washington Monument during the day (view from Lincoln memorial)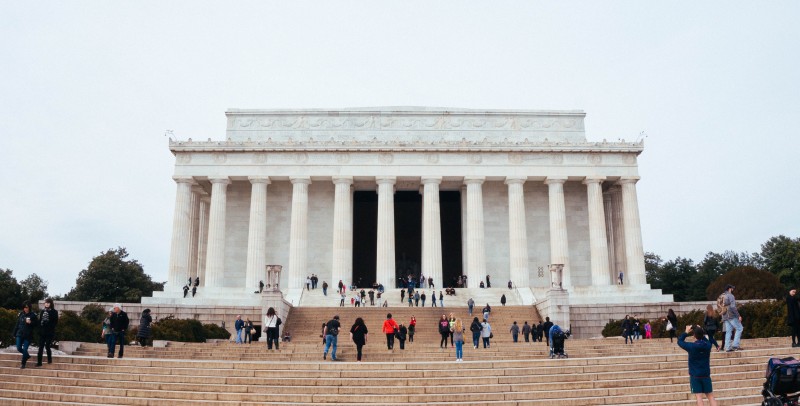 Walking up the steps to The Lincoln Memorial.
All of this sight seeing made us hungry and we couldn't get a reservation for Blue Duck Tavern earlier than 10:30 PM that evening…

We decided to check out a local fish market for pre-dinner grub and hoped that they would shuck some fresh oysters for us.

and they sure did! We went with the Blue point oysters. They were amazing… slight ocean brine, quite sweet, and incredible crisp texture. We got really excited when they offered a lobster bisque and clam chowder soups, not only that but they also steam live blue crabs and snow crab legs!
So after we dug our face into this meal we started getting ready and head towards Blue Duck tavern since it was highly recommended that we go.
I was still a little full from the pre-dinner so I went with an appetizer as my main dish.
Beet cured Salmon and crispy chicken skin while my boyfriend went for an actual entree and got their Lamb Shanks.
I was more impressed with the Lamb entree since it was packed with flavors and the meat was so delicate and tender.
The dinner could get a little pricey- we had 2 drinks, an appetizer, and an entree for a little under 100$ excluding tip.
Day 3)
We saved the zoo for it's own day since it was a little further out and a lot of museums closes at 5:00PM
The Fennec Fox
Giant Panda!
Galapagos Turtle
We had a little extra time before heading back to the airport so we thought we should venture off to Virginia and try out Honey Pig (a korean BBQ place that's also in Atlanta, Georgia) since it was only 25 minutes out.
To be frank, SAVE YOUR MONEY and go elsewhere. The service made us felt rushed and unwelcome even though there were only 3 tables around us. They tried to shove all of our meat portions onto the grill and when we asked to take our time they completely neglected us. The food wasn't that amazing either… I honestly could get it anywhere or even make it at home.
On a higher note- We drove back to DC and visited Milk Bar. Another one of my must if you ever visit DC.
It was right next to Momofuku- which I was upset we didn't get to try.
I got their Cereal Milk Affogato

I also bought some cookies and truffles for myself and some friends back in Orlando. These cookies were absolutely delicious! Great texture and balance of savory and sweet – Just the way I like them.
Thanks for reading up on my Washington, DC adventure!
For more food photos check out my personal Instagram page: @enhighwin_eats