Disney Springs recently had a nice addition to their family.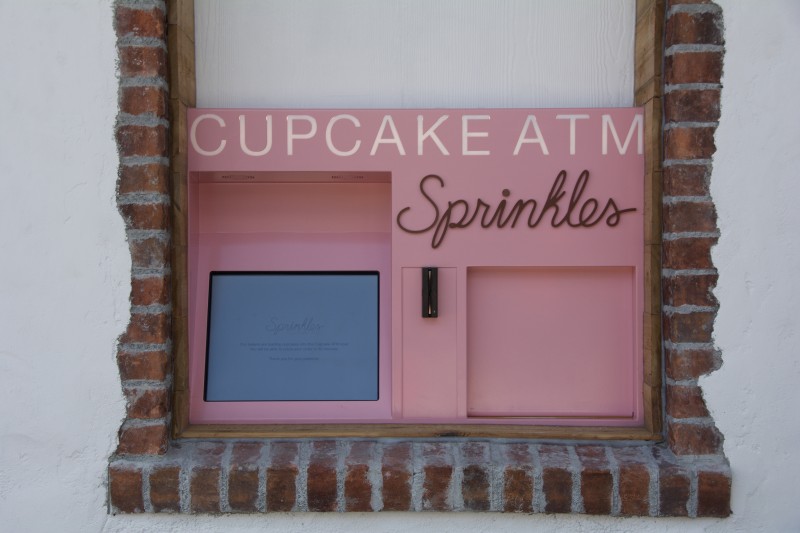 Sprinkles is the world's first cupcake bakery by Food Network and their location at Disney Springs is the 20th location for the brand nationwide as well as the 12th Cupcake ATM nationwide that will dispense fresh cupcakes straight to customers.
At Sprinkles, they offer freshly baked cupcakes and an assortment of ice cream and cookies. Not to mention, vegan, gluten-free and sugar-free cupcakes, cookies and ice cream are also available daily.
Combinations can be made like this cookie ice cream sandwich. You can decide on what cookies and ice cream you'll be served. Not a fan of cookies? How about a fudge brownie ice cream sandwich? The fudge brownie alone is moist, airy, thick, and sweet enough to give you cavities on impact.
If you can't decide between having ice cream or a cupcake, you can combine those too. Here's a delicious Sprinkles cupcake with a scoop of red velvet ice cream in the middle.
At Sprinkles, they have bits and pieces of the red velvet cake in their red velvet ice cream. I don't think you can imagine how delightfully surprised I was when I discovered this fact. It adds a nice dense texture to the ice cream that I truly enjoyed.
A variety of seasonal flavors will be available at various times throughout the year. They deliver within a 100 mile radius for online and phone orders – this could be great and horrible news for us all.
When Sprinkles has extra food items at the end of the day, they donate to a nonprofit organization called A Grateful Mind that works to feed the homeless in Central Florida and provide programs for the area's youth. How can you not support a good cause?
Feel free to join their perks program for benefits and rewards at Sprinkles Perks.
Bakery days and hours: Monday-Sunday 10am-midnight
ATM days and hours: Monday-Sunday 8am-2am
More information can be found at Sprinkles at Disney Springs.