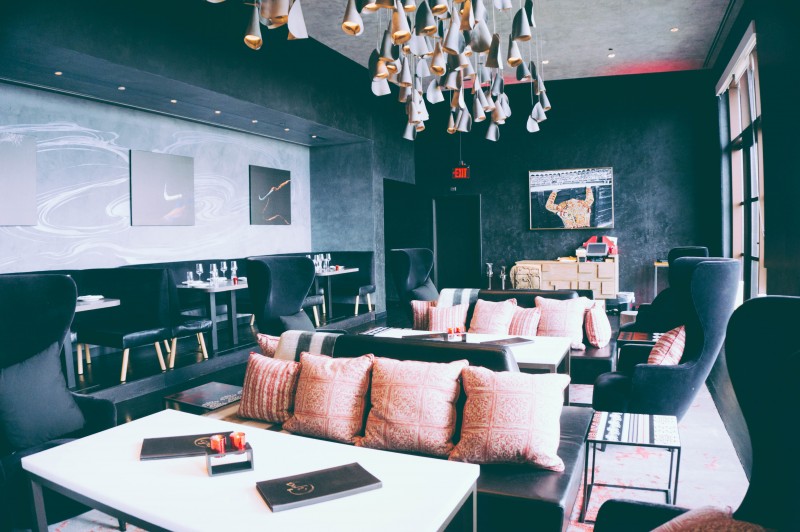 I had the pleasure of dining at Capa, a restaurant sitting on the top floor of one of of Florida's most beautiful resort The four Seasons. We started off in the lounge area with a very hip and modern décor. The open windows allowed in plenty of light to set the lively ambiance.
We then were introduced to some cocktails first the Vodka and Tonic:
Naranja GinTonic (17)
Tanqueray No. 10 | Fever Tree Mediterranean Tonic Orange, Juniper, Sage, Thyme
As well as a Gin and Tonic.

Capa GinTonic (17)
Caorunn Gin | Fever Tree Mediterranean Gala Apple, Juniper, Key Lime, Fennel
Both drinks were delicately prepared so that the aromatics were a central part of the experience.
The hordeurves started off with Artic char. They were addicting little bites that would burst with flavors of apples, buttermilk, and roe on top of a rye crisp.
We then had Datiles made with medjool dates, almond, bacon, maple, and tamarind. A harmonious combination between salty and sweet. I would let these cool a little since it proved to be difficult to conquer in one bite without scorching your mouth.
Moving onto the Pan Con Tomate Y Bellota. A finely sliced of cured ham with bread and tomatoes. Simple and focused on Bellota as the center piece.
The Albondigas: Duck meatballs, lentils, escebeche, carrots. The duck was nice and tender without the gaminess, an overall very comforting dish.
 The entree arrived and it was glorious. The Bone In Ribeye from Arkansas City, KS was grilled to a beautiful medium rare with the melt in your mouth fatty goodness. Honestly, my favorite part of the dinner – I went back to gnaw on the bone.
Everyone had to take a snap of it!
The photo snapping continued with the Pork Chop from Portland, OR. Charred and sweetened with kumquats.
Photo by Kristine Young
We ended dinner with a rather simple dessert. 
Churros with caramel and chocolate sauce dipping.
I really enjoyed my experience at Capa. The venue and atmosphere was very lively and inviting that's quite perfect for a date night or even a girls night out. I'm excited with the new seasonal changes to the menu bringing in vibrant flavors and twists to the luxurious Four Seasons of Orlando.
Cheers to great food and great company!
Capa

Address:
10100 Dream Tree Blvd, Orlando, FL 32836