Hi, food friends! Did you know that in August 2016, 7.1 trillion gallons of water fell during the Louisiana floods? Lives were lost, and more 140,000 homes were destroyed. I was deeply impacted and decided to create Good Through Food, a new Orlando-based organization that strives to make lives better through food-related efforts. This past Monday, we launched the first initiative to help called Project 001. Louisiana, which includes local restaurants creating and selling Louisiana-inspired dishes and desserts to help raise funds for those in need.
From October 24  through October 31, local restaurants are selling a Louisiana-inspired dish to help raise funds for the Baton Rouge Area Foundation, a Louisiana-based charity that seeks to assist South Louisiana residents, which make up the majority of the 30,000 people that were displaced from their homes because of the floods, only to return to neighborhoods they couldn't recognize. Chefs and restaurants will donate 25, 50 or 100 percent of proceeds to the charity.
5 Participating Restaurants: (Eat one dish or eat them all to give back):
I-Drive
1. Tapa Toro: Churro Bread Pudding
2. Taverna Opa: Loukomades (Greek Beignets) — check out how to make them here!
Audubon District
3. P is for Pie: P is for Pecan Caramel Hand Pie + Coffee
Historic Longwood 
4. Collette's Clean Eats: Shrimp, Blue Crab & Turkey Sausage Gumbo with Organic Brown Rice
Mills 50 District 
5. Black Rooster Taqueria: NOLA Pork Belly Taco
Please share your dishes on Instagram using the hashtag #GoodThroughFood. For more information, visit GoodThroughFood.com. Restaurants can still sign up, so spread the word.
Connect on social media on Facebook and Instagram. Check out the video below to learn more.
Thank you so very much for your support, it means everything!
Let's do good together…
Snack on,
Chauniqua Major, but we're friends so call me Major!
https://youtube.com/watch?v=kqslsT7W4IQ%3Frel%3D0%2520frameborder%3D0%2520allowfullscreen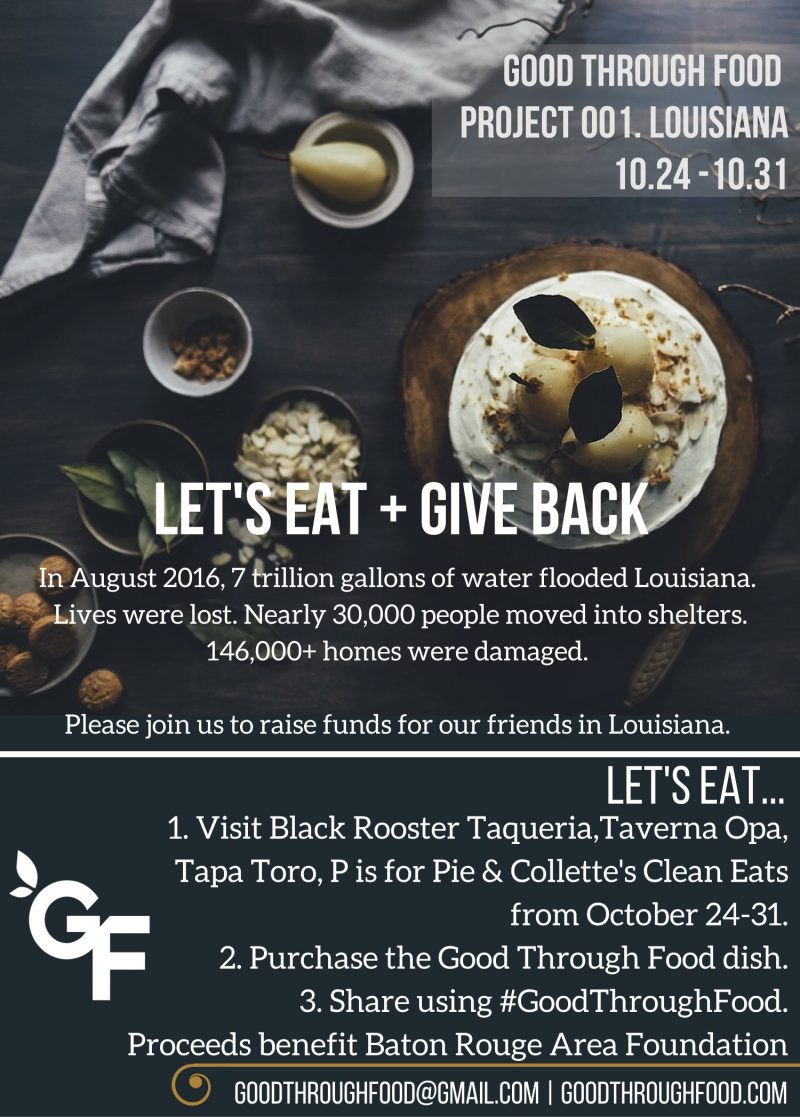 Shareable Images for Social: