Omni Orlando Resort at ChampionsGate is currently in the midst of an extensive $40 million+ expansion project — on the heels of a contemporary redesign of their onsite Trevi's Restaurant and the addition of a new outdoor garden terrace and bar among many other exciting enhancements.
We received a sneak peek of Trevi's Restaurant and their menu.
Prosciutto Crostini with melon and fig – Smooth textures mixed with sweet and savory tastes wonderful for the upcoming sunny Florida days. Each bite will keep you coming back for more.
Grilled Artichoke Crostini with olive tapenade and goat cheese – Personally it would not be my first choice, but it is healthy and tasty as the flavors balance once another.
Shrimp and Tomato Crostini with parmesan and aged balsamic – Fresh shrimp with the smooth texture of parmesan and tart yet sweet flavors of the balsamic.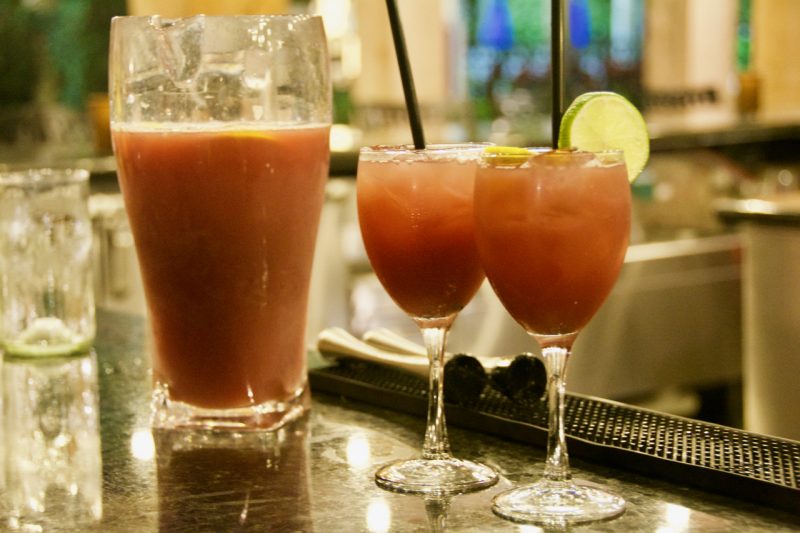 After being introduced to crostini bites, Trevi's Restaurant created a demo to make the best sangria I have tasted. Sangria is not my favorite drink, but this one is dangerous because of its delicious flavors which helped mask the bitterness of alcohol.
Before a delicious family style meal, one of Trevi's chefs demonstrated how they create hand made ravioli at Trevi's Restaurant.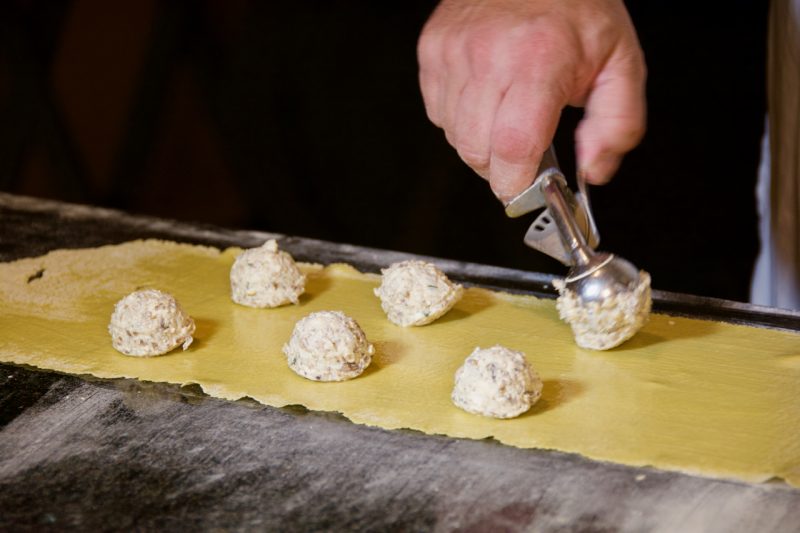 Porcini Ravioli, Lobster, Madeira Cream – Fresh lobster on top of delicious porcini ravioli. The flavors are all balanced and everything was cooked to perfection.
Enjoy some bread and whipped butter while you wait for your dishes to arrive at your table. The breadsticks are my favorite out of this bunch from taste to texture.
Beef Tartare with quail egg, capers, and white truffle mustard aioli – The beef tartare and quail egg both have a smooth texture. The white truffle mustard aioli is added to elevate the flavors of this antipasti.
Snapper Crudo with tomato, basil and citrus – This is the best snapper crudo I have had. Fresh with a citrus twist and full of lean protein. I highly recommend this dish at Trevi's. If you were to visit Trevi's Restaurant solely for this dish, it would be worth it.
Semolina Dusted Calamari with spicy tomato sauce – Arrives at the table right as it was placed on the dish. It is more salty than the usual calamari I have had, but it won't negatively impact your impression unless you are on a low sodium diet. It is tasty with or without the spicy tomato sauce.
Caprese with heirloom tomato and aged balsamic topped with Burrata with extra virgin oil and smoked sea salt –  You can never go wrong with some creamy burrata balanced by the crispy heirloom tomato, crunchy salt and coarse pepper. Burrata is a fresh Italian cheese made from mozzarella and cream. The outer shell is solid mozzarella, while the inside contains stracciatella and cream, giving it an unusual, soft texture. Along with other dishes at Trevi's, there's a play on a number of flavors in this dish.
Pizza Napolitana with fontina, spicy sausage and caramelized onion – The crust is crusty and fontina is delightful. The sausage is not spicy as they say it is.
Chicken Diangelo with artichoke, red pepper and lemon wine sauce – The chicken is dry regardless of the sauce. The pasta is overcooked and mushy in texture.
Goat Cheese Polenta – A gourmet comfort food that is creamy and great for a windy day. I could use a bowl right now as I write this post.
Charred Broccolini – Fresh vegetables made crisp with a bit of char.
Baby Meatballs – Flavorful meatballs that fall apart upon touch or placed into the mouth. Many will love the crumbly and soft texture, yet I prefer a more dense nature to my meatballs.
Warm Zeppolis with chocolate sauce – Doughnuts topped with powdered sugar and a dense bread-like texture. Warm and sweet, but a tad dry.
Affogato with vanilla bean gelato – A scoop of vanilla bean gelato topped with a shot of hot espresso. What is better than ice cream and espresso? Nothing. It is smooth and sweet with a touch of caffeine. If only this was a large portion and on ice.
Meet the Chefs
Chef Luca Sterpetti
Chef Robert Gioia
We had a few questions for the Chefs of Trevi's:
What is your favorite dish?
Chef Luca: My favorite dish is ICE CREAM especially hazelnut, coffee and chocolate.
Chef Gioia: My favorite dish I love to cook is my father's Sunday gravy recipe served with pasta. It's a simple dish, but very important to use fresh tomato and herbs. He would use pork and lamb in the sauce and that's why, according to him, it was called gravy. To this day I hear arguments of what is "Sauce" and what is "Gravy"…
How did you get into the culinary field?
Chef Luca: By choice because I love to eat. Growing up, I was always involved with food some way. It was a means to stay close to my grandparents, parents, friends and relatives. All my life, I have tasted, breathed, felt and lived food. As a Chef, I am blessed to have been a part of so many different traditions from all regions of my own country, Italy.
Chef Gioia: I started cooking at the age of 14 in a resort in Catskill, NY. Before then, I was the dishwasher working at the age of 12, the owners were friends of the family. At a young age it taught me the importance of reliability and integrity in a work place. I believe a respect and knowledge for fundamental cooking and technique is what is truly important in creating great tasting dishes
About Omni Orlando Resort at ChampionsGate
Omni Orlando Resort at ChampionsGate is a part of the Omni Hotels family, which creates compelling, memorable guest experiences by tempting the senses in innovative ways, surrounding them with a balanced blend of scents, sounds, sights, textures and tastes.
Beginning a new chapter in its 13-year heritage, Omni Orlando Resort at ChampionsGate is undergoing an extensive expansion project – its first since opening in 2004.