Summer is heating up in Central Florida as International Drive's hottest destination in nightlife and entertainment, Mango's Tropical Café, welcomes the biggest names in Latin music to their stage with the 2017 Mango's Summer Concert Series.  With a state-of-the-art sound system and viewing areas from everywhere inside Mango's breathtaking two-story 55,000 square-foot venue, concert goers will be up on their feet all night long while the hottest artists in Latin music entertain them.  Doors open at 9:30pm.  Shows starts at 11pm, with the fun continuing until 2am.  Pre-sale tickets start at $25 and can be purchased thru www.mangos.com or at http://ticketera.us/.  VIP options are also available.  The exciting lineup includes:
Friday, June 16 – Andy Montañez
Friday, June 23 – Osmani Garcia
Friday, June 30 – Justin Quiles
Friday, July 7 – Coming Soon
Friday, July 14 – Jose Alberto "El Canario"
Friday, July 21 – Ismael Miranda and Jose Alberto El Canario
Friday, July 28 – Tony Dice
Friday, August 4 – Pirulo
Friday, August 11 – Tony Vega
Friday, August 18 – Tito Nieves
Friday, August 25 – Noriel
We were recently invited to a media preview for Mango's and check out their food offerings down in the International Drive area.
An a la carte menu is available at certain locations throughout the restaurant at certain times and days, but the Dinner & Show "Deluxe" is a 3 course meal primarily offered during shows.
The Gran Picada Deluxe Platter is a little of everything. The Mambo wings are delicious, cooked well, and seasoned just right. Yuca bites are unique on their own. Ham Croquetas were nice and crisp, but did not have much ham; it is a bit dense for my preference.
Mango's Guacamole Bowl & Chips is delicious, yet on the salty side. The avocado was also chunkier than your usual guac.
The Crispy Fried Calamari had a nice texture and the flavors are mellow. It is served with dipping sauces and lemon, but I prefer to only season it with the lemon.
The Prime Rib is cooked to your preference. It was the best thing we had from the menu. The flavors are to die for.
The Fresh Grilled Salmon Filet was slightly overcooked and dry. The rice served with it was nicely textured and flavored.
Mango's Famous "Churrasco" Steak was a nice twist from the usual steak. The herbs and spices are very unique and tasteful. The side of sweet plantains were delicious and not overly sweet. However, the sweet plantains are a bit dense.
Masitas de Puerco consists of marinated Cuban-style pork chunks that are fried. The pork is usually marinated for 12 hours or overnight before deep fried at 350 degrees for 10-12 minutes. This is not my favorite as it was very dry and hard in texture.
The New York Cheesecake is your usual cheesecake. Nonetheless, it is delightful.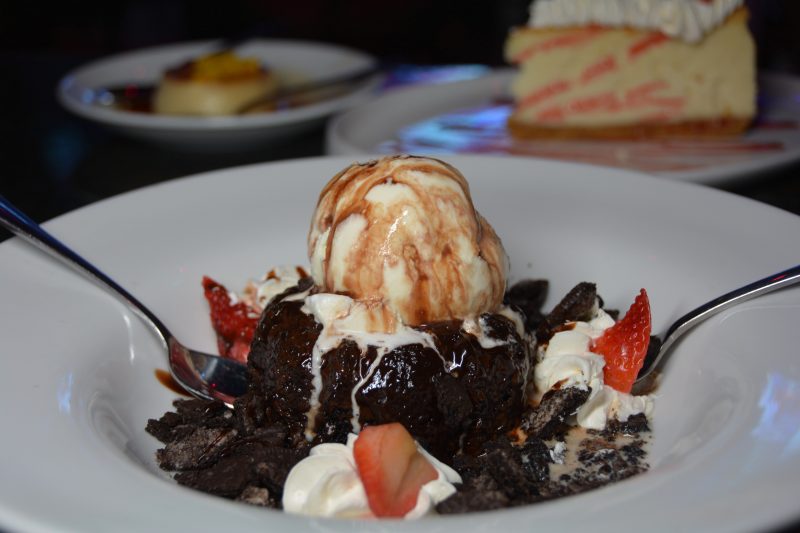 The Chocolate Ecstasy will be loved by anyone who enjoys chocolate. The torte is more semi-sweet than sweet, which is preferred when you have it with ice cream and maybe a few other desserts.
Mango's Mango Flan is a flan with a light mango taste. It is a delicious custard that is thick and creamy. Like other flans, I do like this one.
This large slice of chocolate cake may not be on the menu. It has a cherry sauce drizzle all over along with a icing frosting. This is a tad too sweet for our liking, but our eyes sure like it.
Have a few drinks while you enjoy the show. The Miami Vice Cocktail is my favorite drink here. It was fresh and great for summer. You cannot taste the alcohol at all, which makes it very dangerous!
On the other hand, you could order a fish bowl to share with a few friends or your significant other…or drink all on your own.
Mango's Tropical Cafe
Address: 8126 International Dr, Orlando, FL 32819
Phone: (407) 673-4422
For more information, please visit Mango's Tropical Café.