Cooper's Hawk in Orlando, FL of Cooper's Hawk Winery & Restaurants hosted an event with Top Chef Winner Jeremy Ford. The collaboration represents the Cooper's Hawk brand philosophy centering the creation of exciting and memorable experiences for those who love food and wine.
Cooper's Hawk has the largest wine club in the country and 28 restaurants – and by 2018, will have 5 in Florida. This is the most in any state.
The dinner included four courses with wine pairings and Jeremy had a live cooking demo on site. Chef Jeremy Ford was a little more tipsy each time you look around for him as he will have a new drink in hand each time.
Truffle Fritter with Wagyu Beef & Basil has to be my all-time favorite appetizer. From the crunch of the fritter to the smooth and savory Wagyu beef, any texture craving you may have are satisfied. Have a taste paired with Cooper's Hawk Lux Sparkling, which was not too sweet or brut.
Char-Grilled Octopus, Crispy Potatoes, Smoked Paprika & Herbs is not too shabby. I wouldn't mind a second bite if a friend orders it. Having it passed around was nice, but it would be better if you order it and enjoy it warm.
Tomato Gazpacho, Summer Flavors & Olive Oil is not my favorite dish. From each sip, you will experience an abundance of flavors from herbs.
Fresh Mozzarella, Homemade Togarashi, Ponzu & Warm Melted Butter paired with Cooper's Hawk Lux Chardonnay. The mozzarella was delightful with all the sauces and chilled butter. The Chardonnay was very smooth in itself. Careful, because the waiter may be inattentive and pour the butter all over your legs as it happened to us.
Roasted Halibut, Spring Onion Vinaigrette with Asparagus, Morels & Pistachio can be enjoyed by everyone if a light dish is desired. I brought a guest who did not like fish whatsoever; however, she discovered that she liked this dish. The fish is paired with Clone 27 Sauvignon Blanc Musqué.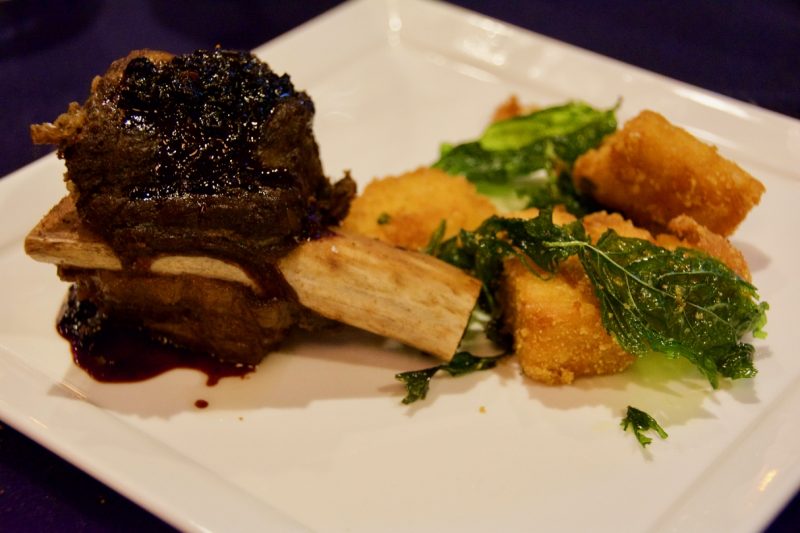 Crispy Beef Short Rib, Red Wine Smoked Chili Glaze & Polenta Fries. This dish took a bit longer to come out than we expected and desired as it takes at least 30 minutes to create a wonderful short rib. However, Cooper's Hawk should have started this dish sooner than right after bringing out their surf dish.
The short rib was unique and savory. The red wine smoked chili glaze was not overpowering and allowed the flavors of the short rib to express itself. Even our pups at home love the bone we brought home! The polenta fries are very smooth and dense. This dish is suggested to be paired with Cooper's Hawk Lux Meritage.
Strawberry Sundae & Kaffir Lime Meringue is paired with Ice Wine. The strawberry sundae included dairy and sorbet versions for a refreshing or smooth fancy. The sorbet is tart and balanced by the sweetness of the dairy strawberry scoop. The kaffir lime meringue added a nice citrus flavor to the fish. Kaffir lime is believed to be good for the blood and promotes gum health.
For more information of Cooper's Hawk, please check out their website or pay a visit in Waterford Lakes of Orlando, FL. See you at Cooper's Hawk with a glass of their wine!