Orlando Chef-proprietor Sean "Sonny" Nguyen of Domu at East End Market has been chosen as a semi-finalist to compete this month in the New York qualifying competition for the Washoku World Challenge, a cooking contest in which Japanese cuisine chefs from all over the world compete in technical expertise and passion for Japanese food.
The contest, the 5th of its kind, is organized by Japan's Ministry of Agriculture, Forestry and Fisheries for non-Japanese chefs. Chefs must be of non-Japanese nationality with experience in cooking Japanese cuisine AND over 2 years of experience as a chef (current place of residence can be any country, including Japan).
Qualifying tournaments will be held in six cities worldwide (London, New York, Los Angeles, Hong Kong, Bangkok and Tokyo). The six chefs who pass the qualifiers will be invited to the final tournament, to be held in Tokyo on February 13th and 14th, 2018.
The number of Japanese restaurants located overseas has drastically increased by approximately 60% from an estimated 55,000 in 2013 to 89,000 by July 2015.
However, in some of these Japanese restaurants located overseas, there are some cases wherein chefs without appropriate knowledge and skills regarding Japanese cuisine engage in preparing meals.
The Washoku organizers, backed by the Japanese government, have created guidelines to make sure Japanese cuisine created by foreign chefs is prepared with the appropriate knowledge and skill.
Chef Nguyen, who is of Vietnamese descent, has been training with the help of a Japanese masterchef in New York as well as advisement from friend and fellow chef Mark Berdin of Kadence. He has been learning how to make soba noodles by hand and Japanese cuisine in general once or twice a month in New York along with a lot of personal practice and self training.
"The application process was tough and they only select a certain amount of chefs around the world based on their recipes and skill, in which I just found out yesterday that I was chosen to move forward to the NYC competition!" said Sonny Nguyen.
For the qualifying competition, Chef Nguyen had to create a recipe for his own unique dashi soup and a kaiseki appetizer box containing 5 specific Japanese techniques of cooking.
"I think this is a big deal for us here in Orlando, especially if I advance further (not holding my breathe lol) but also because I want to represent our city and put us on the map, even if I don't place," Sonny said.
The competition will be judged by Michelin rated Japanese kaiseki chefs with media and live tv coverage to Japan of the cooking competition events in New York.
"Kaiseki is focused on simple, clean, umami flavors and is very seasonal."
The theme of this year's competition is umami flavor. In Japan, the technique of extracting umami from kombu kelp and bonito flakes to create dashi broth was developed approximately 500 years ago. The basic dashi is made with kombu and bonito flakes. The combination of the glutamic acid in kombu and the inosinic acid in bonito flakes create a delicious umami taste.
For the competition, chefs had to create one suimono soup (with at least three ingredients) reflecting the UMAMI theme, made with fish or shellfish, vegetables, and citrus or sprout of an aromatic plant.
Chefs also had to create one fuchidaka mori (with at least five dishes) reflecting the UMAMI theme, including nimono (simmered foods), yakimono (grilled foods), agemono (deep-fried foods), aemono (marinated foods)/sunomono (foods dressed with vinegar), and arrange attractively in the fuchidaka. Fuchidaka is not the name of a dish or a meal, rather it is the name of the container itself (think bento box).
Contestants in the qualifying competition will compete on:
1. Test of cooking technique (basic knife skills) – 30 minutes
Basic knife skills:
One 15cm long daikon radish
Techniques tested:
– Daikon katsura muki 30cm
– Daikon ken for roughly three people
– Daikon wagiri, shikishi giri, tanzaku giri
2. Suimono (for five people) – 90 minutes
Contestants will be asked to cook the recipe they have submitted for the application screening. The soup must use dashi made from kombu kelp and bonito flakes.
Below are some photos from Chef Nguyen's submission: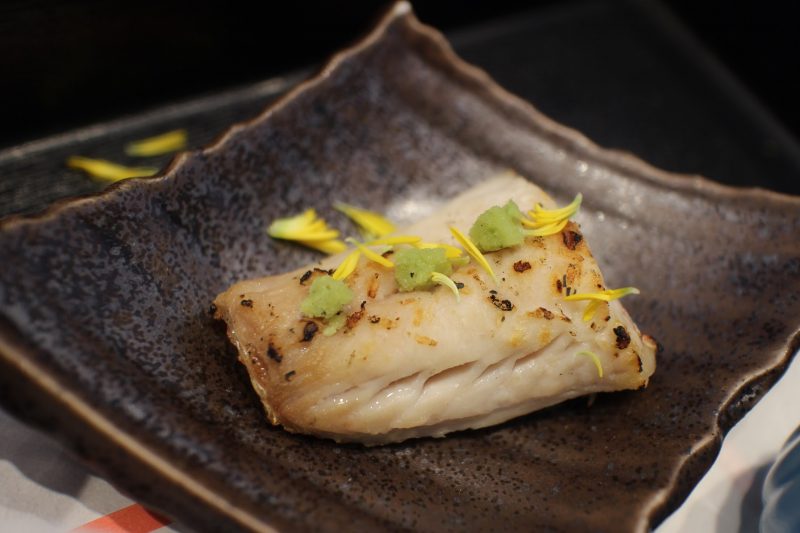 If he wins in the qualifying tournament, Chef Nguyen will:
– Be invited to the final tournament, to be held in Japan
– Be able to participate in Japanese cooking seminars in Japan
– Have the chance to apply for the Certification of Cooking Skills for Japanese Cuisine in Foreign Countries (Bronze)
– Be covered by international media
In the mean time, besides preparing for this tournament, Chef Nguyen is getting ready to open his second ramen shop, Domu in Jacksonville, and who knows what else is in the works.
Sonny Nguyen: "My end goal is to specialize in making noodles. Ramen, udon, soba, all by hand since the technique is rare nowadays and is really an art that goes beyond measurements. It's about full body movement, feel, and smell."
"The chef I'm training with has been making soba by hand for over 10 years and learned from his teacher in Tokyo who was 90 years old at the time, making him his last student."
"We use high quality buckwheat flour that is stone milled by hand in Seattle to make the soba noodles. Pretty expensive stuff but smells great. Plus buckwheat is good for you."