Hawkers Asian Street Fare was founded in Orlando's Mills 50 District by four friends, Kaleb Harrell, Allen Lo, Wayne Yung and Kin Ho, who traveled the world on a mission to curate an eclectic and memorable dining experience built on passed-down recipes and hand-picked popular street foods from all over Asia — Korea, China, Malaysia, Singapore, Thailand, Vietnam, and Japan.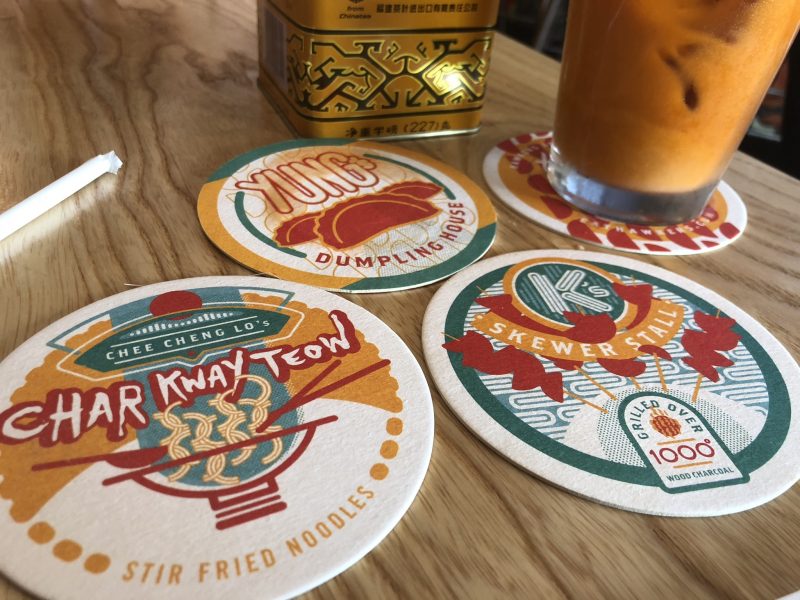 The brand's name was inspired by street vendors that the friends encountered throughout the streets of Asia known as hawkers, who are famous in their own right and thrive off of locally grown ingredients to create dishes sold from mobile carts and stands.
I've been to Malaysian restaurants from Atlanta to New York City, and I have come to realize that our very own Hawkers serves up some of the best curry prawn mee noodle soups and roti canai in the United States.
They recently opened their second Orlando location in Windermere at The Grove (9100 Conroy Windermere Road, Suite 110, Windermere, FL 34786) and have announced their newest (seventh!!) restaurant will be coming soon in 2019 to Charlotte, North Carolina.
"For the last few years, we've watched Charlotte grow into one of the most dynamic urban markets in the Southeast," said Kaleb Harrell, Co-Founder of Hawkers Asian Street Fare. "We absolutely love the culture, and the city's investment into walkability and revitalization. It is an honor for us to open in Charlotte."
The seasonal menu features house favorites such as Roti Canai (Row-Tee Can-Eye), a flaky Asian flatbread paired with Hawkers' signature curry sauce, an award-winning Pad Thai, and other popular items such as Yi Yi's Chicken Dumplings and Curry Laksa.
With all the growth recently at Hawkers, we wanted to chat with Kaleb Harrell, one of Hawkers' founders, about the restaurant and where it's all headed:
Tasty Chomps: What was it like in those very first days when Hawkers began?
Kaleb: It's so different! The four founders were running the kitchen while we had a few servers running the front for us (including our wives after they left their day jobs at 5). I can remember opening around 9 a.m., working the entire day to close, cleaning the kitchen, then talking about building our systems until 3, 4, 5 a.m. some nights. Those were days that I'll never forget and wouldn't trade – it was a time when our partnership strengthened and we built the foundation of what Hawkers is growing to be. Most of all, I remember the guest reactions – excited that they had found this gem of a restaurant with a cuisine they had never tasted and an adventurous experience that would leave them wanting to show it off to their friends.
What will the new headquarters coming to downtown Orlando be like?
Designing that space has been very difficult. Of course, we have to make it a "functional" work environment (so says our architect 🙂 ), but we are really trying to create a space that is connected to our restaurants. There will be a workspace side that functions more like an office with heavy street art and some very creative elements, including our "rice bag room." Then there will be the mock dining area that sits on the bridge – this is our opportunity to bring street culture into the space. We will have a fully functional bar, a few booths for flex space, and an instagram-worthy neon installation on the ceiling.
What can new visitors to Hawkers expect when they dine at Hawkers?
We love for our first-time guests to come in with an open mind, ready to be adventurous. There is always a little education upfront, because our service style is very different than a typical full-service restaurant. We have taken inspiration from eating at hawker centers on the streets of Asia, so our food comes out as it's prepared, not as it's ordered (no heat lamps), and everything on our menu is meant to be shared. You won't find forks on the table or served with dishes (although they are available for our less chopstick-savvy guests). Lastly, our team will encourage our guests to be a little adventurous and try something new! Afterall, that's what eating the streets is all about.
What are the upcoming plans for Hawkers?
Currently, there are three units under construction, Atlanta, Charlotte, and Delray Beach. We are launching an initiative titled "20 in 20" where our team has committed to having 20 units open by the end of the year 2020. All of our focus is in growing the brand in a meaningful way without diluting the what we have already built. It's a challenge and requires intentionality with every decision, but our team is up for it and we are excited!
Why is Hawkers so delicious??
Haha. We just don't cut corners. All of our sauces are made from scratch. We hand-cut vegetables every day. Dumplings are hand-rolled every day. It's the difference in your grandmother making her meatballs and bolognese sauce from scratch and your roommate from college heating up Chef Boyardee… only in our case the meatballs are covered with an addictive curry sauce.
For more about Hawkers and their menu, visit eathawkers.com