We were recently hosted by Yard House for an exclusive tasting of their celebration of Oktoberfest now until Oct 28, 2018. This Oktoberfest, they're serving a New American twist on some German favorites.
The Jumbo Bavarian Pretzel is a Traditional Bavarian pretzel paired with horseradish mustard and beer cheese sauce. Even the smallest section of the pretzel would make you believe it isn't soft and chewy; however, you'd be mistaken because each bite of the entire pretzel is soft, chewy and delicious. If I could, I'd eat 10 pretzels a night.
I have found Heaven on Earth and it is disguised as a Double Pork Burger: served with white cheddar, arugula, red onion, tomato, bacon tomato jam, Dijon mustard on a pretzel bun. The pork is juicy, tender and full of flavors.
Another delicious dishes is the Chicken Schnitzel, which is a traditional schnitzel chicken served with a side of ripped potatoes and Brussels sprouts topped with malt vinegar aioli. The chicken is nice and crispy, while the vegetables are seasoned to perfection. They must have heard I love Brussels sprouts because they brought out plenty for me to enjoy. Good news for me is how these Brussels sprouts can be enjoyed year round at Yard House.
Not only the Brussels sprouts are enjoyed year round, but so is the Poke Nachos full of flavor and fresh ingredients on house-made wonton chips.
To finish off, we tasted 3 different desserts in a mini trio sampler. Although they were associated with words like "mini" and "sampler," there's nothing small about the portions provided.
The Chocolate Soufflé Cake is like a lava cake that is rich in dark chocolate and topped with vanilla ice cream.
Cheesecake Brûlée comes out looking like flan, but tastes like a delightful cheesecake with crisp sugar like a creme brûlée.
Last, but not least is the Peach Apple Cobbler that was my favorite out of the three desserts we tried. It may be the Southern girl in me, but I can never deny a warm cobbler served with ice cream!
Yard House boasts the world's largest selection of draft beer, and this Oktoberfest, the restaurant is pouring a number of extra beers.
Sam Adams Octoberfest: A blend of rich malts for a hearty, smooth flavor with notes of caramel creating a brew that's perfect for the season
Weihenstephan Festbier: This Festbier produced by the world's oldest continuously operating brewery has a rich body with a balanced finish and represents the Bavarian way of celebrating
Ayinger Oktoberfest: A beer with a deep golden color tinted with amber, lightly sweet with a malty nose balanced with floral hops
Paulaner Oktoberfest Wiesn: This German beer has a deep golden color and is full-bodied from Munich and Pilsner malts with a balanced fragrance of hops
Goose Island Oktoberfest: A bold American take on the German style, this beer provides a dry, malty body with notes of toffee and burnt sugar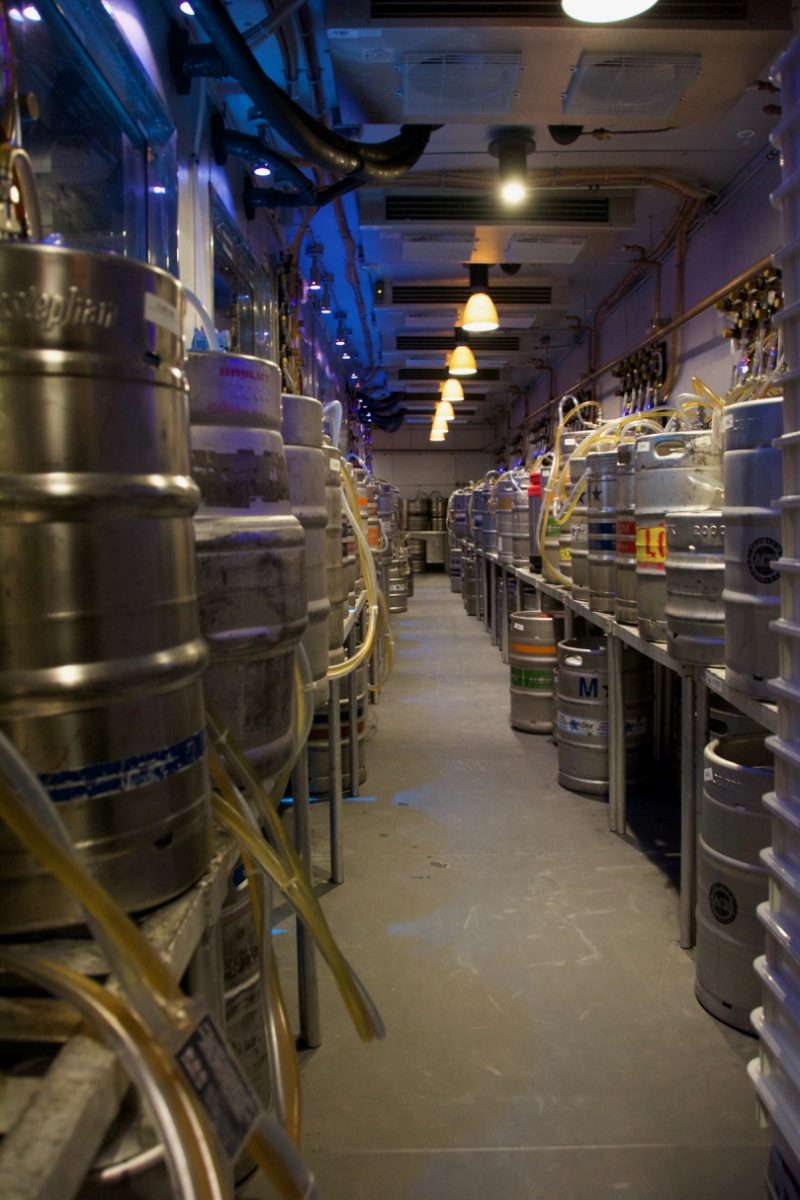 After our tasting, we were able to go upstairs and check out the amazing keg room that overlooks the dining area. How does this look? Amazing, right?
If beer isn't your fancy, check out some cocktails like this one that changes color when adding some agave to a tequila cocktail.