There's a new Bistro in town and it brings tasty Vietnamese dishes and drinks. We stopped in for a taste.
Sip on some honey boba milk tea while you wait on your food to arrive to the table. This place makes boba really well. Some places don't cook it enough or cook it too much, but this place makes it JUST right.
Share some baos with friends – either order them by each meat where you get two or pick a bao flight where you can pick three different baos. Here, we have the grilled pork and sweet & spicy BBQ jackfruit. The crispy wonton helps bring a crunch to the sweet & spicy BBQ jackfruit bao.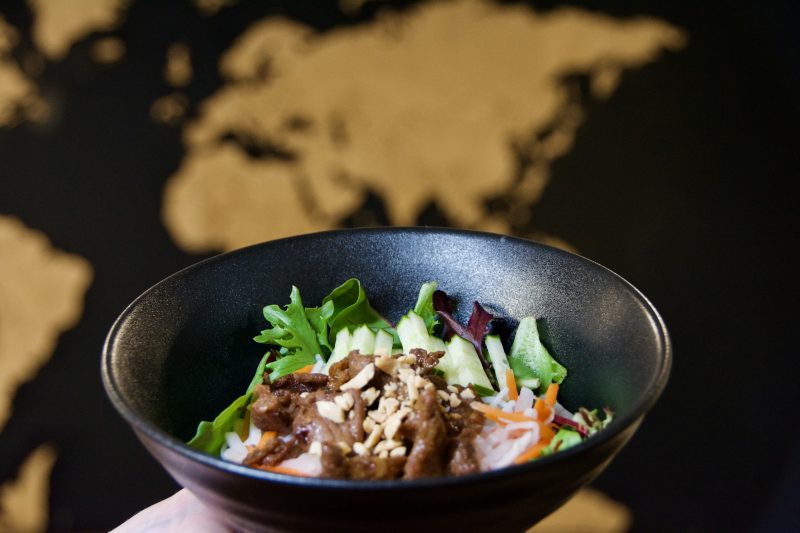 The grilled pork noodle salad has always been a favorite dish of mine because we make it at home, which is easy to make if you ever wanted to make yourself. However, don't forget the fish sauce or else it's pointless getting this dish. The fish sauce adds amazing flavors and moisten the noodles for each bite.
Oh the other hand, another staple Vietnamese dish is pho, which is a noodle soup. The base consists of noodles and broth. You can pick as many types of protein as you'd like and prices vary by what protein you choose. In my case, I chose the beef combination, which includes steak, meatballs and brisket. Lastly, pick whatever herbs you'd like. In my case, I picked them all – bean sprouts, basil, onions, cilantro, scallions, lime and jalapeños.
For more information, check out the Blended Bistro & Boba website.