Susuru is a retro-themed izakaya located near the Lake Buena Vista area. They are arguably best known for their grilled skewers, the Yakitori (chicken), in particular. Another Japanese culinary tradition is an Omakase where the chef creates the dishes that will be served.
We were invited to Susuru's very first Yakitori Omakase featuring skewers, soup, and of course dessert!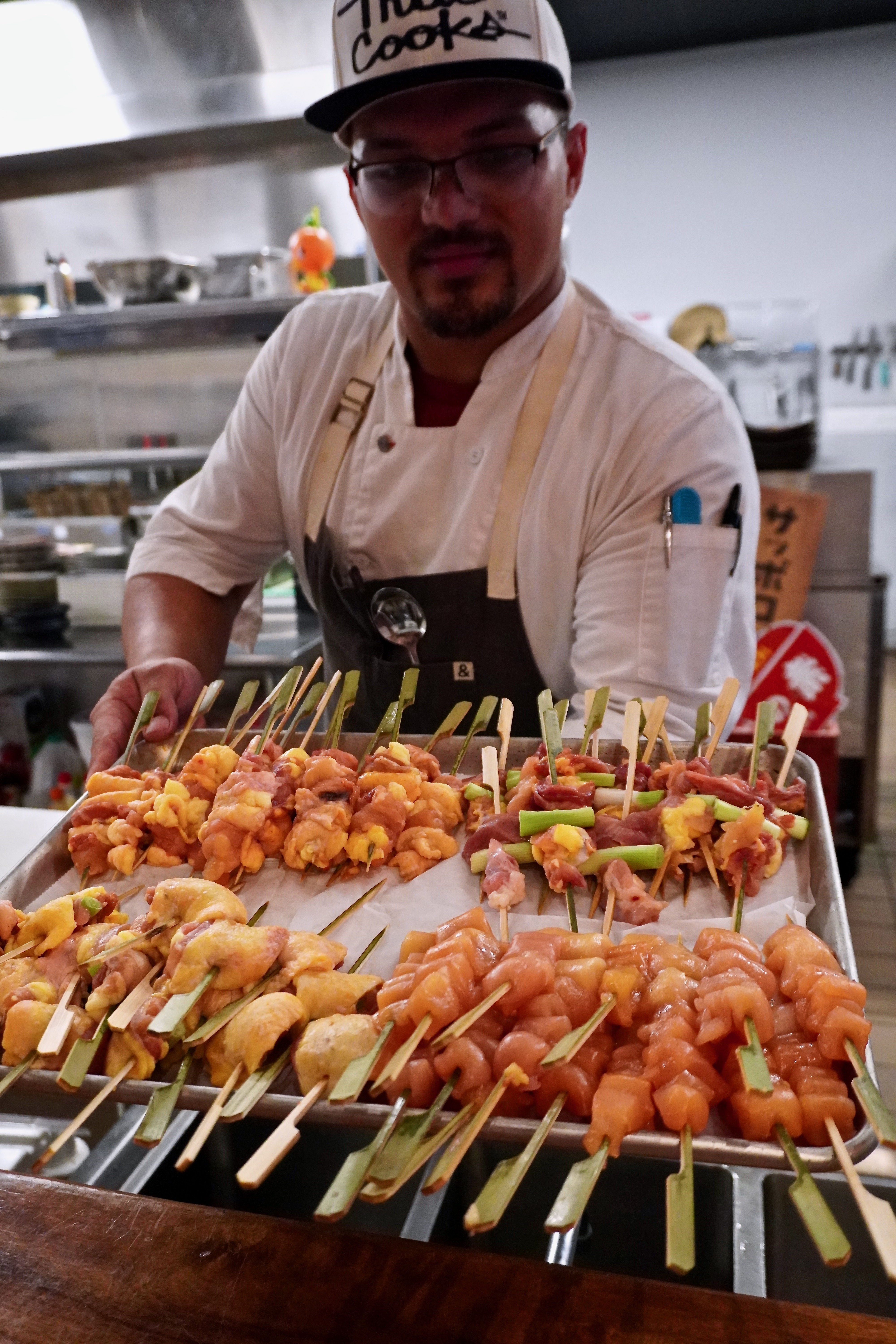 It started off light with some shredded root veggies topped with fresh herbs.
Next up was possibly one of the best soups I have ever tasted. It was a simple chicken broth base soup with mushroom. However, I have never had quite such a flavorful broth. I could have easily eaten about 3 of these!
After soup and salad, the Yakitori skewer plates started making their way out one by one. We tried every cut/part of the chicken you could possibly eat: thigh, breast, wing, skin, heart, liver, and oyster. My favorite was easily the Chicken Oyster.
The chicken liver definitely had the most distinct taste and texture, but I didn't mind it! If you've ever had liver, you know what I mean. They topped the liver with uni which balanced it really well!
It was the most flavorful, tender, and juicy cut of chicken I tried. This was the Susuru staff's favorite as well!
The plates of Yakitori were split up with possibly my favorite dish of the night, Grilled Onigiri (rice ball) with a Soy Cured Egg and aged Parmesan . Grilling the onigiri gave the rice a next crispier texture and pairing it with the Soy Cured Egg was an extraordinary taste. Add some aged Parmesan on top, and you have the most memorable dish of the night.
Of course, you have to end the meal with a light dessert. So, what better than Kakigiri (shaved ice) with homemade match syrup and whip cream? It was super refreshing, not too sweet, and the most perfect way to end the night!
Stay tuned to find out when Susuru's official Omakase will be available to the public!
SUSURU
8548 Palm Pkwy, Orlando, FL 32836