Magical Dining Month is a well known event around the Orlando community. From August 23rd to September 30th, participating restaurants will feature a three course prix-fixe menu for $35 per person.
Christini's Ristorante Italiano is a fine dining Italian restaurant located in the Dr. Phillips area, and they are featuring a wonderful prix-fixe menu for Magical Dining!
As soon as you sit down, a basket of warm bread is given to the table along with a light dipping sauce. I had to hold myself back from eating the whole basket before my meal!
For Magical Dining, you can choose between three appetizers: Insalata Mista all Romana (signature Casesar salad), Mussels (Prince Edward Island mussels, shallots, white wine in a saffron broth), and Mozzarella in Carrozza (Breaded mozzarella served on tomato sauce).
We chose the Mussels and Mozzarella in Carrozza, and the mussels were my personal favorite. The mussels were fresh and cooked perfectly! 
The Mozzarella was very lightly breaded and tasty. I recommend getting the fresh pepper they offer on top!
Christini's is offering four amazing choices as the main course. The Fillet of Sole (served with fingerling potatoes and a lemon caper parsley sauce), Pappardelle Bolognese (pappardelle pasta with a meat sauce), Saltimbocca de Vitello (veal scaloppine topped with prosciutto in a sherry wine sauce), and the Ribeye (served with horseradish pomp puree and crispy onion). Also, you can add a lobster tail to any entree for an additional $15. It was a tough choice, but we chose the Fillet of Sole and Saltimbocca de Vitello. 
Sole is a flaky, white fish with a mild flavor, so it is a good choice for those that do not like a strong fish taste. This dish was super delicious especially with the lemon caper parsley sauce!
I have only had veal once in my life so I knew I had to try it at Christini's. The veal scaloppine were thin and cooked well, but what really made this dish amazing was the prosciutto on top. It paired so well with the veal and sherry wine sauce!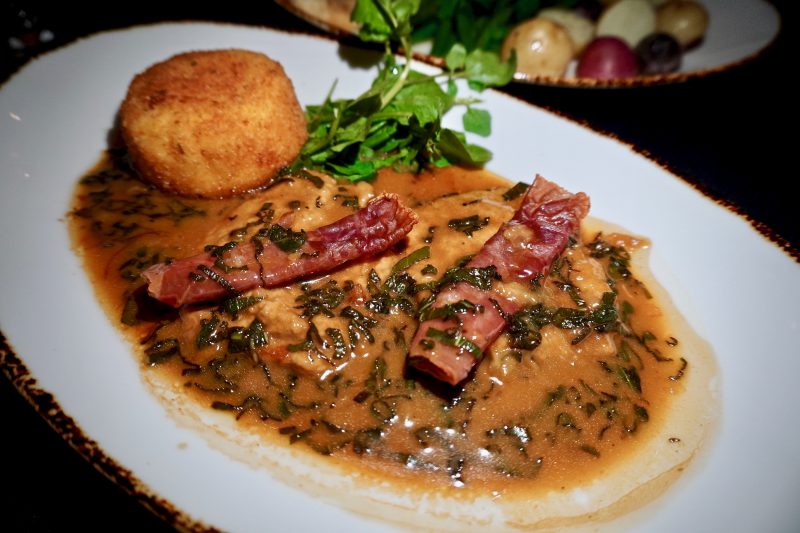 Now, for arguably the best course, dessert! For Magical Dining, you have the choice between a Traditional Cannoli and a Tartufo.  The Cannoli was easily the most beautiful cannoli I have seen. The plating and presentation was amazing, and I loved the addition of the chocolate stick. The ricotta based filling was perfectly sweetened and not too thick, so a perfect ending to a wonderful meal.
A tartufo is an Italian ice cream dessert that I had never tried before. Christini's serves an Amaretto Tartufo, so if you like amaretto, you would love this dessert! 
If you are wanting to visit Christini's and order something from their regular menu, I highly recommend their Fettucini Alfredo with Truffle. This was one of the best pasta dishes I have ever had.  I love how Fettucini Alfredo is such a simple dish, but Christini's was able to elevate it by use of the truffles. You must try this pasta at some point!
And, my personal favorite dessert was the Creme Brûlée. It comes to the table on fire, caramelizing the sugar top! It was not too sweet and I loved the addition of the berries on the side. 
Christini's Ristorante Italiano is the perfect place for a romantic date night, celebrations, or just a fancy night out!