Visit Orlando's Magical Dining Month is back from Aug. 23 to Sept. 30 October 7th (yeah – we know that's more than a Month). With more than 120 fine dining restaurants to choose from, it can be daunting and for newbies, it can be even more difficult to find out how to navigate through the month.
Here is TastyChomps' Guide to Visit Orlando's Magical Dining 2019
1. How Does It Work? From Aug. 23 to Sept. 30 October 7th due to Hurricane Dorian (traditionally slower months for restaurants as kids head back to school and parents back to work), you can dine on haute cuisine from more than 120 fine dining restaurants all over Orlando featuring $35 three-course (or more), prix fixe dinner menus. It's a great time to explore restaurants you may have never been before and for many diners, it might be their first time at that particular restaurant.
2. The Full Menus: Start off here first at OrlandoMagicalDining.com for a full list of restaurants that can be organized by region and features menus, including special options for vegan, vegetarian and gluten-free diets, and the ability to make dining reservations directly though OpenTable. Go through the menus and read what might be appetizing to you.
3. Do Make Reservations. Magical Dining can get very popular this month (looking at you Texas De Brazil) so reservations are generally encouraged to make sure you don't show up and find the restaurant is booked. Ironically, since this is a slow time of year, there are a few restaurants who might not be open a few days during the beginning of Magical Dining Month.
3. Do Tip Well. Some of these meals are heavily discounted – do try to tip accordingly as tip and tax is not included.
4. Do Ask for the Magical Dining Menu. As the restaurants are still operating with their normal every day menus, at most restaurants you will have to ask the server for the Magical Dining menus.
5. $1 From each Magical Dining Meal to Help Local Orlando Charities: One dollar from every meal served for Visit Orlando's Magical Dining to Benefit Suicide Prevention in Teens, and Help Visually Impaired Children through the National Alliance on Mental Illness (NAMI) Greater Orlando and Lighthouse Central Florida. Last year over $250,000 was raised.
6. Check Out the Menu Upgrades – for a little more you can get lobster tail and other add-ons depending on the menu. Look out for that!
Here are some of Tasty Chomps' Restaurant Recommendations for Magical Dining Month 2019
Note – there are many restaurants on the list that are fabulous, these are just my picks that I would go too personally. Depending on your taste and what you like, you should definitely look through the menus and choose your own adventures!! Go out and explore!
Best Local Orlando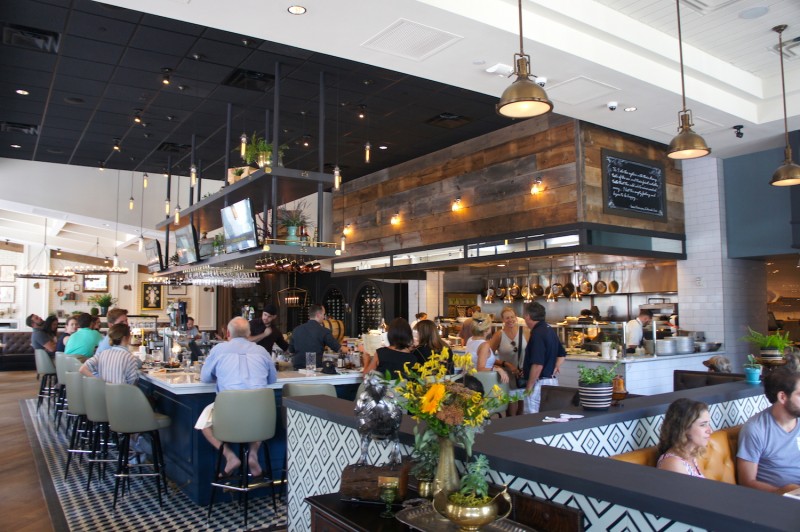 The Osprey Tavern
The Osprey Tavern is an upscale neighborhood restaurant that serves seasonal New American cuisine, craft cocktails, fine wines and seasonal micro-brews in a contemporary brasserie-style setting.
Menu Highlights: Tavern Salad – Artisan greens, aged cheddar, black chickpeas, citrus vinaigrette, Crispy Pork Belly, Braised Short Rib – Baked bean purée, bourbon glaze, green tomato relish, Sunburst Farms Smoked Trout – Florida oak smoked, seasonal vegetables, Bolognese – Black pepper tagliatelle, royal trumpet mushrooms, blistered baby heirloom tomatoes
The Ravenous Pig
James Beard-nominated Chefs James and Julie Petrakis serve inventive, seasonal gastropub cuisine, alongside house-made charcuterie and extensive cocktail, craft beer and wine selections.
Menu Highlights: Chicken Liver Crostini – Ciabatta, fig jam, pickled red onion, arugula, Gatherer Salad – Baby greens, avocado, pickled beets, radish, goat cheese, pistachio granola, herb vinaigrette, Steak Tartare – Pickled mustard seed, jerk seasoning, smoked pineapple, Short Rib – Cavatelli Red wine jus, kale, charred onion, hazelnuts, Mussels & Fries – Dovecote saison, orange, fennel pollen, shallot, saffron aioli
The Tap Room at Dubsdread
The Tap Room Restaurant at Dubsdread boasts a heritage of culinary excellence with a spectacular setting and award-winning food, a favorite of local Central Florida Politicians, local celebs, friends and families join us for lunch, dinner and happy hour on the Verandah featuring fresh fish, prime cuts, homemade desserts and Orlando's best burger.
Menu Highlights: Fresh Seared Tuna Sashimi (GF) – #1 sushi grade center cut loin, choice of sesame or peppercorn, Prince Edward Island Mussels (GF) – Steamed in garlic butter with grilled artisan bread, 10 oz Prime Rib (GF) – Slow cooked in house, served with mashed potatoes, asparagus, au jus and creamy horseradish, Crab Cake Dinner – Two (2) Maryland style served with yellow rice and asparagus, 8 oz Tenderloin Filet (GF) – Bacon-wrapped with mashed potatoes and asparagus, Parmesan Grouper – Topped with lemon beurre blanc, served with yellow rice and asparagus
Hamilton's Kitchen at The Alfond Inn
Recalling the days of informal dining by the kitchen hearth, Hamilton's Kitchen at The Alfond Inn welcomes friends and families to enjoy traditional Southern cooking with modern preparation. A true Central Florida culinary experience, Hamilton's Kitchen embraces locally sourced ingredients that celebrate the rich history of local agriculture, including citrus, strawberries, corn, tomatoes, beef and gulf seafood. Guests will use all senses as they are welcomed by an open kitchen, rustic farmers table, heavy serving pieces and a warm staff.
Menu Highlights: Compressed Watermelon (GF) – Compressed watermelon, figs, herbed goat cheese, arugula, prosciutto, mulberry glaze, Cranberry Waldorf Salad (GF) (V) – Bibb lettuce, cranberries, grapes, apples, pecans, goat cheese and walnut vinaigrette, Hamilton's Shepherd's Pie – Superior Farms lamb, English peas, carrots, onions, mustard demi, garlic mashed potatoes and fried leeks, Macallan Scotch Pudding – Scotch pudding, salted toffee brittle, whipped cream
The Strand
Menu Highlights: Pork Belly and Citrus Salad (GF), Citrus, pickled carrot, red onion, mint, fig vinaigrette, Fried Beets (GF) – Fried golden beets, mango, herbed aioli, tagorashi, peanuts, bonito, Mushroom Toast (V) – Local mushrooms, onion, whole grain mustard, sherry, cream, Parmesan, truffle oil, arugula, Grilled Spanish Octopus (GF) – Fried red potatoes, citrus-paprika vinaigrette, roasted garlic aioli, Duck Leg Confit (GF)
– Summer lentil salad, cherry reduction, Roasted Lamb – Curried couscous, spicy roasted eggplant, yogurt sauce, asparagus, cripsy fried eggplant. Enhancements: Wine Pairing +$25 3/5 oz pours
DoveCote Restaurant
Menu Highlights: Chilled Vichyssoise Soup (GF) (V), Leeks, potato, truffle, lime, Roasted Pork Shoulder (GF) – Caved aged gruyere grits, tomato jam, sherry pork jus, Atlantic Salmon (V) – Quinoa, Tuscan kale, preserved lemon, black olive, Greek yogurt, Beer Steamed Mussels – DC Saison steamed mussels, merguez sausage, garlic aioli, paprika, ciabatta crouton
Maxine's on Shine
Menu Highlights: Lollipop Lamb Chops (GF) – Two (2) New Zealand chops, grilled jalapeño cilantro aioli, Key West Crab Cakes – Two (2) lump crab meat, pepper medley, panko crust, firecracker sauce, Stuffed Pork Chop w/ Smoked Pheasant Sausage (GF) – 12 oz, bone-in, spinach cheddar stuffing, bacon mushroom sauce, veg & starch of the day, Lobster Ravioli (GF) – Four (4) ravioli, shrimp, scallops, sherry cream sauce, 10 oz NY Strip – Choice plus, black angus beef, tri-peppercorn sauce, veg & starch Enhancements: Wine Pairings + $15 – Receive a 3 oz pour w/ opening act (app), 6oz pour w/ main stage selection (entrée), 2oz pour w/ encore (dessert)
Best Steakhouses
A Land Remembered at Rosen Shingle Creek
AAA Four Diamond Orlando steakhouse named after the late Patrick Smith's rich novel featuring Florida's historical moments and landscapes. A Land Remembered proudly serves Harris Ranch all Natural Prime Black Angus Beef, as well as menu items catering to all tastes.
Menu Highlights: Jumbo Lump Crab Cake – Scallion aioli, red Chili pepper glaze, Salmon Oscar – Jumbo lump crab, asparagus, hollandaise sauce, 6 oz. Filet Mignon – Roasted garlic, garlic mashed potatoes, fried green tomato. Add ons – 16 oz New York Strip + $12 to have as an entrée – 5 peppercorn, roasted garlic, Boursin mashed potatoes, fried green tomato
The Venetian Chop House
Menu Highlights: Shrimp Cocktail – Fresh poached, chilled shrimp served with a choice of classic cocktail sauce or grainy mustard remoulade, 10 oz Ribeye – Au gratin potato, asparagus, oven dried tomato, cipollini, maitre d'butter, Norwegian Salmon – Grilled or blackened, okinawa sweet potato purée, bok choy, sauce beurre blanc, Chocolate Crunch Bar – Chocolate mousse, hazelnut feuilletine, Grand Marnier anglaise
The Capital Grille
Menu Highlights: Filet Mignon 8oz (GF), Bone-In Dry Aged NY Strip 14oz (GF), Seared Citrus Glazed Salmon with Marcona Almonds and Brown Butter – Salmon seared and finished with haricot verts, almonds, and brown sugar. Add-Ons: Bone In Kona Crusted Dry Aged NY Strip 18oz + $10 – Served with caramelized shallot butter, Veal Tomahawk Chop + $15 – 22oz bone in veal tomahawk served with gorgonzola butter and cherry mostarda
American Kitchen Bar & Grill at B Resort
Menu Highlights: Tempura Avocado (V) – Tomato-chipotle jam, cilantro-lime crème fraiche, Beet Root Ravioli – House-made beet and ricotta raviolis + local goat cheese toasted pine nut + beet "soil" + citrus, Dry Aged Certified Angus Beef, Petite NY Strip – Three potato gratin, "Steakhouse Mushrooms", Truffle Chicken Alfredo – House-made mushroom-truffle fettuccine, black truffle Alfredo sauce
Best Value
Texas de Brazil
In southern Brazil, local cowboys called gauchos, prepare legendary feasts in a tradition known as churrasco. They slow-roast meats over open flames and present an impressive display of seasonal greens, vegetable dishes and regional delicacies. The succulent meats are brought to each group's table and carved in a show of skill and festive offering. At Texas de Brazil, we continue this treasured tradition. Treat yourself to a wide array of chef-crafted salads, roasted vegetables, imported cheeses and charcuterie. Enjoy house-baked cheese bread, garlic mashed potatoes and fried bananas. Turn your card to green, and expert carvers generously serve you sizzling beef, lamb, pork, chicken and Brazilian sausage. Simply turn your card to red to take a break. Liven up your meal by ordering our signature cocktail – the Caipirinha. And remember, our servers are always standing by to accommodate any request.
Menu Highlights: Chef-Crafted Gourmet Salad Area – Featuring various selections of crisp greens, fresh vegetables, imported artisanal cheeses, charcuterie & hot side dishes, Various Cuts of Expertly Seasoned and Grilled Meats: Filet Mignon | Filet Mignon Wrapped in Bacon | Lamb Chops | Barbecue Pork Ribs | Braised Beef Ribs | Picanha | Herb-Marinated Pork Loin | Brazilian Sausage | Leg of Lamb | Chicken Breast Wrapped in Bacon | Parmesan-Crusted Pork Loin | Garlic Picanha | Parmesan Drumettes | Flank Steak, Chef's Choice Dessert
Fogo de Chao Brazilian Steakhouse
Menu Highlights: 16 cuts of fire-roasted meats and continuous tableside service. Market Table & Feijoada Bar (GF)(VG)(V) – Fresh salads, exotic vegetables, Fogo feijoada (traditional black bean stew with sausage), seasonal soup, and more. Picanha (Prime Top Sirloin) – Seasoned with sea salt or garlic. Note – this menu does not include Beef Ribs, Ribeye, Filet Mignon, or Lamb Chops.
Best Seafood
Big Fin Seafood Kitchen
Big Fin Seafood Kitchen, an award winning seafood restaurant in Orlando, Florida is an upscale casual 11,000 square foot restaurant with a relaxing energy.
Menu Highlights: ½ Dozen Freshly Shucked Raw Oysters (GF) – Can be served raw or steamed, Big Fin Trio – Fried popcorn shrimp, bay scallops and catfish served with French fries and coleslaw, Shrimp Orleans (GF) – Blackened shrimp, spinach, mushrooms, sun-dried tomatoes, crawfish Parmesan grits, Cajun cream sauce, Signature Crab Crusted Corvina – Corvina baked with a blue crab crust and served with garlic mashed potatoes, grilled asparagus and lemon butter sauce, Surf and Turf (GF) – 5oz filet and 3oz lobster tail served with garlic mashed potatoes and asparagus, Ooey Gooey (V) – A gooey-layered pie cake topped with whipped cream
Roy's Restaurant
Menu Highlights: Braised Short Ribs of Beef & Prawns – Natural braising sauce, honey mustard, Yukon mash, Bacon Wrapped Bone-In Pork Chop – "Loaded" mashed potatoes, broccolini, guava apple sauce, Blackened Island Ahi – Spicy soy mustard butter sauce, Macadamia Nut Bread Pudding (V) – Guava sauce, toasted coconut, vanilla ice cream, Enhancements: – Roy's Melting Chocolate Souffle + $6 – Flourless chocolate cake with molten hot center, raspberry coulis and vanilla bean ice cream
Best Sushi
Kabooki Sushi
Menu Highlights: Octopus – Elote crema, corn, cotija cheese, cilantro, Marcona almonds, Choice of Hawaii XO or Smoking Double Tuna with 3 piece chef's choice nigiri, Chirashi – Poke style assorted fish, ikura, pickled vegetables, sushi rice, Pork Jowl Nabe – 36 hour sous vide pork jowl, crispy furikake rice, egg yolk soy dashi, shiitake mushrooms, bonito flakes, scallions, C4 – Chocolate lava cake, dulce de leche center, chocolate ganache, vanilla ice cream
Seito Sushi Baldwin Park
Artisan in approach and traditional in technique, Seito Sushi & New Japanese sources fresh local ingredients and rare exotic provisions to offer dishes that reflect the creativity of coastal Asian cuisine and the innovation of the modern culinary movement. With two locations in the Orlando area, Seito Sushi & New Japanese has elevated Central Florida's contemporary Asian offerings for nearly 20 years. Daily menus showcase fresh sashimi, nigiri and unique rolls, seasonal Izakaya offerings, steamy ramen bowls, Omakase experiences and approachable lunches. Our beverage program features rare sake and Japanese whisky, craft beer, an extensive wine list and craft cocktails. The food and drinks, presented elegantly in a chic urban setting by our knowledgeable staff, has distinguished Seito as a favorite among locals and tourists alike while earning numerous accolades including "Best Sushi", "Best Japanese" and "Best Pan-Asian" praise from Orlando Sentinel, Orlando Weekly and Orlando Magazine.
Menu Highlights: Crab Miso Bisque – Toasted panko, masago, rayu, Smoked Hamachi – Three piece nigiri, shishito chimichurri, wood smoked, Steak Hibachi – 10 oz Creekstone filet, seasonal vegetables, noodles, fried rice, white sauce, Duck Ramen – Duck bone broth, duck breast, noodles, soy egg, seasonal vegetables, Sunburst Trout – Murasaki warm potato salad, dashi cream, chives, Moriawase – Chef choice of nigiri & sashimi, guest choice of makimono
Zeta Asia at Hilton Orlando Bonnet Creek
Zeta Asia takes you on a deliciously fun culinary journey through Asia. Located in the heart of Hilton Orlando Bonnet Creek, Zeta Asia is a lively bistro and lounge offering a variety of pan-Asian-inspired cuisine. The menu features small plates and traditional dishes, such as Udon noodle bowls, nori kurakka, and coconut chicken curry, and stunning sushi rolls and sashimi bites. With an exceptional list of innovative, hand-crafted cocktails, wines, and beer, Zeta Asia is the perfect place to gather with friends of family.
Menu Highlights: **Please note that this menu will feature a FOUR COURSE meal. Pork Bao Buns – Slow-roasted pork belly, tangy Asian BBQ sauce, pickled cucumber and bao bun, Spicy Tuna Nachos – Seared seven spice tuna sashimi, avocado, spicy mayo, masago, micro cilantro, wasabi scented nori chips and frisee, Roti – Malaysian yellow curry sauce, Taste of Zeta Sushi Rolls – Bonsai Roll and Kanji Roll, Beef Short Rib Bibimbap – Short rib, fried egg, spinach, namul, Japanese rice and Gochujang sauce
Best Beyond Orlando City Limits
1921 Mount Dora
'1921 Mount Dora' is a celebration of "Modern Florida Cuisine" in an historic setting that is intimate, bold and welcoming. '1921' is a culinary fusion showcasing the cultures, produce, people and our traditions … met and transformed with rustic refinement and aligned with the intelligent, dramatic and delicious lifestyles of Florida. It is perfectly fitting that we are partnered with the 'Modernism Museum' right across the street in gentle Mount Dora. At the Modernism Museum you will discover an aesthetic kinship uniting these aspirations.
Menu Highlights: Nashville Hot Chicken Livers – Pickles, onions & buttermilk vinaigrette, Grilled Country Ribs (GF) – Sea island red peas , warm bacon & frisee salad, Grilled Shrimp & Pork Belly (GF) – Dirty rice and roasted okra, Ginger Peach Panna Cotta (V) – Kiwi confit and ginger – shortbread crumble
Market to Table
Chef-owner Ryan Freelove brings contemporary American cuisine to Winter Garden's historic Plant Street area, specializing in creative interpretations of classics based on seasonal ingredients, some from a rooftop aquaponic garden. The open, airy space with floor-to-ceiling windows has a full-service bar featuring hand crafted cocktails and outdoor covered patio.
Menu Highlights: Fried Calamari (GF) – Fresh gluten free calamari, Braised Beef Short Ribs (GF) – Red wine jus, potato purée, Portobello Napoleon (V) (GF) – Mozzarella, heirloom tomato, Bekemeyer Farms whole wheat pasta (can be made gluten free)
Fig's Prime
Menu Highlights: Veal Scallopini – Prosciutto, roasted pepper and fontina cheese in a white wine sauce, Shrimp and Diver Scallops – Pan seared, served with asparagus and cheesy grits, Filet Mignon – Filet mignon topped with our house made brown butter, served with house potatoes and seasonal vegetables, Chocolate Rum Torte – Flourless chocolate ganache torte served with raspberry sauce and whipped cream
Best of Disney Springs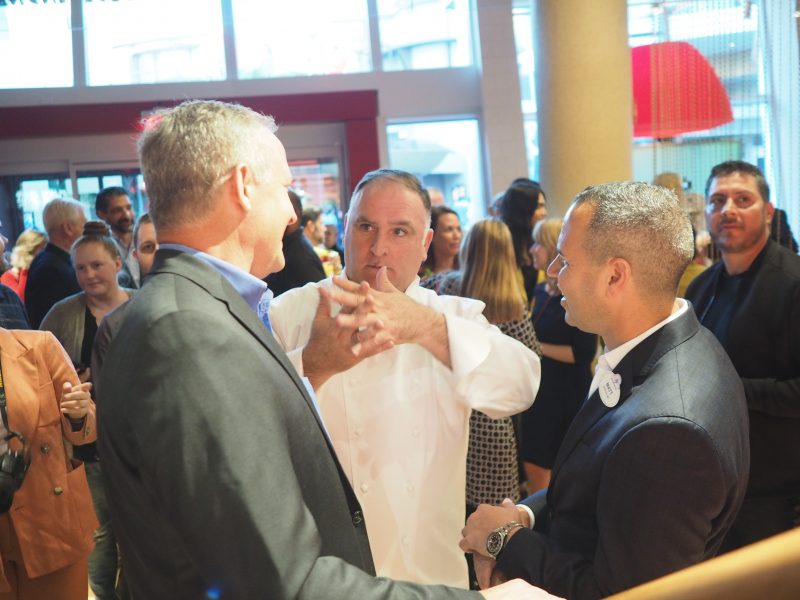 JALEO at Disney Springs
From James Beard-award winning chef, José Andrés, Jaleo brings alive the spirit and flavor of Spain, offering an assortment of tapas, the traditional small plates of Spain, as well as savory paellas cooked over a wood fire, sangrias and the finest selection of Spanish wines, hand-crafted cocktails and sherries.
Menu Highlights: Choose from 5 different Tapas courses including Croquetas de Pollo – Traditional chicken fritters, Dátiles con Tocino 'Como Hace Todo el Mundo' – Fried bacon-wrapped dates served with an apple-mustard sauce, Gambas al Ajillo – The very, very famous tapa of shrimp sautéed with garlic and more
Morimoto Asia at Disney Springs
Menu Highlights: Ginger Soy Braised Veal Osso Buco – Japanese style risotto, katsuo-bushi, crunchy garlic chili
STK at Disney Springs
Menu Highlights: Coffee Spiced Rib Eye Steak, Wild mushrooms, cafe au latte, yucca frites, Pan Seared Salmon (GF) – Watermelon, pineapple, lychee, cucumber, basil, and mint salad, tajin chili lime vinaigrette, Angry Fried Chicken, Korean spiced, Brussels sprouts, Sriracha honey
Best Italian
Rocco's Italian Grille & Bar
Rocco's Italian Grille is a romantic Italian restaurant located in the beautiful Winter Park, just a 10-minute drive from Downtown Orlando. Rocco's proudly presents an authentic Italian cuisine prepared by our experienced native chefs. Our menu is composed of a variety of appetizer, pasta, seafood and meat dishes that recreate old favorites and brings out new flavors. Choose one of our wines from the wine list, where you'll find wines ranging from Aglianico to Zinfandel. We offer an ample selection of Italian wines, along with great Californians and others. Sip on an Amarone, Barolo or Caymus, you'll find just the right one for your meal.
Menu Highlights: Lumache in Guazzetto – Snail served over a slice of toasted bread sautéed with shallots white wine in a basil sauce, Bruschetta Of The Day, Caprese – Imported fresh Italian bufala mozzarella served with extra virgin olive oil, ripe tomatoes and fresh basil leaves, Pappardelle Cinque Terre – Shrimp, scallops, shallots and lobster sautéed in white wine fresh basil, finished in a light tomato cream sauce topped with shaved Parmigiano, Fish Of The Day, Boneless Beef Short Ribs – Beef short ribs braised in Barolo wine and vegetable, Scaloppine di Vitello alla Rocco – Veal scaloppini pan seared topped with prosciutto, roasted red peppers and Fontinella cheese with a white wine demi glace sauce
Prato
Prato offers innovative, seasonally directed Italian classics with modern techniques. Guests can anticipate house made pastas and savory pizzas prepared in an imported authentic acunto wood burning oven crafted in Naples, Italy. The menu also features light primi and insulata choices such as Nantucket Bay scallop crudo with burnt caka orange vinaigrette. Entrees range from roasted Ashley Farms chicken to pan seared fish, often from Florida's waters. The wine program consists of Italian and Spanish selections that pair seamlessly with the cuisine. Specialty cocktails as well as a variety of craft and local beers are also available.
Menu Highlights: Prato Meatballs – Roasted tomato, cipollini agrodolce, Beef Carpaccio – Ramp, beet, gorgonzola, rye crouton, Duck Confit – Pancetta, cabbage, orange glazed carrot, pluot, Ruby Red Trout – Couscous, escarole, tomato, fennel, Basil Panna cotta- Roasted cherries, cinnamon streusel
Christini's Ristorante Italiano
When you enter the elegant surroundings, you will experience epicurean old world charm and exquisite attention to details. Extra touches, such as strolling musician and a rose for each lady, typify the charm that is uniquely Christini's.
Menu Highlights: Fillet of Sole (GF) – Fresh filet of sole, haricots verts, tri color fingerling potatoes, lemon caper parsley sauce, Pappardelle Bolognese (V) – Homemade pappardelle pasta with a hearty meat sauce, Ribeye (GF) – USDA prime ribeye served with horseradish pomme purée and crispy onion
Best Latin / Spanish
Reyes Mezcaleria
Reyes Mezcaleria specializes in agave spirits with a large emphasis on mezcal, the celebrated spirit of Oaxaca. Regionally inspired Mexican dishes are served up in style at this conveniently located North Quarter, Downtown eatery. This third unique concept by local restaurateurs Jason and Sue Chin is a continuation of their commitment to thoughtful design and uncompromising quality of ingredients. Reyes Mezcaleria is a perfect place to enjoy unique, high quality Mexican cuisine and spirits in an upscale setting while exploring Downtown Orlando.
Menu Highlights: Arctic Char Aguachile (GF) – Cured arctic char, pineapple aguachile, avocado, red onion, puffed quinoa, serrano peppers, Barbacoa Tostada – Beef brisket, beans, salsa roja, pickled red onion, cotija, Grilled Pork Chop (GF) – Duroc pork, peanut mole, roasted cauliflower, baby carrots, Local Catch (GF) – Pan seared white fish, sweet corn, puree, rainbow cauliflower-caper salsa, Churrasco Steak (GF) -Grilled skirt steak, pipian verde sauce, charred green beans, pickled red onion, Mexican Opera Cake (V) – Almond sponge cake, coffee syrup, valrhona chocolate
Bulla Gastrobar
Bulla Gastrobar is a fun casual gathering place inspired by the most popular tapas restaurants in Spain
Menu Highlights: Fried Artichokes – Artichoke hearts, lemon, mint aioli, Pinxto Moruno – Cumin marinated pork loin skewers, mojo verde, greek yogurt, Braised Oxtail – Steamed rice, house made shoestring potatoes, shishito peppers, Grilled Steak – 9oz bistro steak, truffled potato & mushroom foam, salsa criolla, arugula salad
Best Hotel Restaurants
Primo at JW Marriott, Grande Lakes Orlando
Mediterranean Sensibility at its best! Chef Melissa Kelly creates plates with her "home-grown" concept in mind. Guests will enjoy robust flavors produced through classical cooking methods with strong inspiration from cuisines off the coastal regions of Italy, France and Spain.
Menu Highlights: Farmer Salad – Garden lettuces, house bacon, croutons, soft boiled egg, lemon-Parmesan vinaigrette, Wild Boar Bolognese – Fusilli pasta, shaved Parmigiano-Reggiano, grilled ricotta salata, Sautéed Scaloppini of Pork Saltimbocca – Garlic mashed potatoes, prosciutto, spinach, sage infused mushroom madeira jus.
Fiorenzo Italian Steakhouse- Hyatt Regency Orlando
Fiorenzo Italian Steakhouse combines the fun and excitement of an authentic Italian restaurant and the tradition of a great steak house. An open kitchen and pizza oven set the stage for the on-site preparation of new and traditional Italian favorites, fish and premium steaks and chops.
Menu Highlights: Braised Pork Belly, 48 hours braised pork belly, brussels sprouts and candied hazelnut hash, kumquat mostarda, Loch Duart Salmon – Grilled ciabatta, avocado, smoked bacon, artichoke relish, lemon caper crème fraiche, saffron risotto, Zuppa di Pesce Fra Diavolo – Florida rock shrimp, branzino, calamari, mussels, blue crab, mafaldine pasta, spicy pomodoro sauce, smoked paprika crostini, 8 oz. New York Prime Strip – Smoked blue cheese mash, crispy brussels sprouts, black truffle butter, Mushroom Tagliolini – Mustard greens, forest mushrooms, roasted baby tomatoes, shaved manchego
Hemisphere Restaurant at Hyatt Regency Orlando Airport
Features a soaring view of the airport from the top two floors of the Hyatt Regency hotel
Menu Highlights: Crawfish Chowder (GF) – a specialty for over 20 years! Served with Parmesan cracker, Datil Shrimp (GF) – Florida pepper and plantain sauce, poached shrimp, confit heart of palm, cilantro crema, citrus, tobiko, Short Rib (GF) – Sweet tea bourbon braised short rib, Anson Mills blue corn grit cake, stone fruit chutney, peach and charred corn relish, Pho Inspired Chicken – Aromatic herb marinated half chicken, jasmine rice. burnt onion crème, long beans, pho veloute, Vietnamese micro herbs, Summer Passionfruit Bombe – Passionfruit Key Lime bombe, Key Lime cheesecake, fresh passionfruit, meringue chip, short bread
deep blu seafood grille at Wyndham Grand Orlando Resort Bonnet Creek
Menu Highlights: Deep Blu Crab Cake – Roasted garlic aioli, micro herbs, Grilled Local Catch (GF) – Alabama blu crab meat , quinoa, mango, avocado aioli, blackberry gastrique, Black & Blu Linguini – Vita squid ink pasta, lump crab meat, arugula, cherry tomatoes, Marcona almonds, Parmigiano
Ravello at Four Seasons Resort Orlando at Walt Disney World
Modern Italian cuisine is the specialty at Ravello restaurant in Orlando. Feast on hot fresh pizza and bread made at the wood-burning oven, or regionally influenced Italian specialties.
Menu Highlights: Cernia – Local snapper, saffron risotto cake, lemon, fresh herbs
Hemingway's at Hyatt Regency Grand Cypress –
Recently complete with their renovations, check out their Grilled Branzino (GF) -Butterflied, heirloom tomatoes, marinated olives, crispy capers, grilled lemon, EVOO