Toothsome Chocolate Emporium & Savory Feast Kitchen, located at Universal's CityWalk, offers one of the most unique and immersive dining experiences in Orlando. Toothsome is a full-service restaurant and bar, offering brunch, lunch, dinner and an impressive drink menu. The star of the show, though, is without a doubt its array of delicious over-the-top milkshakes. Join us on a Steampunk-inspired journey through Jacques' specialty milkshakes at Toothsome Chocolate Emporium & Savory Feast Kitchen.
A Complete Milkshake Guide to Toothsome Chocolate Emporium & Savory Feast Kitchen:
1. Thrilla in Vanilla – $13.50
First up on our list, Toothsome puts a special twist on an otherwise classic shake with Thrilla in Vanilla. Vanilla wafers, a vanilla macaron, whipped cream and a cherry top this delectable dessert.
2. Espresso Buzzzz – $12.50
Get your caffeine fix and satisfy your sweet tooth at the same time with this coffee-flavored shake. Ingredients include coffee ice cream, espresso, chocolate espresso beans and fresh biscottis. This milkshake is a coffee-lovers' dream (and one of our personal favorites).
3. Confetti – $14.00
It's essentially a birthday cake in a cup, with an actual birthday cake on top. The Confetti shake is the perfect amount of sweet with the perfect amount of rainbow sprinkles. As far as best presentation, this one takes the cake (pun intended). 
4. Marshmallow Crisp – $12.00
Think "Rice Krispies meet s'mores." The Marshmallow Crisp milkshake tastes exactly how you'd imagine: ooey gooey marshmallow deliciousness. If that's not enough, Toothsome tops it off with a Rice Krispie Treat and a jumbo marshmallow for added effect. 
5. Heavenly Hazelnut – $13.50
Nutella-flavored anything is always a win, so it's no surprise that the Heavenly Hazelnut shake at Toothsome is another one of our favorites. It's just the right balance of hazelnut and cocoa, with actual hazelnuts drizzled right on top.
6. Red Velvet – $12.50
Delicious vanilla ice cream mix with sweet raspberry sauce to create this Red Velvet masterpiece. A red velvet cupcake and plenty of rainbow sprinkles are the finishing touch on this shake.
7. Cookie Jar – $14.00
Another top pick of ours, the Cookie Jar milkshake is the most impeccable combination of vanilla, oatmeal, Oreos and chocolate chip cookies. This shake captures the simple yet exquisite taste of cookies and milk like no other. 
8. Brownie – $14.00
This milkshake is nothing short of yet heavenly. The Brownie is rich, decadent and ideal for any chocolate lover. Ingredients include Dutch chocolate ice cream, a brownie and milk chocolate swirls.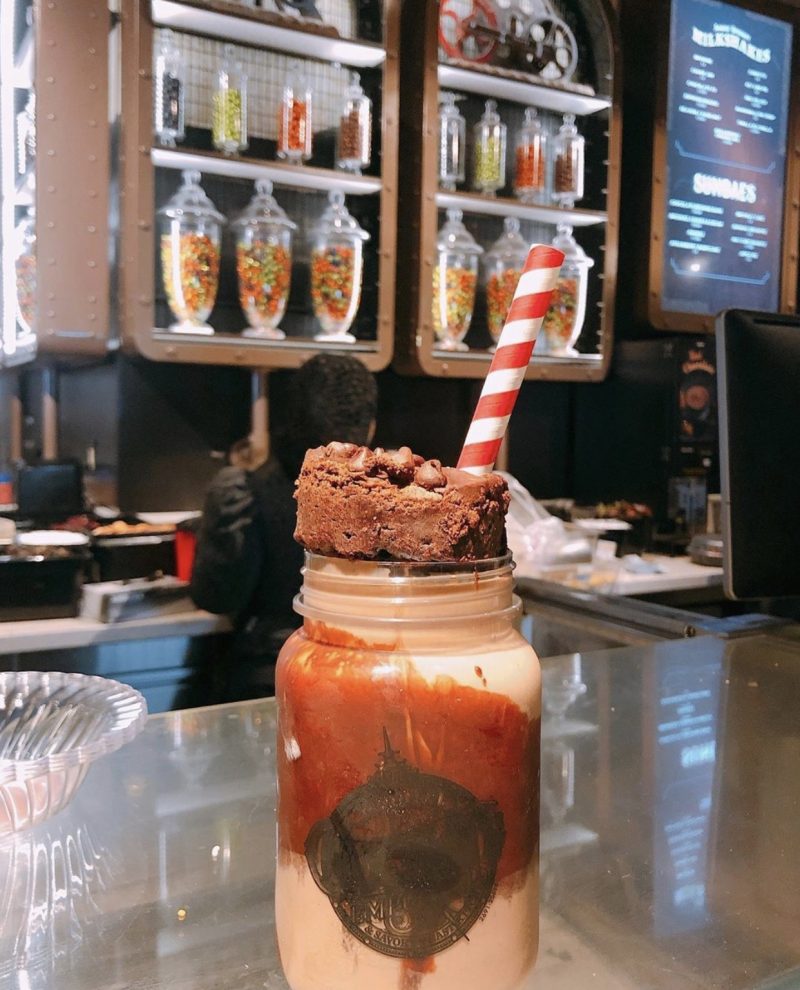 9. Strawberry Cheesecake – $12.50
The Strawberry Cheesecake shake at Toothsome is a guest-favorite, and for good reason. It's made with sour cream ice cream, actual cheesecake and graham cracker with a lovely chocolate dipped strawberry on top. It even has real cheesecake on top! *Chef's kiss*
10. Keylime Pie – $12.00
We don't know how Universal does it, but this shake truly tastes exactly like key lime pie. It's cool, sweet and refreshing, and if that isn't enough, an actual slice of key lime pie garnishes the treat.
11. Chocolate X5 – $13.50
The Chocolate X5 shake is the ultimate chocolate dessert. Chocolate ice cream, chocolate sauce, chocolate chunks and chocolate spirals make up this incredibly decadent milkshake, perfect for all the choco-holics out there.
12. BONUS: The French Quarter Milkshake – Specialty Mardis Gras Dessert – $15.50
All the excitement of Mardi Gras and the tastiness of King Cake are wrapped up together in this seasonal Toothsome offering, available during Universal's Mardi Gras Festival.