We were invited to Discovery Cove to experience an itinerary full of food, snorkeling, walking underwater, swimming with dolphins, feeding birds and chilling out on the beach, and our visit was amazing from start to finish.
We arrived bright and early to Discovery Cove and parking was complimentary.  There were two employees waiting in the parking lot with thermometers to take everyone's temperature before we all stood in a socially distanced line to get our bags cleared by security.  After we got our bags cleared, we waited for our turn to be checked in at the counter by a team member.  There were multiple counters so the line moved rather fast and we did not have to wait long.  Check-in begins at 7:15am so the earlier you arrive, the better, that way you can experience a longer day of adventure.
Once we checked in we were given a pouch that included a face mask and hand sanitizer.
The lounge chairs on the beach were spaced out but we rented a private cabana for a completely secluded experience and it made a huge difference.
The view alone from our cabana was magical!
The cabana came with a fridge stocked with beverages (wine and beer were available by request), a treasure chest full of snacks, a locker, towels, animal-friendly sunscreen, four chairs, two reclining beach lounge chairs and a hammock.
But one of the best pieces of advice that I can give you is to pack a change of clothes and make sure you go there hungry.
Discovery Cove is all-inclusive so food, drinks, snacks, towels, animal-friendly sunscreen, swim vest, wet suit, snorkel gear, floatation devices, lockers, shower rooms with dispensers of shampoo, conditioner and body wash are all included with your ticket.
Breakfast is served at the Laguna Grill from 7:30am to 10:30am and consisted of a variety of breakfast staples so there is going to be something for everyone.
Mini blueberry muffins
Mini chocolate chips muffins
Breakfast pastries – cheese, cinnamon, raspberry
Bananas and oranges
Yogurt parfait
Oranges and grapes
Watermelon, oranges and strawberries
2% Reduced Fat Milk and 1% Low-Fat Chocolate Milk
Decaf coffee, coffee, orange juice
Cereals and orange juice
Scrambled eggs, home fries, sausages, biscuit, French toast sticks, oatmeal, cinnamon pastries, yogurt parfait, fresh fruit, coffee and chocolate milk.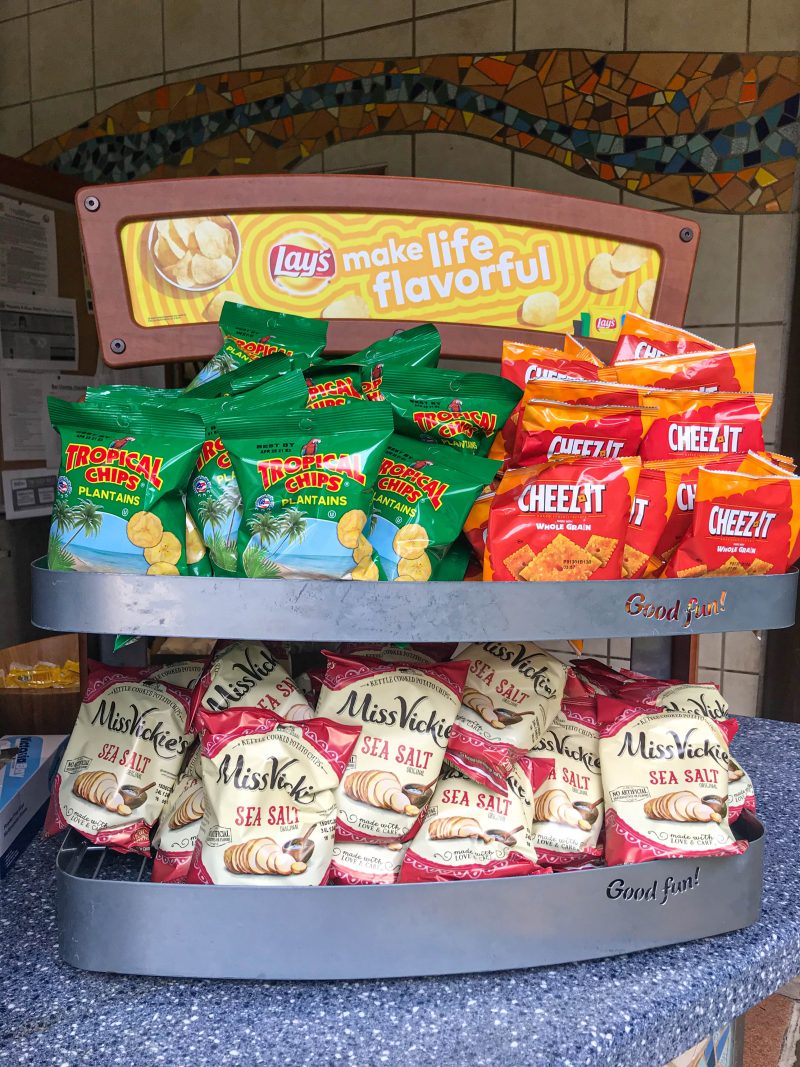 Snack & drink bars were located in small huts around the park which serve chips, cheese crackers, Rice Krispie treats, pretzels, cookies and icees.
Lunch is available at the Laguna Grill from 11am to 3:30pm with plenty of food options to choose from.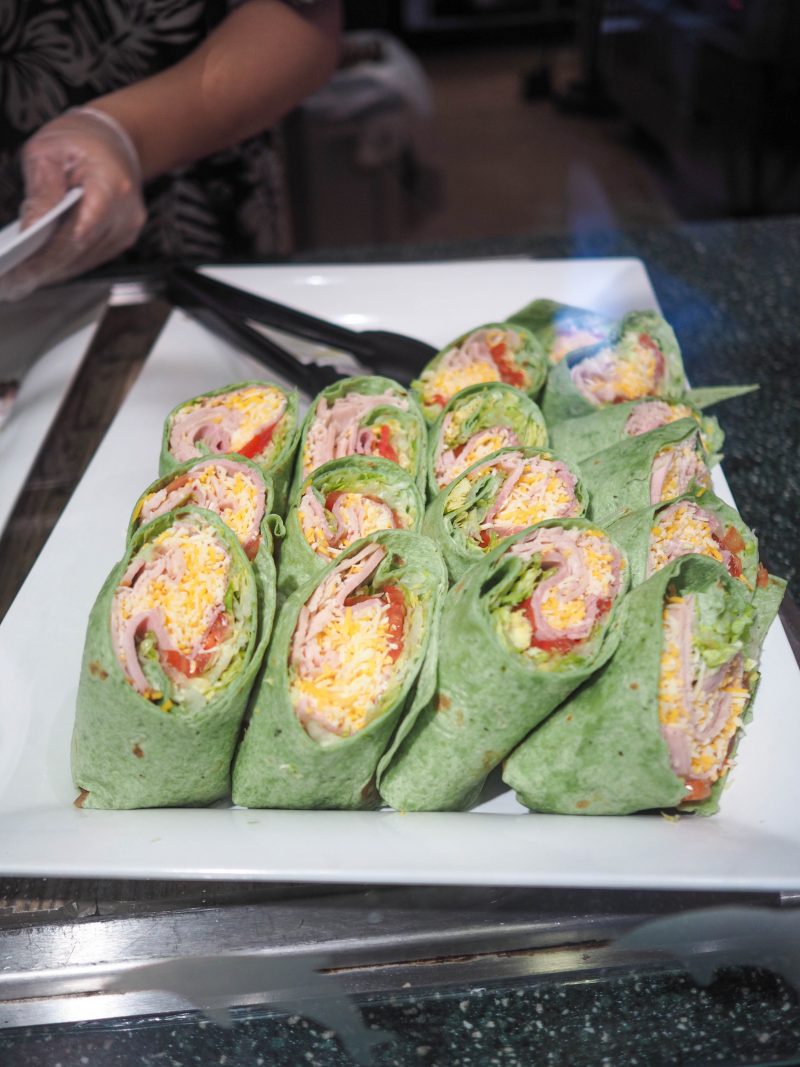 Spinach wrap
Mini coconut cupcakes
Churrasco, chicken, rice with vegetables, roasted potatoes, Cesar salad, seafood pasta salad, chicken tenders, waffle fries and NY style cheesecake.
The lunch menu also included: berry coleslaw, quinoa salad, carrot cake and chocolate decadent cake.
For 21+, bring your ID.  Alcoholic beverages are available for purchase but a premium drink package can be purchased when you book your tickets if you do not want to carry cash/card around all day.
Aloha Sunrise – layered with Titos Vodka, Bacardi Rum, Triple Sec, Blue Curacao, and grenadine with orange and pineapple juice.
Paradise Breeze – Bacardi Rum immersed in cranberry, pineapple, and orange juice
Chef Russell Stehle surprised us by delivering Halloween cupcakes, candy, and a fruit platter to our cabana. Pictured next to him is our VIP cabana host Jeff who took great care of us during our stay.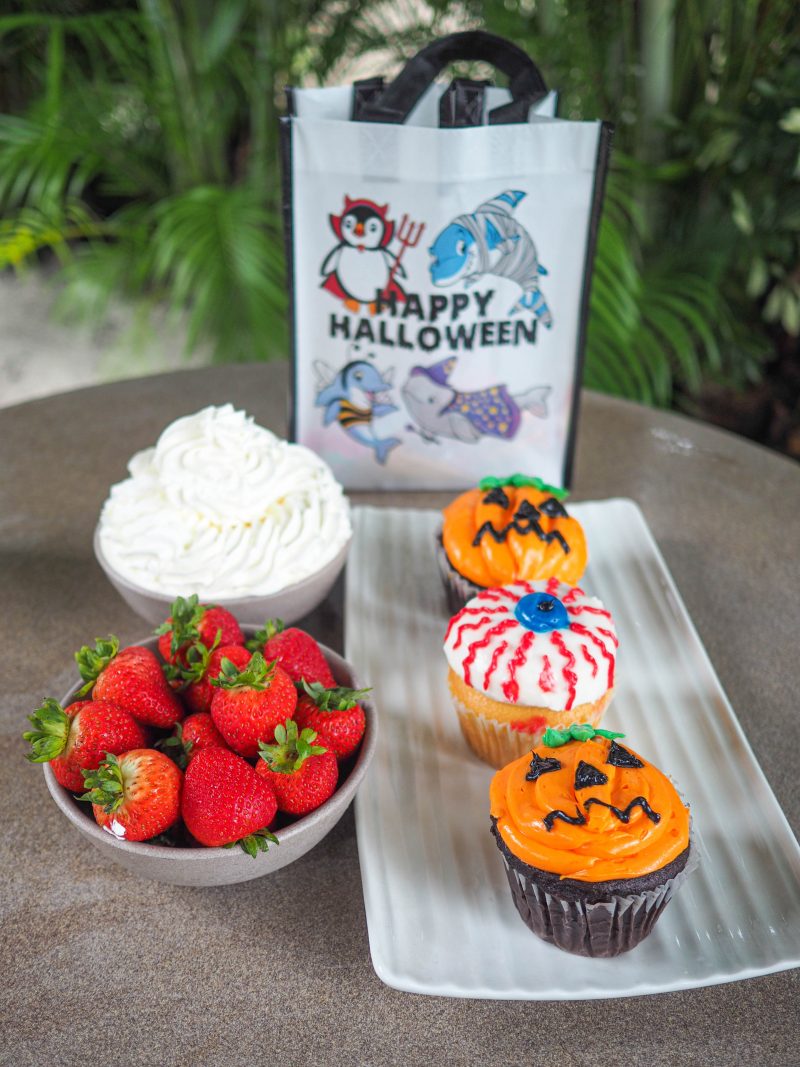 The fresh fruit was refreshing after a whole day of adventures.
Here are some of the activities we did:
SeaVenture
We walked underwater for 45 mins. through Discovery Cove's Grand Reef!
Can you find Nemo?
We swam with an amazing dolphin named Dixie.  She is the matriarch, the oldest, most dominant female dolphin in her pod but she was the sweetest.
We also fed a bunch of beautiful birds in the aviary.
Snorkeling with fishes and stingrays and floating down the lazy river was therapeutic as well.
Add Discovery Cove to your bucket list today and make the trip to the park soon, you will not regret it!
Limited-time offer: Save up to 30% off now through February 28, 2021: https://discoverycove.com/orlando/pricing/
For more information regarding the safety measures, physical distancing guidelines and Booking with Confidence program at Discovery Cove, please visit the links below:
Safety landing page and video asset: https://discoverycove.com/orlando/park-info/park-safety/
Safety FAQ: https://discoverycove.com/orlando/park-info/park-safety/faq/
Book With Confidence: https://discoverycove.com/orlando/pricing/change-or-cancel-reservation/
Discovery Cove
6000 Discovery Cove Way
Orlando, FL 32821
(407) 513-4600
discoverycove.com/orlando