Rodizio Grill opened at Pointe Orlando January 31st and was open for a few short months before all restaurants were required to close mid-March. The restaurant reopened early May but re-closed after a few weeks due to the immense decrease of visitors and conventioneers to the area.
Rodizio Grill's ownership and management is thrilled to be reopening December 4th and can't wait to welcome back the local community.
Established in 1995, Rodizio Grill was the first Brazilian "churrasco" steakhouse in the United States.
Twenty-five years later, the brand remains known for its playful Brazilian spirit, authentic menu offerings and family-friendly atmosphere.
The concept features over a dozen rotisserie-grilled meat, expertly seasoned and carved tableside by traditionally dressed Gauchos. Guest favorites include Picanha (top sirloin), Maminha (tri-tip sirloin), Frango Agri-Doce (sweet and spicy chicken), Linguiça (Brazilian pork sausage) and Abacaxi (glazed pineapple).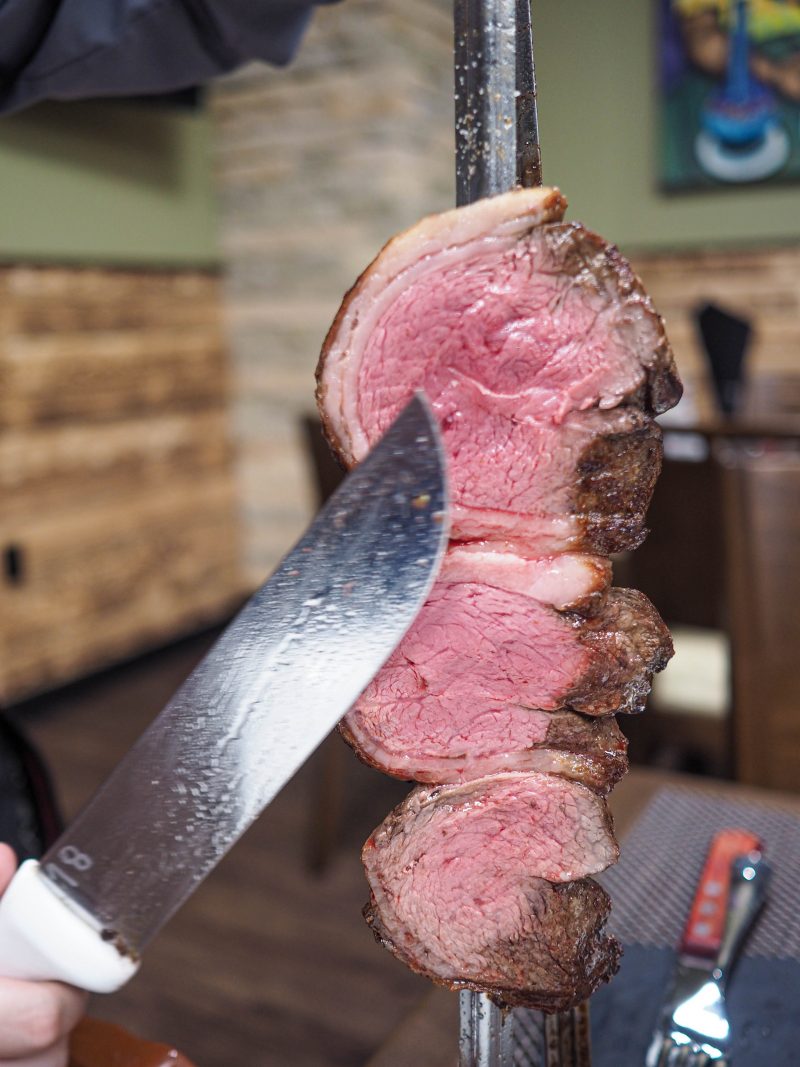 While the meats are the main attraction, they are complemented with an award-winning gourmet salad bar, marked by original salads, fresh seasonal fruits and vegetables, and authentic hot side dishes like Feijoada (Brazilian black bean stew) and Pão de Queijo (homemade Brazilian cheese bread).
Rodizio Grill's reputation hinges on its unparalleled selection of real, fresh-pressed juices, homemade Brazilian Limeades, signature cocktails and an extensive wine list featuring a variety of Brazilian imported wine and beer.
At the end of the meal, guests can enjoy a selection of exclusive, homemade Brazilian desserts. The whole experience comes at a competitive, affordable price so the whole family can celebrate together.
The "Full Rodizio" Dinner includes unlimited Brazilian sides, gourmet salads and rotisserie-grilled meats carved tableside. The "Salad Bar Only" option includes unlimited Brazilian sides and gourmet salads. The Full Rodizio dinner is $42.99; Salad Bar Only dinner is $26.99. Kids ages 7-11 are $12.99; kids ages 3-6 is $7.99; kids under 2 are free with paying adult.
Rodizio Grill has temporarily adapted its operations to the current environment, so guests can still enjoy a clean and safe dining experience in a unique way that's authentically Brazilian.
Temporary Adaptions:
– Masks are required while inside the restaurant; mask may be removed while eating.
– Printed, disposable menus are available or guest can access the digital menu through one's personal phone.
– Tables will be spaced apart from other groups.
– Gourmet Salad Bar is self-serve; guests are required to sanitize hands & use disposable gloves while at the salad bar. There is one entrance and exit to the salad bar.
Safety Guidelines:
– Staff will be wearing masks and gloves and will be changing gloves frequently.
– Staff is thoroughly cleaning and sanitizing all surfaces.
– Trained and designated staff members will be cleaning and preparing tables and chairs to ensure proper sanitization.
-Rodizio Grill management is ensuring all staff with symptoms, or that have contact with COVID-19, stay home. All employees' temperature is checked before beginning work.
– All other sanitation practices already in place will continue for guest safety and for the well-being and health of our team members
Guests can learn more about these precautions at Rodizio.com/orlando
Rodizio Grill – Orlando
Address: 9101 International Dr # 1220, Orlando, FL 32819
Website: Rodizio.com/orlando