Yugiri Ramen Project began as a side project for Chef/Owner Mike Evans when the pandemic first began in March of 2020, and recently officially launched inside the 18 N Dollins Ave, Orlando Ghost/Cloud Kitchen space in December of 2020.
Yugiri Ramen Project is probably most known for their Spicy Miso Ramen, an umami bomb of miso vegetable broth with flame charred pork chashu or tofu chashu.
Chef Mike Evans grew up eating ramen  and evolved beyond the typical Top Ramen and then learning to make ramen for the first Ramen Rumble (hosted at Seito Sushi). The ramen battle really cemented his love and passion for it.
"I really enjoy the long and tedious processes of making all the components and I also love making it in front of guests and serving it to them," Chef Evans told us through e-mail.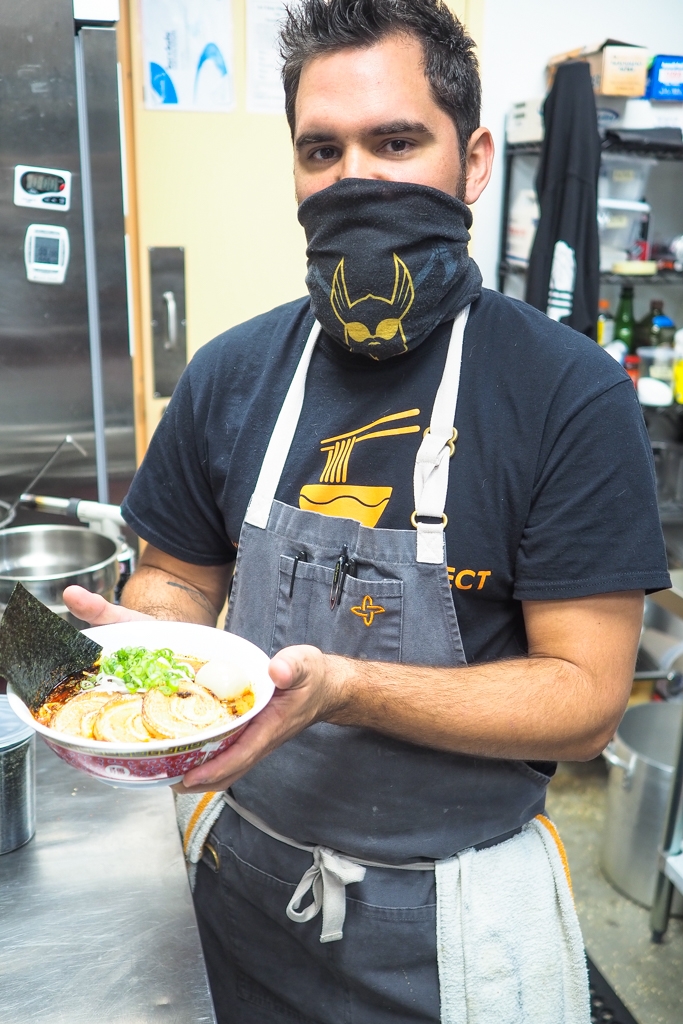 How did Yugiri Ramen Project come to be?
YRP was formed as an idea back in late March of 2020 when the restaurant I was working at was closed down due to in room dining being shut down. During the first week of quarantine, someone had messaged me and asked where they could get ramen since Kabooki Sand Lake was closed and I gave them a few places, but then they asked me if i would make it for them.
From that point, I put up a post on facebook and the post took off and before I knew it, I had a whole slew of people interested. From there, I scraped together what little money I had to get some ingredients and to go supplies and started making ramen for people.
Along the way, I had help from two local business owners, Ryan Manning from MX Tacos and Pom Moongauklang from Pom Pom's Teahouse who were kind of enough to give me a few ingredients and some to-go supplies and even allowed me to use their commissary kitchen space.
I am eternally grateful to them for their generosity during a hard time for us all. The project originally started as a vegan/vegetarian business because I didn't have the money to be able to afford pork belly at the time because of the inflated prices of meat. So, I just used vegetable toppings, broth, eggs, and noodles to create the first bowls.
I was also making the noodles myself back then because I had the time, and a lot of flour on hand. From that point, I just built my brand, clientele, and improved the ramen based on feedback from my clientele. It has been a long journey and is nowhere being finished nor is the ramen done evolving.
Growing up what were your thoughts on ramen? Favorite instant ramen?
Growing up like most American children, we were only exposed to instant ramen. I thought it was the most amazing thing. Super cheap and easy to make. It was also fun being able to mix flavors and add other things to the soup as well. But I did discover real ramen until much later in life. I think my first experience with a real bowl was going to Seito Sushi in Baldwin Park on Monday nights for hospitality night. I found other places beyond that like WA Sushi (most consistent) in Casselberry, Hanamazuki, Domu, and my favorite at the time, Sapporo (RIP). Also, Ramen Takagi in Oviedo is a solid spot too.
Top Ramen Beef flavor with velveeta cheese melted into the broth was my go to as a kid. Now, when I do eat packaged ramen, I try all different types. Shin Ramen Black is a good one, but the Sun Noodle soup base and fresh noodle kits are the best, because you have the noodle matched with the soup and you can add any toppings you want and really create your own unique bowl. You can find those Dong A in the freezer section and they have a good instant ramen section right in the front to the right when you walk in.
Tell us about your background for people who don't know?
I didn't start my career in hospitality as a chef, that came much later. I started at 16 working for McDonalds, then onto Tijuana Flats while I was in college and was with them for 7 years while I got through college and trying to figure out what I wanted to do. After graduating from UCF's Rosen College of Hospitality Management with a B.S in Restaurant Management, I signed on as a manager for Tijuana Flats in South Florida. After about a year, I decided that being a restaurant manager wasn't for me anymore and I really wanted to cook and applied to the Culinary Institute of America in New York. After finishing school there, I went on to work at a Steak/Seafood company for a bit, and then I worked for Prato where I learned a lot through watching the other chefs.
My biggest break came from working for Sushi Pop in Oviedo where I started right when they started expanding the location. I started as a line cook there and over a year or so later was able to move up to Kitchen Manager and that's where my career really started. I was able to explore my own creativity through pastry (which is where my creativity really bloomed as a chef), and then transferred that to my hot dishes. I was also able to hone my skills with fish butchery and all aspects of sushi. Sushi Pop is where I fell in love with Japanese cuisine and culture. Sushi Pop is also where I learned how to make ramen. After being invited to do the first Ramen Rumble with Seito and Baoery (at that time), I fell in love with the ramen making process. We researched and created our own unique ramen for the event and I continued doing it on Sundays only after the event. My ramen was completely different back then and more centered on what I learned from one book, Ivan Ramen.
After Sushi Pop, I worked with Chef Henry Moso of Kabooki Sushi at the original location. From starting there, my love for Japanese cuisine, culture, and ramen continued and bloomed even more. At the time, Kabooki was doing a different style of ramen that I had never done before, which was the paitan (creamy/cloudy) style of tonkotsu and I was doing tonkotsu chintan (clear soup) style of ramen. After sometime, I was fortunate enough to open Kabooki Sand Lake as Chef Henry's Chef de Cuisine and from there, I went all in on pushing myself as a chef to be more creative and pushed myself to create the best ramen program that I possibly could at the time. A lot of what i do today came from my time spent in the Kabooki Sand Lake kitchen. The starting of my ramen book I'm currently working on was researched and tested in that kitchen and now has evolved since then.
What inspires you in your cooking?
Seasonality was what really drove my cooking as a chef. We have a lot of amazing farms here in Florida that grow the most amazing produce and quality meats as well. I wanted to use what's currently available and at its peak to create the best/coolest/most unique dishes i could. But now, I'm more inspired by culture and location.
Ramen has incredibly deep historic roots in Japan and is incredibly different from city to city and prefecture to prefecture. When you think about it, there's only Shio, Shoyu, and Miso ramen, but the base broths, tares, aroma oils, and topping are infinite with those three types of seasonings, and tonkotsu is its own category of soup that has infinite possibilities itself.
What blows my mind even more are the different styles of ramen from place to place which are steeped in legend/tradition. There's small shops that people line up for at 6am to get a meal ticket for 12pm for only 30 bowls of soup that are available for that day. That type of culture is truly amazing and It's truly amazing how punk rock ramen is.
What are some unique items people should get when ordering?
I have some options to help create a bowl that is unique to the individual ordering it. From adding extra protein, Kaedama (extra noodles), ajitama (marinated soft egg), Yugiri Spicy Style (highly recommended for tonkotsu, miso, and paitan bowls) and I am constantly thinking of new things to add to help with that. I am ramping up production on my own garlic chili crunch and spicy paste made from the remnants of the chili oil process. I am also bringing on a third type of noodle for the miso ramens and bringing a new style of ramen to the menu soon.
Also, working on Mazemen (brothless) ramens for the current/summer menu. Pork Gyoza is also a new item on the menu as well and working on rice bowls too. Gyoza and rice bowls are often found in ramen shops around Japan.
What are some challenges you have faced and how did you overcome them on your ramen journey?
One of the biggest challenges for me was giving up the noodle making process. I really enjoy making noodles, but it's an incredibly time consuming process. If I had the space and money for the Richman One noodle machine, I would still be making them.
Another big challenge was figuring out how to create a kitted bowl of ramen that had the closest feeling and taste of a bowl being made in front of you and handed to you by the chef. That challenge is still being worked on daily.
I was able to solve the challenges through trial and error. The first and biggest challenge was the noodles. With adjustments to cook times and the cooling process, I was able to create an almost from the boiler to the bowl noodle texture without them going soft or soggy. Next step was having the right packaging. I found really nice (and expensive) packaging that allowed for the topping and noodles to be separate. It was also allowing me to use less plastic which was something I really wanted to do. Also, keeping the nori crisp by plastic wrapping it to the out of the to go container was a big development too. All these fixes really helped with creating the closest product i could to it being made fresh for you at a shop. The challenges keep coming every day and I am working hard to overcome and conquer them as they arise.
Lessons learned in 2020?
The biggest lesson I learned in 2020 is to not be scared to try something. You never know what you are capable of doing until you take that first step in the process. As many problems as covid caused and is still causing, I wouldn't have ever started this project if it wasn't for covid. I am incredibly thankful for 2020, because that was the year that I took the biggest step in my life to do something completely for myself. Being your own boss should be everyone's dream to try and achieve. It's incredibly tough, but so worth it at the end of the day when you sit down, have a drink, and smile because you know that you are doing something that is completely for you.
What are your goals for 2021?
My current goals for 2021 are to keep building the YRP brand, the clientele, as many pop ups as i can fit into a year, making to go/delivery ramen as best as it can be/make it more popular as a delivery option, and aspirations of winning Best Of Orlando categories for Ramen, Pop Ups, Business, and any category i am able to be apart of.
Upcoming Pop Ups?
Currently we will be at GConrad's Shanty 1/30, Swirlery Food and Wine Fest 2/13, Orlando Brewing 2/20, Vegan Food and Wine Fest 2/28 in Apopka are all the ones that are planned. I have others that I'm confirming for February, March and April. April will be a big month, because we will be doing stuff for local charities with other pop ups. More information on that will be announced in March.
How to Order
Order Ramen kits online for pick up that day or for later in the week at the 18 North Dollins Cloud Kitchen or you can order for delivery on UberEats, DoorDash, Postmates, or Grubhub.
For more information, visit: https://www.yugiriramenproject.com/