Promenade at Sunset Walk is a spacious outdoor dining and shopping plaza located in Kissimmee, Florida right next to Margaritaville Resort Orlando. The plaza offers a unique variety of restaurants, with all kinds of eats from barbecue to seafood.
Recently, several new restaurants and shops joined the lineup at the Promenade at Sunset Walk (check out our Foodie's Guide to Promenade at Sunset Walk here). Lizzie's Memphis Style BBQ has joined The Promenade's vast array of dining options, providing a variety of smoked and barbecued meats with all the fixings. If you're in the mood for seafood, check out the newly-opened restaurant and bar, The Wharf. Offering expertly prepared seafood dishes for the whole family, belly up to the oyster bar for fresh shellfish daily. For those ready for something sweet, check out the new River Street Sweets — Savannah's Candy Kitchen for their World-Famous Pralines®, saltwater taffy, crunchy hand-stretched peanut brittle and homemade pecan pies.
The Market, Sunset Walk's Artisan and Farmer's Market, has also returned every Saturday from 11:30 a.m. to 3:30 p.m. The Market features the best local craft and specialty vendors from across Central Florida, including fresh produce.
We were invited to taste our way through the plaza, trying appetizers at Lizzie's Memphis Style BBQ, entrees at The Wharf at Sunset Walk and some dessert treats at River Street Sweets. Here is our food lover's guide to What's New at Promenade at Sunset Walk this Spring 2021.
Food Lover's Guide to What's New at Promenade at Sunset Walk in Kissimmee, FL for Spring 2021
Appetizers at Lizzie's Memphis Style BBQ
We started out our foodie adventures with some appetizers at the new Lizzie's Memphis Style BBQ. Lizzie's is a casual barbecue eatery offering everything from traditional barbecue favorites to dishes with unique twists. Lizzie's menu also consists of an impressive number of gluten-free items, benefitting individuals with different dietary needs.
Oscar Peña, corporate director of culinary, greeted us at Lizzie's. Peña oversees all culinary strategies at not only Lizzie's Memphis Style BBQ, but at The Wharf at Sunset Walk too. He prepared two of Lizzie's most popular appetizers for us to enjoy.
BBQ Pork Sliders
The BBQ Pork Sliders are prepared with tender pork, pickles and fried onions layered in between slices of sweet Hawaiian bread. Lizzie's has their own name-brand BBQ sauce made in-house, and it features the perfect balance of sweet and tangy. These sliders are fantastic, and they're also available with smoked brisket as an alternative to pork.
Smoked Bacon Wrapped Jalapeños
Another delicious appetizer dish at Lizzy's is the Smoked Bacon Wrapped Jalapeños. Crispy smoked bacon is wrapped around grilled jalapeños filled with herb cream cheese and topped with sweet strawberry jam. The sweet and spicy flavors complement each other excellently, resulting in a mouthwatering treat you'll need to try for yourself.
Entrees at The Wharf at Sunset Walk
The Wharf at Sunset Walk is a new casual seafood restaurant with a coastal atmosphere and an impressive menu fusing traditional seafood dishes with New Orleans classics. Live entertainment sets the mood and the extensive menu offers something tasty for everyone.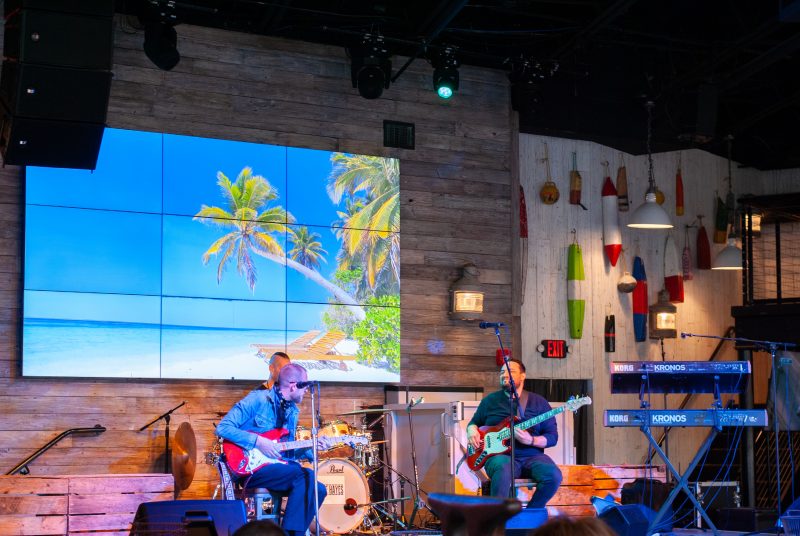 Charbroiled Oysters
We started with a crowd-favorite: the Charbroiled Oysters. As expected, these oysters were decadent. Cooked with cajun butter, this dish has also a subtle New Orleans flare, which only improved the flavor.
Fisherman's Platter
If you're interested in sampling multiple menu favorites at The Wharf, we recommend ordering the Fisherman's Platter. This entree features Gulf Shrimp, Mahi Mahi, Fried Oysters, fries and coleslaw. It's also served with lemon garlic butter, comeback sauce, cocktail sauce as well as fresh lemon. This dish is tasty, flavorful and very filling.
Grouper Po' Boy
A unique take on a NOLA classic, the Grouper Po' Boy is tremendous. Made with a toasted po' boy roll sourced from Louisiana, grilled grouper, mayo, comeback sauce, lettuce, tomato and pickles, this sandwich is a must-try.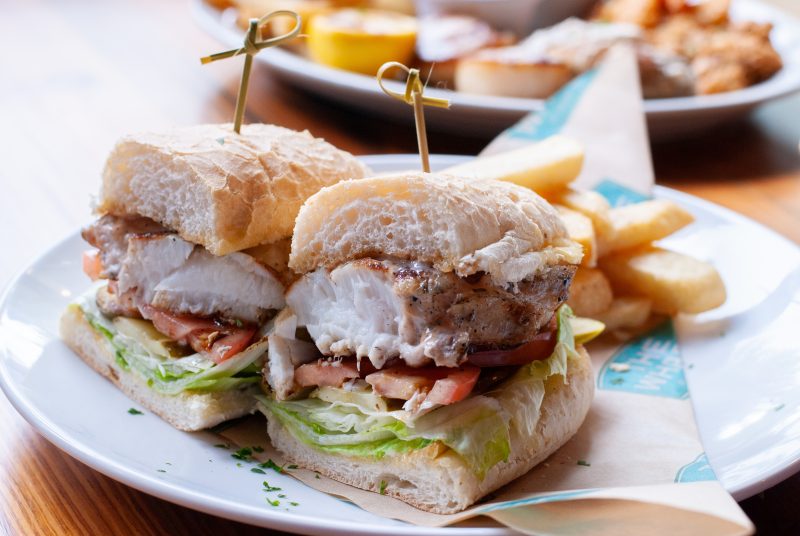 Dessert at River Street Sweets – Savannah's Candy Kitchen
River Street Sweets is a world-famous sweet shop originating in Savannah, Georgia on the popular River Street. Serving up homemade pralines, fudge, taffy, hand-dipped chocolates, ice-cream, gelato, candy apples and more, the new River Street Sweets is definitely worth stopping by on your next trip to Promenade at Sunset Walk.
We were welcomed by Lucia Lubbock, franchise owner of River Street Sweets' Kissimmee location. Lubbock walked us through some of their most popular sweet treats, from pralines to gelato and everything in between.
Lucia Lubbock has the unique opportunity to work at River Street Sweets alongside her daughter. Both are pictured below.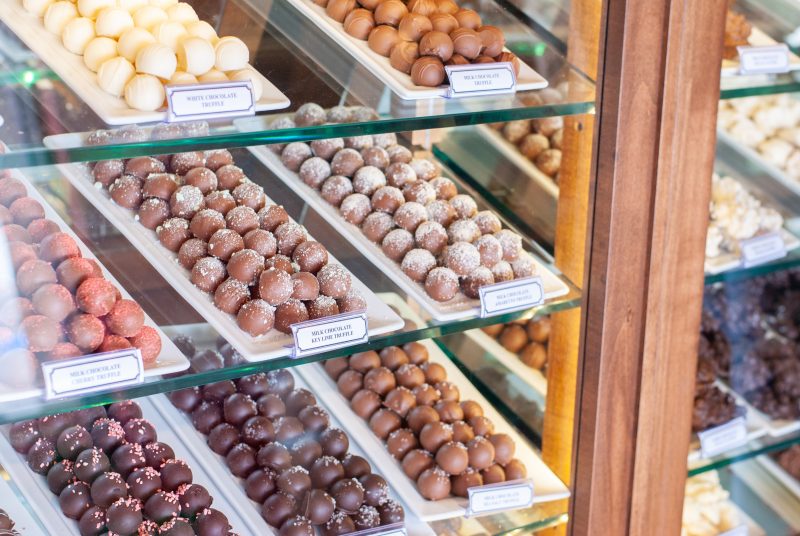 Homemade Gelato & Ice Cream 
River Street Sweet offers homemade gelato and ice cream in many tasty flavors. We tried the Banana Pudding Ice Cream, and it blew us away. It was rich, creamy and simply delicious. Both the gelato and ice cream are great treats to help you cool off from the Central Florida heat.
World-Famous Pralines
We couldn't leave River Street Sweets without sampling what they're world-famous for: pralines. We tried the classic praline, pictured below, and it was superb. River Street Sweets also offers a variety of specialty flavored pralines, so you'll want to check those out as well.
The Market
Every Saturday, Promenade at Sunset Walk hosts an artisan and farmer's market from 11:30 a.m. to 3:30 p.m. The Market is a wonderful way to support local small businesses. Many vendors offer free samples of their products as well. We recommend stopping by and taking a stroll around The Market before or after a hearty meal at Sunset Walk.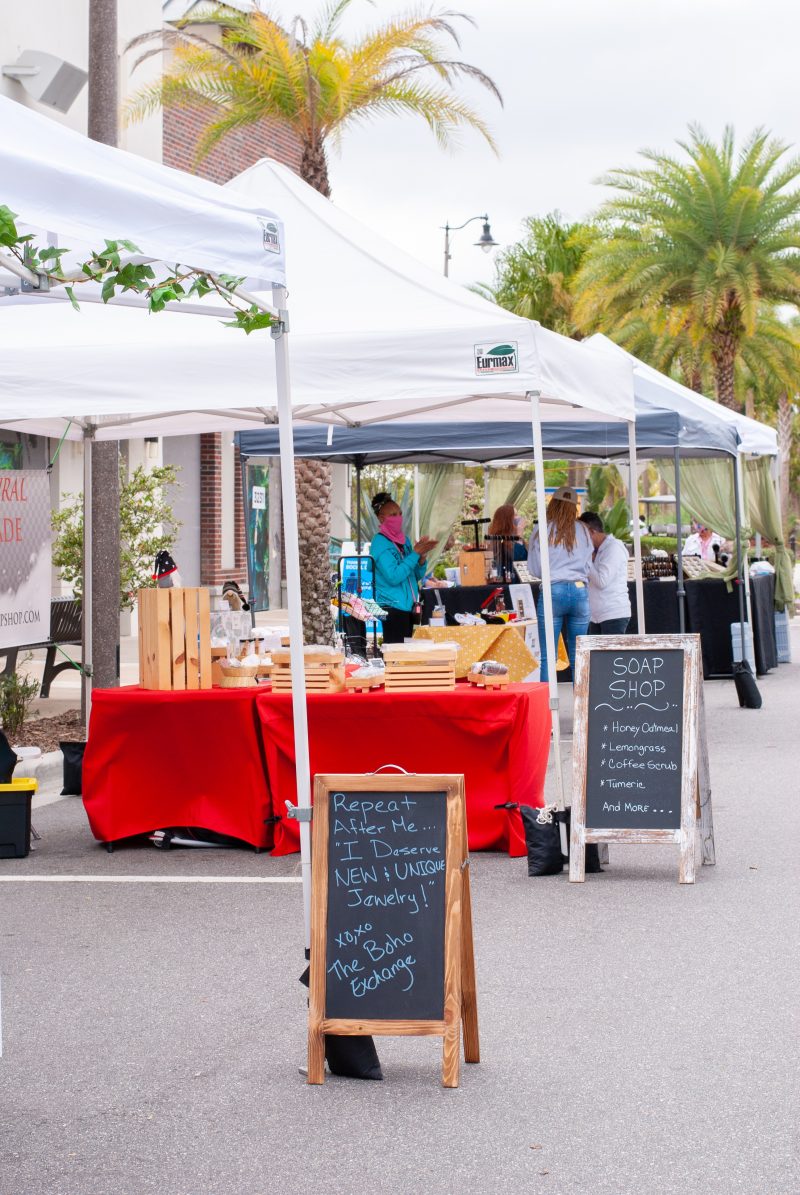 Other eateries at Promenade at Sunset Walk include: Ford's Garage, Flower Cafe, Estefan Kitchen Orlando, Yeoman's Cask & Lion, Capone's Coal Fired Pizza, El Jefe Tequilas Taco Cantina, Bahama Buck's, Bento Asian Kitchen + Sushi, Rock & Brews and BurgerFi.
To learn more about the many restaurants and events at Promenade at Sunset Walk, visit SunsetWalk.com.