Today, Grills Lakeside Seafood Deck & Tiki Bar owner Joe Penovich posted a social media letter to Joe Biden regarding vaccination, Biblical narratives, and prophecies regarding mandates. See below for more –
Grills Lakeside in Orlando Florida is the third restaurant for the Grills group, in addition to Port Canaveral and Melbourne locations.
Disclaimer: Please consult the CDC and other official health organizations regarding the safety of COVID-19 vaccines.
"Dear @joeBiden These are a few of the many employees of Grills who for their own reasons have decided not to get this vaccine. They are amazing, hard working, responsible people. They have been on the front lines serving the public from the start of this pandemic.
There is a moral and ethical compass severely out of calibration in suggesting they should be fired for their convictions. This vaccine does not stop spread, does not prevent infection and its ability to mitigate serious illness wanes far quicker than originally anticipated. Additionally there are significant known risks and anyone who has had Covid (like most of these pictured) now have the best God given immunity available! So why sir are these people being threatened and vilified for their own convictions and concerns about taking it?
In a desperate attempt to give you the benefit of the doubt and not politicize this thing, perhaps you yourself are being deceived by a narrative designed to ensure the continued flow of billions of dollars towards a few pharmaceutical companies?
I pray it's that simple.
But perhaps the deception is more significant and sinister than a money grab. As a professing Christian yourself, you must be aware of the Biblical narrative that tells of ultimate control by government over citizens of the world, to the extent that they cannot buy or sell anything unless they comply with a certain mandate. Whether this is a beta for that prophecy or the final chapter, I don't know. But it is aligning quickly. I fear for anyone who is complicit in bringing about that narrative. Praying for you sir.
Respectfully.
Joe Penovich
Grills Restaurants"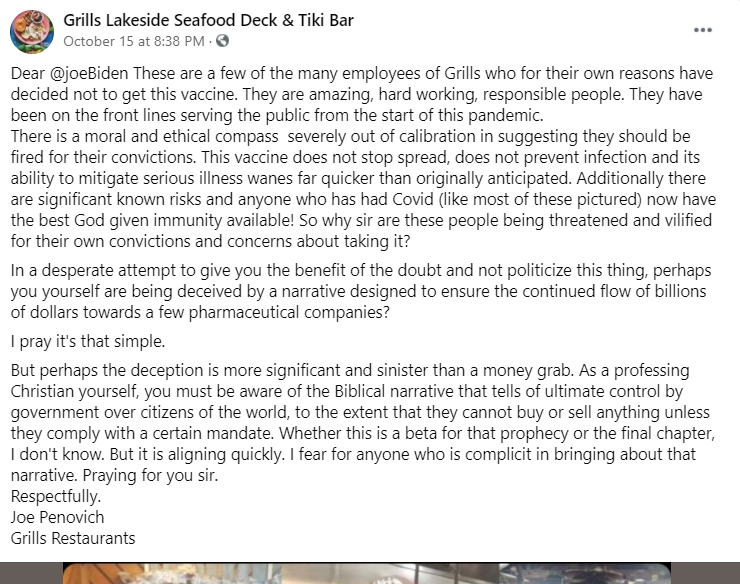 Address: 4301 N Orange Blossom Trail, Orlando, FL 32804