Nestled within the Ozark mountains in Branson, Missouri, Silver Dollar City transports guests back to the 1880's (with a modern flare, of course).
At Silver Dollar City, guests can enjoy a variety of thrilling rides and coasters, demonstrations from local craftsmen, unique festivals and themed dining experiences. The origins of this theme park date back to 1894, when William Henry Lynch and his two daughters, Miriam and Genevieve, opened a tourist attraction around Marvel Cave. In 1960, the attraction expanded to the Silver Dollar City theme park as we know it today, and Marvel Cave remains one of its most popular attractions.
We were invited to explore Silver Dollar City and sample some of the theme park's tastiest eats and treats. Here is our Foodie's Travel Guide to Silver Dollar City.
A Foodie's Travel Guide to Silver Dollar City
Cinnamon Apple Biscuit at Sullivan's Mill
Start your morning off right by heading to Sullivan's Mill to try some of their delicious Cinnamon Apple Biscuits. These sweet treats are the perfect breakfast snack to enjoy on the go.
Guests are welcome to watch the bakers work their magic inside Sullivan's Mill.
Aunt June's Peanut Brittle at Browns Candy Factory
Did you really visit Silver Dollar City if you didn't stop by Browns Candy Factory to enjoy some homemade peanut brittle? It's one of the theme park's most famous offerings, and it's certainly worth a try for any peanut lover.
For the past 55 years, June Ward has worked as a master candy maker at Silver Dollar City. We highly recommend making time to stop by Browns Candy Factory during one of her demonstrations. June perfectly captures the essence of Silver Dollar City and the theme park's dedication to family and community. She's also hilarious.
Breakfast Buffet at Molly Mill's Restaurant
If you're looking for a buffet style breakfast option, Molly Mill's Restaurant is just the spot. We enjoyed a variety of bites including scrambled eggs, fresh fruit, breakfast potatoes and silver dollar pancakes.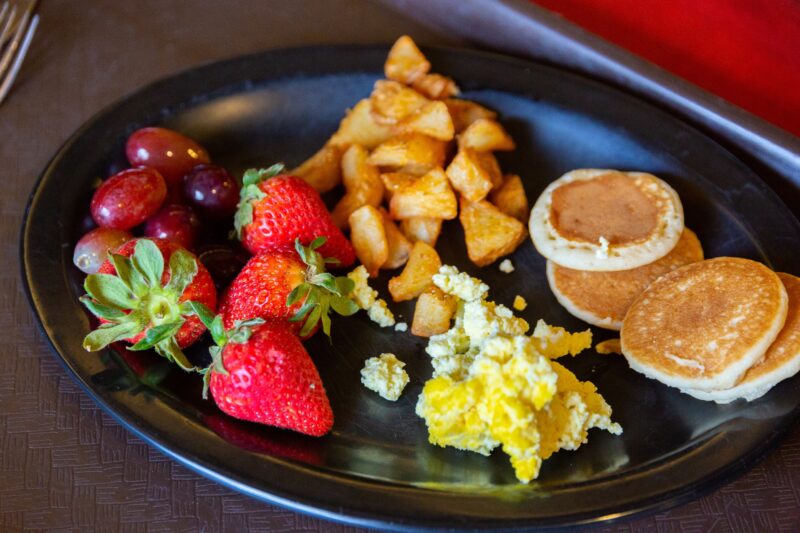 Baked Goods at Eva & Delilah's Bakery
If your sweet tooth still isn't fulfilled, you'll want to stop by Eva & Delilah's Bakery for an assortment of freshly baked goods. From their famous cinnamon rolls to handcrafted danishes and artisan breads, we thoroughly enjoyed these treats.
BBQ Spread at Rivertown Smokehouse
If you're looking for the perfect spot to enjoy a hearty lunch, Rivertown Smokehouse is just the place. While there are many unique dining options across Silver Dollar City, we have to admit that this bbq spot is at the very top of our list. We were able to sample a large assortment of bbq meats, sides and specialty dishes.
Street Fest Bites
We also got to try some of the specialist dishes available for a limited time during Silver Dollar City's annual Street Fest. The theme park hosts a number of uniquely themed festivals throughout the year, so be sure to check what seasonal bites are available during your trip. We were also provided with a Tasting Passport which allowed us to make the most of our trip. For $30, these food sampling lanyards allow you to try five festival dishes during your visit.
Many of these dishes were impressive, but my personal favorite was the Korean Pork Noodle Bowl.
The Loaded Mac N Cheese was another crowd favorite.
The Loaded Ravioli is another must-try Street Food dish we highly recommend.
Tater Twists
For our last snack of the day, we enjoyed a delicious Loaded Potato Tater Twist. This treat was another favorite of ours. Guests can enjoy Tater Twists all year long at Silver Dollar City, but speciality flavors like the Loaded Potato are only available during select festivals.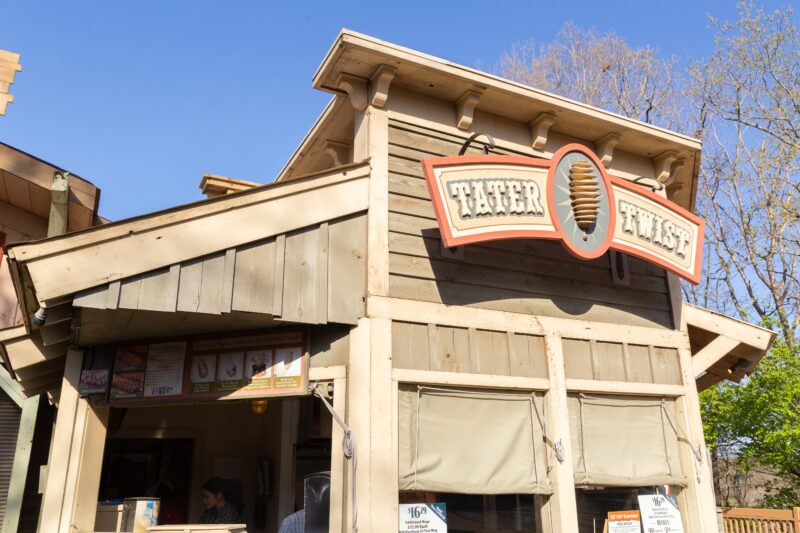 Explore Marvel Cave
Silver Dollar City as we know it today simply wouldn't exist without Marvel Cave. Taking a guided tour of the cave was a true highlight of our trip. In fact, I'd argue the cave is reason enough to visit this theme park even without all the tasty food options. It's incredible to witness.
If you visit at just the right time, you might also be lucky enough to witness the sunshine entering the cave in the most magical way.
Silver Dollar City is also home to many exciting thrill rides. Our favorite was Time Traveler — a spinning coaster with a launch and three inversions.
Thank you to Silver Dollar City and Explore Branson for hosting us. You can visit SilverDollarCity.com to learn more about the theme park, and ExploreBranson.com to plan your next trip to Branson!