There is a brand new epic food and wine event coming to Central Florida this December –Waldorf Astoria Orlando & Signia by Hilton Orlando Bonnet Creek's inaugural Epicurious: Sip & Savor Event. 
Taste your way through the all-new Epicurious Sip & Savor Event, an upscale food and wine experience showcasing 35 tastings across eight culinary kiosks and nine pop-up bars.
Enjoy an exclusive evening filled with lavish libations and delectable dishes inspired by the chefs from the highly acclaimed restaurants and lounges at Signia by Hilton Orlando Bonnet Creek and Waldorf Astoria Orlando.
Prepare to invigorate your senses with the unique and bold flavors of their carefully curated samplings.
Waldorf Astoria Orlando & Signia by Hilton Orlando Bonnet Creek's inaugural Epicurious: Sip & Savor Event
Event Date & Time: December 9, 2022. From 7pm to 11pm
Event Pricing: $275 per person. Plus Tax and Gratuity
For information, please email BonnetCreekEpicurious@hilton.com or Call (407) 597-3771
Sip & Savor
Friday December 9th, 2022
Savor your way through the culinary wonders of Waldorf Astoria Orlando and Signia by Hilton. From a carefully curated selection of wines and spirits, to delectable food pairings and artsy treats from our Grand Patisserie, this cocktail event will sure be one of the most delightful culinary experiences you can have.
Click here to view the full Sip & Savor menu & purchase tickets
$275 per person, plus tax and gratuity
For information, please email BonnetCreekEpicurious@hilton.com or call 407-597-3771
Limited availability. Tickets required.
Here is a sneak preview of what to expect at Waldorf Astoria Orlando & Signia by Hilton Orlando Bonnet Creek's Inaugural Sip & Savor on December 9th, 2022:
BULL & BEAR
Led by Chef Juan Suarez, Bull and Bear features a menu that takes much of its inspiration from an imaginative twist on the legendary meat eatery. Modeled after the trendsetting original Bull & Bear Restaurant in New York City, Bull & Bear Orlando serves hearty portions of traditional fare in a warm, club-like setting. Intricate chandeliers, a coffered ceiling and beveled glass windows create the perfect backdrop for a dining experience highlighted by inspired cuisine and impeccable service. The restaurant will be presenting their famed "Bull and Bear Fried Chicken" at the event. They will also feature a "DUCK HAM" dish with Skordalia, Kalamata au Jus, and Chestnut Spätzle.
BULL & BEAR FRIED CHICKEN – Yukon Gold Mashed Potatoes, Gravy – this alone is worth the price of admission!
LA LUCE
Created by famed Napa Valley chef and restaurateur Donna Scala, this modern Italian country kitchen serves dinner nightly and features thin crust pizzas, homemade pasta, Mediterranean-inspired drinks and a Trattoria-style wine program.
Taking inspiration from the finest in Italian cuisine, La Luce features nuanced dishes that are certain to please the palate. Known for combining Italian tradition with Californian innovation, La Luce comes to life through two culinary dishes presented by Chef Alberto Navarrete Arias, including a Short Rib Ravioli and Bruschetta Bianca.
• SHORT RIB RAVIOLI – Ricotta, Greens, Brandy & Peppercorn Sauce, Horseradish Gremolata
ZETA ASIA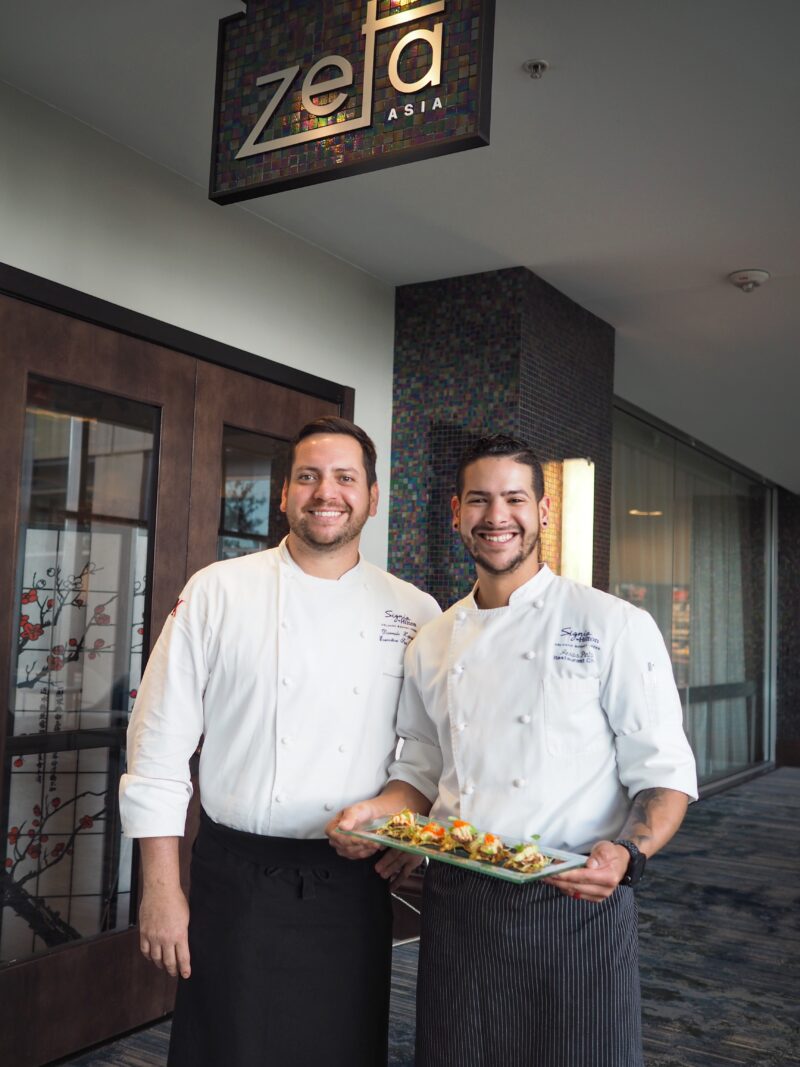 Traditional Japanese style specialties fused with cutting-edge culinary delights. Indulge in carefully crafted Asian cuisine with unique dishes created by Chef Jesus Pinto. Experience three categories of Japanese Fusion fare, including Steamed Bao Buns, Nori Kurakka "Spicy Nachos" and Kanji Rolls.
• NORI KURAKKA (SPICY TUNA NACHOS) – Seared Seven Spice Tuna Sashimi, Avocado Crema, Spicy Mayo, Masago, Frisée, Wasabi Dusted Nori Chips
• KANJI ROLL – Spicy Salmon, Cucumber, Avocado, Tobiko, Siracha, Micro Cilantro
CHEF FRANCK'S GRAND PATISSERIE
Dazzling dessert recipes with ingredients working brilliantly together, for you to end the night on a sweet note. Experience the lavish taste of Baked Alaska with your choice of toppings or The French Petite Boutique with an assortment of miniature pastries, candies and caramels, all crafted to absolute perfection by Chef Franck.
 THE BAKED ALASKA – House-made Vanilla Ice cream layered onto vanilla sponge cake or crispy dried meringue bowl, covered in a dome meringue that is torched or Grand Marnier flambéed until toasted golden. Served with your choice of a berry or tropical chutney, caramelized nuts and fresh berries.
Additional Offerings:
GRAZING BOARD – Begin your epicurean tasting experience with our grazing board. Enjoy an array of sweet and savory items, including fruit, cheese, and antipasti.
VIBE KITCHEN – Immerse yourself in the rich, bold flavors of Peruvian cuisine through the vision of our Executive Sous Chef Dannilo Zapatel Herrera, a native of Peru. Sip and savor the flavors of his upbringing through a Quinoa Caprese, a Causa De Pulpo and a Chicha Morada Pisco Sour
Bull and Bear Smokehouse – Delight in the savory 14-Hour Pecan Smoked Black Angus Brisket as well as the Cedar Plank Lock Duart Salmon Filet prepared by our very own Executive Sous Chef at Waldorf Astoria Orlando, Jeremy Gibb.
MAÎTRES CUISINIERS DE FRANCE PAVILION – Relish in authentic French cuisine prepared by our Maître Cuisiniers de France, Chef Bernard Fiemeyer. Enjoy two palate-pleasing dishes from our award-winning chef, including a Cassolette D'escargots and Pâté Pantin, and see first-hand how his passion for French cuisines has earned his spot as one of only 10 chefs in Florida to hold a renowned title.
BUBBLES & BEGINNINGS – Aperol Spritz Station, Champagne Cocktails, Prosecco,  Sparkling Rose, Champagne by the glass
RUM COCKTAILS – Mai Tai, Rum Punch, Dark & Stormy
BOURBON TRAIL – Elevate your evening with the finest selections of classic whiskeys sending your palate through an eclectic Bourbon Trail. Savor eminent tastings of Smooth Ambler, Jefferson's Bourbon, Rabbit Hole, Michter's, Old Forester and Whistle Pig, an aromatic assortment sure to invigorate your senses.
THE AVA'S OF NAPA – Transport to various Nappa Valley AVA's – one of the world's best wine regions – with 25 wine varietals to imbibe.
JAPANESE DELICACY – Sake & Japanese Whiskey
THE 10 CRUS OF BEAUJOLAIS – Discover the robust, luscious flavors of wine that hail from the foothills of the Beaujolais mountains. Taste your way through 10 French varietals that represent each region.
DESSERT PAIRINGS: La Colombe Espresso Bicycle, Dessert Wine, Limoncello,Espresso Martini's, Port/Sherry
FLORIDA CRAFT BEER – Toast to the sunshine state with several Florida breweries showcased on our Beer Wall. Indulge in four local craft beers on tap and five seasonal cans, including our very own Bonnet Creek Vacay IPA.
Take the Elevator Home
Make your Sip & Savor experience an overnight escape at Waldorf Astoria Orlando. Guests can enjoy an exclusive rate of $295 per night for a Standard Room, and $375 for a Deluxe Suite.  Rates include luxury accommodation, waived resort fee, and complimentary valet parking.
For more information, visit: waldorfastoriaorlando.com/epicurious/sip-savor/