Have you heard of juicing? With the new year in full swing – some people may be looking at options to change or supplement their diet with something healthier.
Clean Juice – a franchise with several locations in the Orlando area including East Orlando and Lake Mary – is the first and only USDA-certified organic juice and food bar franchise. Also – did you know that Tim Tebow has been a national brand ambassador for Clean Juice since 2021?
According to WebMD, juicing extracts the juice from fresh fruits or vegetables. The liquid contains most of the vitamins, minerals and plant chemicals (phytonutrients) found in the fruit.
Some believe that juicing is better than eating whole fruits and vegetables because your body can absorb the nutrients better and it gives your digestive system a rest from digesting fiber.
They say juicing can reduce your risk of cancer, boost your immune system, remove toxins from your body, aid digestion and help you lose weight.
Interview with Laura Beveri – Franchise owner of Clean Juice East Orlando / Lake Mary
What is juicing all about for those who don't know? How is it beneficial for health?
Laura Beveri: Juicing is only having fruit/veggie juice during a given day while abstaining from food. It is best if the ratio of juices from each fruit/veggie is chosen by a nutritionist that understands how they work together and what time of day or schedule is best for our bodies to have the most benefit.
When we juice, we are flooding our bodies with vitamins and minerals. Juicing could have many benefits! It is a great way to get all the vitamins, antioxidants and minerals from many different vegetables that we don't normally eat.
For those of us with busy lifestyles, it allows us to get all the green nutrition we need!
What made you choose Clean Juice to start as a business?
It was important that we have a business that directly benefits our community. Thierry and I grew up in the Orlando area.
We love having an impact on the health of our community. Giving back has always been important to us as well. We offer prayer requests and help with many schools and charities too.
Tell us about your background – what is your personal interest / history in food and health? Your favorite food memories growing up?
So I became interested in food after Thierry (my husband) started teaching me the art of enjoying and savoring food. His dad was a pastry chef in France and had a bakery in New York. Once we had kids, I learned how to eat and cook healthy foods that tasted great! As a family, we enjoy healthy foods and teach this to our kids.
My favorite food memories as a kid were my mother's chicken noodle soup with egg pudding for dessert! Also, when I stayed at my great grand parents' over the summer, I got to pick out my veggie from their basement each night! She canned the veggies from months before. The food was always simple and delicious.
What are some plans that people can sign up for at Clean Juice?
Our app is the best way to Clean Juice! You earn points, can order delivery much cheaper and order in advance for pickup! You earn $5 just for signing up!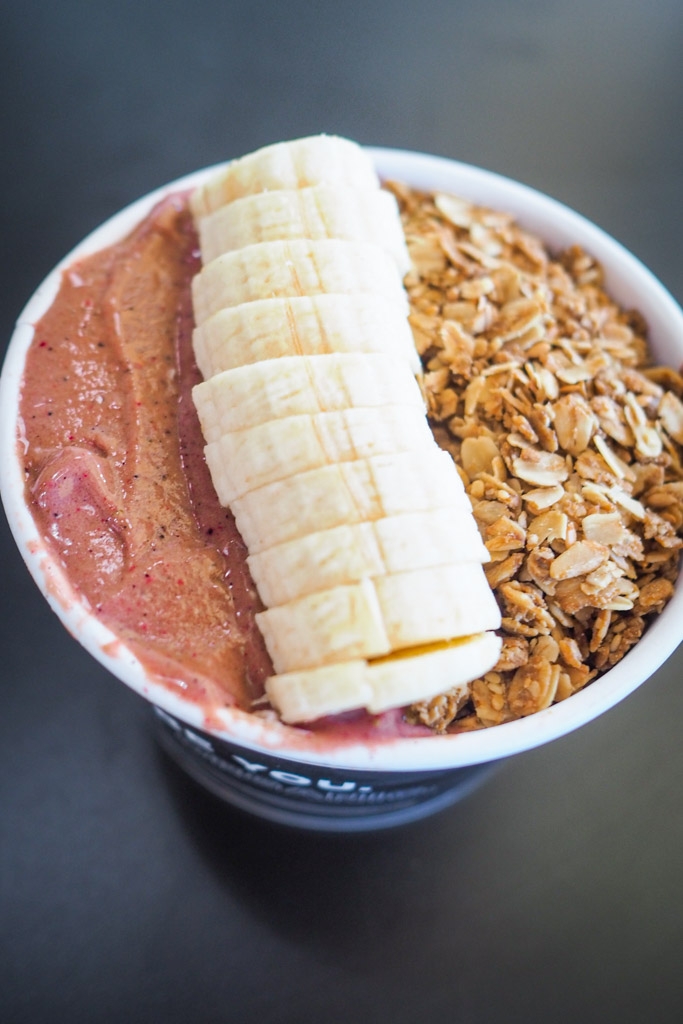 What are your top three most popular dishes / menu items right now?
Our 3 most popular are the immunity one, avocado toast and the berry bowl
What are some upcoming plans for the menu this year?
We are updating our açaí bowls to have drizzle options and new toppings! We are also moving to grilled chicken for our lunch and dinner items!
We are running an Instagram contest this week to win a juice cleanse or gift card worth $55 so head over there to take a look on how to win!
Address:
Clean Juice – Waterford / East Orlando
12301 Lake Underhill Rd Unit 121, Orlando, FL 32828
(321) 247-5103
Clean Juice – Heathrow / Lake Mary
1109 International Pkwy Suite 1661, Lake Mary, FL 32746
(321) 926-3308
ABOUT
Landon and Kat Eckles started Clean Juice® in 2016 as the first and only USDA-certified organic juice bar franchise and is rooted in the "healthy body and a strong spirit" (3 John 1-2) scripture and highlights the importance of an organic, plant-based diet. Clean Juice® offers organic cold-pressed juices, smoothies, wraps, açaí bowls, toasts, and other healthy foods in a warm and welcoming retail experience. Clean Juice continues to seek and welcome qualified franchisees to its family of franchise partners. For more information about Clean Juice®, its leadership team, and its core values, please visit www.cleanjuice.com.