Jeff's Bagel Run today announces the location of its newest store in O-Town West, a new mixed-use community in southwest Orlando.
Joining the 350 acre development, Jeff's Bagel Run will bring the same delicious bagels and welcoming atmosphere to this location but with a new look and feel.
The store is the first addition since the recent announcement of the strategic partnership with 1337 Capital.
Opening later this year, the new location is 1,200 square feet and features an open kitchen concept with bar seating so guests can watch the bagel making magic. Just like the other two existing locations, the bagels are made from scratch on-site, but in this location you can watch the process of mixing, forming, boiling, topping, and baking.
The cream cheese is still whipped on site but at this new location it will be displayed in a gelato style cabinet making it easier for guests to pick and choose their favorite flavors.
Finally, they will be substantially enhancing their coffee menu by introducing an array of espresso-based beverages, providing a diverse assortment of both hot and cold coffee choices to perfectly accompany their warm, delectable bagels.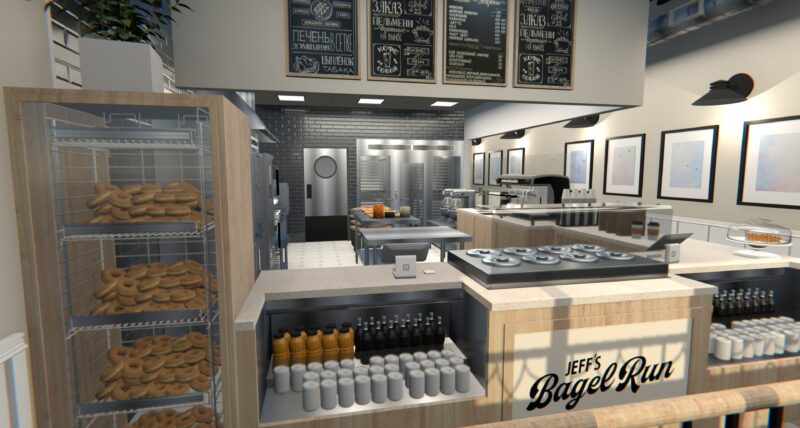 "As we looked for our next location, O-Town West was the ideal spot," said Justin Wetherill from Jeff's Bagel Run. "This new development will serve residents and visitors – giving us the opportunity to share our bagels with a new community. We are thankful to Chuck Whittal and the Unicorp team for allowing us to showcase our store of the future in their world class O-Town West development. We are excited to unveil our open-concept inviting guests to see our bagels come to life later this year!"
The O-Town store joins the existing stores located in Ocoee and College Park.
Officially founded in August of 2019, Jeff's Bagel Run bakes small batch, hand-crafted New York style bagels to order, using the highest quality ingredients and old world technique.
Jeff's Bagel Run, founded by Jeff and Danielle Perera, is a fast-growing bagel shop which has quickly become a beloved local brand with a loyal following. Through franchising, Jeff's Bagel Run aims to share its delicious bagels and warm community spirit with customers across the nation. For more information about Jeff's Bagel Run visit www.jeffsbagelrun.com.
1337 Capital, led by Justin Wetherill, recently announced a strategic partnership with Jeff and Danielle Perera, founders of Jeff's Bagel Run, with plans to expand the brand nationwide.
The expansion to O-Town West is a part of their plan for at least four additional stores in the Central Florida market in 2023.
Prior to founding 1337 Capital, Justin Wetherill was a co-founder of uBreakiFix that started in his bedroom and has grown to over 700 locations throughout North America. "Since stepping back from the day to day at uBreakiFix, I have had the opportunity to be picky and work on projects that really get me excited," said Justin Wetherill, founder and President of 1337 Capital. "When I met the team at Jeff's Bagel Run, it checked all the boxes and I knew I had to find a way to be involved. Jeff and Danielle have built a beloved brand in the Orlando community and I look forward to partnering with them to bring it to other communities."