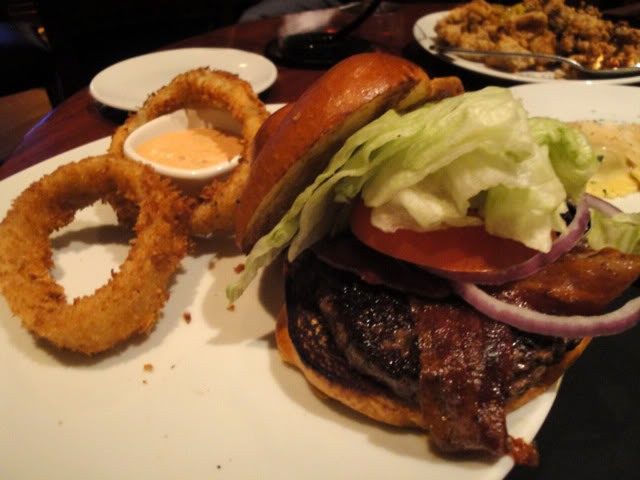 Fleming's Steakhouse has one of my favorite happy hours in Orlando. With one location in Dr Phillips/Restaurant Row and the other in Winter Park, Fleming's happy hour serves 5 items for $6.00 till 7pm in their bar area. I recently dropped by one Friday afternoon to scoop up some delicious items from their happy hour menu. One of my favorites include the Prime Sirloin Burger with bacon and cheddar served with a side of onion rings. This burger is positively divine, a succulent, juicy cut of medium cooked to perfection prime sirloin burger on a soft, tasty bun with lettuce, tomatoes, and of course bacon and cheddar. All of this makes for a great meal for a great deal at $6.00.
Fleming's Prime Sirloin Burger – $6.00 at happy hour
If you're still hungry, try some of their sweet chili calamari, a battered fried rendition of the classic seafood dish with a decidedly Asian sweet and tangy chili sauce twist. Its a huge plate that will sure to fill you and your partner up while you enjoy a nice glass of white wine or beer.
Sweet Chili Calamari – $6.00 at happy hour
Other items on their happy hour menu include: Roasted Mushroom Ravioli appetizer, Tenderloin Carpaccio, Seared Tuna and Jumbo Shrimp Cocktail.
Roasted Mushroom Ravioli – $6.00 at happy hour
for more information, visit http://www.flemingssteakhouse.com/menu
What's your favorite happy hour in Orlando? What do you usually get? post below!
.
.
.