Cask & Larder, a restaurant and craft brewery owned by husband and wife team James and Julie Petrakis, is set to open on September 5th 2012 at Orange and Fairbanks avenues in the building that once housed the historic Harper's Tavern. Tracy Lindskoog will serve as the managing partner and general manager for the restaurant.  Chef Dennis Bernard will lead in the cuisine and Brewmaster Ron Raike will head the brewery with a Premier Stainless 5-barrel brew system.
The interior was designed by Schmidt Design Studio, who previously worked on The Ravenous Pig, the Petrakis' first restaurant, also in Winter Park. Below is their press release as well as photos of the new interior
 Cask & Larder Oyster Bar
Photo credit: Schmidt Design Studio
"The old place was a longtime tavern and was very dark," said Anna Schmidt, CEO and principal interior designer of Schmidt Design Studio. "We lightened the interior with a crisper, brighter palette and surprising design elements. Patrons will go in and say this isn't even the same place!"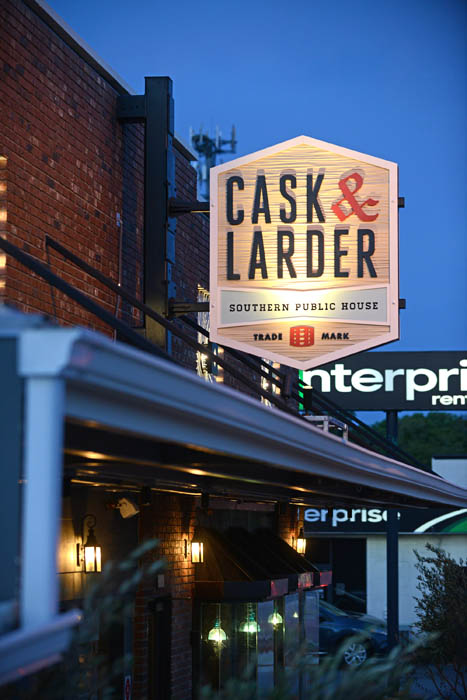 Cask & Larder exterior sign can be seen from Fairbanks Ave
Photo credit: Schmidt Design Studio
Cask & Larder is a wonderful blend of new and old. It was requested by the property owners that some of the interior elements be preserved in the 6,000-square-foot space, including a fireplace behind Cask & Larder's kitchen bar, antique bottles set atop a railroad-tie beam in the main dining room, and old cypress wall panels.
 Cask & Larder dining room
Photo credit: Schmidt Design Studio
The design of the 150-seat restaurant and brewery provides patrons with a sense of casual Southern elegance with white panes of weathered oak and whitewashed shutters. The concept was drawn from some of the favorite eateries James and Julie have visited in Charleston, Atlanta, and other stops along their travels. James has described the menu as "farm style" with everything à la carte so that diners can create their own meal from seasonal vegetables, seafood, and meat. Dennis Bernard, Chef de Cuisine, will work with the majority of foodstuffs from the South, and much will be locally grown.
 Cask and Larder's Brewery Bar
Photo credit: Schmidt Design Studio
Cask represents the specialty homemade brews that will be a staple at the restaurant. Larder is a Southern name for a kitchen pantry. In reference to the name, the restaurant is split into two areas – a brewery that houses the main bar, and the one-of-a-kind dining room that will act as the centerpiece of the establishment.
Schmidt and her team put special emphasis on the restaurant's brewery in the main bar. The Brew Master, Ron Raike; has a multitude of specialty beer available at all times. The industrial, stainless steel brew tanks are showcased behind glass curtain walls allowing guests to watch the entire process.
Schmidt Design Studio has worked with a number of other national restaurants and companies, including Olive Garden, Smokey Bones, Seasons 52, Red Lobster, Ruth's Chris Steak House, Ruby Tuesday and FOX Sports Grill. The firm also does design work for upscale independent restaurants, including the restaurant for NBA star Vince Carter's Restaurant in Daytona Beach, Fla.
For more on Schmidt Design Studio, visit http://www.schmidtdesignstudio.com.