by guest writer Michael Cho, owner of ImpressInk.com, custom apparel and t-shirt company
You will find Sapporo in the "Chinatown" plaza on west colonial. Although it sits alongside multiple Asian fare establishments, it's quite a surprise to find an authentic Japanese ramen and noodle place in this neck of the woods
In this cozy ramen shop, you cannot help but notice a vivid yet simple hand drawn comical story line of  cute animals and creatures all along the walls.
With a subtle Japanese decor of bamboo ceilings and shogun warrior lighting, Sapporo will definitely give you a relaxing state of mind to enjoy whatever savory dish you order.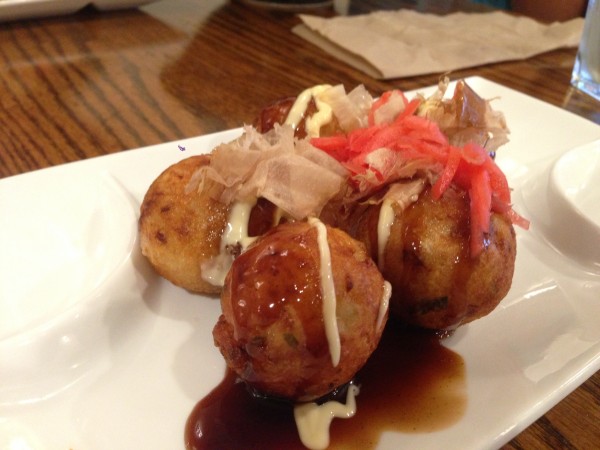 The takoyaki is a must do when you go to Sapporo. A decadent and crisp shell with a moist and flavorful stuffing of fresh octopus.
Pork Katsu Curry – The Japanese curry is infused with bits of slow cooked beef, and can probably be the closest to perfect Japanese curry sauce I have had in Orlando. The pork katsu fried held its crispy composure while maintaining all the moisture and tenderness of the meat. Subarashii.
Tonkotsu pork ramen has a savory meat based broth that brings all the ingredients together in harmony alongside the ramen – this is definitely not your typical instant ramen noodle variety – it's the real thing.
Feel free to add more toppings if you have a greedy appetite – an additional helping of the Cha-Shu pork belly is always a good idea for the meat lovers. A perfectly marinated and tender pork belly that feels at home in the ramen concoction.
Can Sapporo Ramen become a big ramen contender in Orlando? Find out for yourself!
Sapporo Ramen
5080 West Colonial Drive
Orlando, FL 32808
Phone: 407-203-6777
Open from Tuesday – Sunday, Closed Mondays
Hours are 11:30 am – 8 pm
 Gyu Don – Beef Rice Bowl
Shrimp Tempura Udon
 Kisune Udon – Tofu skin (like unari)
Pork Tonkotsu Ramen with extra pork ($1) and hard boiled egg ($1)
Sapporo Ramen Menu