Photos by TastyChomps.com's Krystle Nguyen



"Waltzing Matilda" is Australia's most widely known bush ballad, a folk song that has been referred to as "the unofficial national anthem of Australia". The title is Australian slang for traveling by foot with one's goods (waltzing) with a "Matilda" (bag) slung over one's back.
Matilda is a romantic term for a swagman's bundle and I suppose Matilda's on Park can be called a mixed bag of sorts.
The restaurant took over the spot on the north end of Park Avenue, across from Panera Bread, that has been a bit "cursed" as of late, with quite a few closings in the past few years. Maybe it's the foot traffic in that area, or maybe it is the restaurant management – either way it's a tough deck of cards that are dealt.
The decor is rather modern and swanky, though the flat screen TVs flanking the walls give the restaurant a decidedly more pub-like feel. I think that angle shows potential especially given the menu choices of so called "gourmet" mac and cheeses (they have over 7 types here including lobster mac) and burgers. If only the prices reflected those that you would expect at a pub-like establishment.  At $14 for Buffalo Mac and Cheese, I would expect more than a small bowl full, maybe a platter of mac and cheese for that price.
On a recent visit for brunch, my friends ordered the typical brunch items from breakfast croissant sandwiches to California eggs benedicts.
As a nod to their "Aussie" theme, one of the burgers on the menu is the Roo burger ($14) made with real kangaroo meat, topped with cheese sauce, onion straws, on a toasted brioche bun. The kangaroo meat tasted slightly gamey, a little greasy for some reason, but savory and was cooked to the right temperature. Overall, not sure if I am a fan, but didn't hate it – maybe I'll have to give it another try. The fries that came with the burgers were also quite nice.
On this visit, it seemed oddly quiet for a Sunday morning at the restaurant, with nary another group dining during our time there. Maybe it's time to do some promoting, as just a few doors down at another restaurant, the crowds were fully flowing. I thought the food at Matilda's was better than that other place, but maybe it was the concept that throws people off. The theme and menu seem to need some clarity.
The food overall was good, but for some reason it just seemed like something was missing.
Wasabi bloody mary – tomato juice with wasabi, montreal steak seasoned rim
 Buffalo Mac and Cheese – pieces of chicken (a rather large piece that looked like fried tofu at first), cheddar, swiss, parmesan, with secret sauce $14
California eggs benedict with avocado, egg, bacon, tomato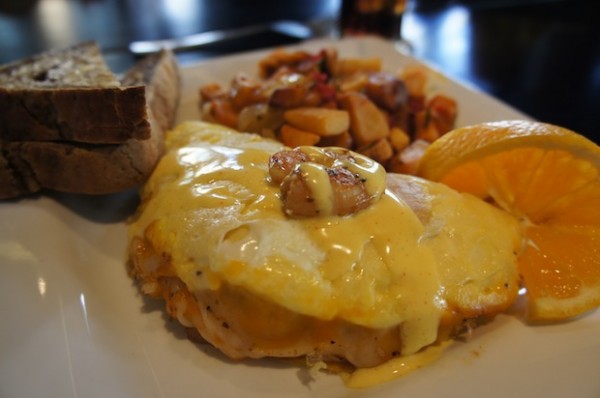 Shrimp and crab omelet – cheddar and gruyere cheese, crab, shrimp, with potatoes and wheat toast ($12)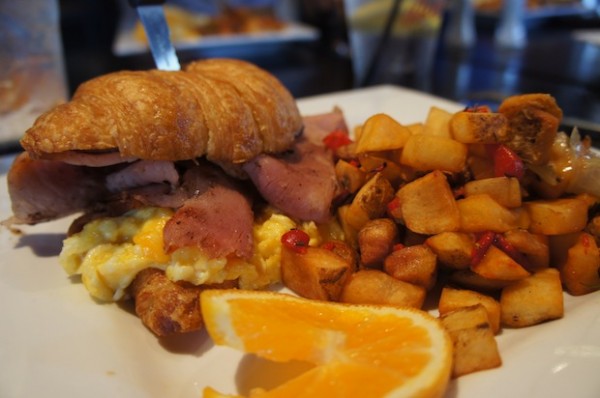 Breakfast croissant sandwich with ham, egg, cheese and side of home fries

Roo burger ($14) – kangaroo meat, cheese sauce, onion straws, brioche bun