Hilton Orlando recently hosted a media weekend to showcase their dedication to food through their banquet catering services, The Bistro, and Spencer's Steaks and Chops restaurant. Hilton Orlando's Executive Chef Louis Martorano is passionate about locally sourced food and personally visits the area's farms to know where his ingredients come from including Lake Meadows Naturals.
Hilton Orlando's Executive Chef Louis Martorano
The event began at the Hilton's Spencer's Steaks and Chops restaurant in the private dining room. An array of courses were expertly prepared including:
Jumbo Lump Crab Cakes
Rabbit Rillettes
crispy country ham, sorghum mustard
Amuse bouche
Lobster
Rockefeller style, creamed spinach, gremolata,
pork belly, champagne beurre fondue
Mac & Cheese – Flat Creek Lodge cheddar, candied bacon
 Dessert plate
For breakfast, I ventured down to The Bistro to try out their "Eggs Benne" an eggs benedict rendition with bread pudding base, as well as a croissant. It was luscious and delicious, with an oozing yellow yolk egg.
Later that evening, the food and beverage team set up the kitchen used for their banquets to showcase their catering repertoire.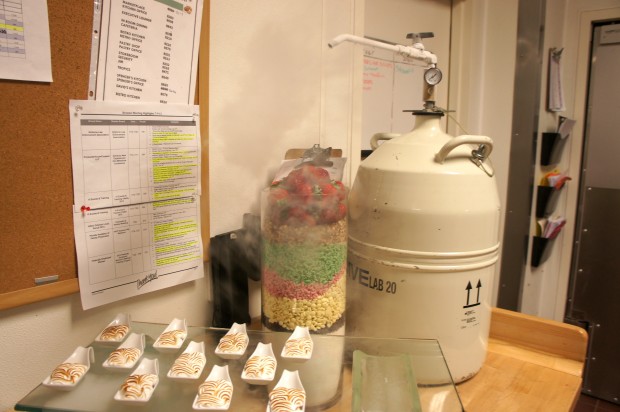 Hilton Orlando Executive Sous Chef and master of all things pastry Thomas Heubner loves to experiment with cutting edge technology and food through molecular gastronomy and encourages his staff to experiment as well.
Candied chocolate bacon
 Hilton Orlando
http://www.thehiltonorlando.com/
Address:
6001 Destination Parkway
Orlando, FL 32819
Phone:
Main Hotel
+1-407-313-4300