Chuy's is a Tex-Mex chain restaurant based out of Austin, Texas that recently opened their second location here in town on International Drive near Sand Lake Rd (the first location was in Kissimmee off of US-192). This is one of the first of many other new developments on the I-Drive corridor as part of the I-Shops project.
If you've had Tex-Mex in Texas before, you'd know there is nothing else like it in the world – the flavors are intense from the steaks to the peppers and vegetables.
International Drive is a little far away from Texas, but from what I tried recently during their opening events, Chuy's should be able to do Tex-Mex cuisine proud. Chuy's Tex-Mex cuisine includes the traditional enchiladas, nachos, quesadillas, and tacos and the price points are all very reasonable with most entrees falling below $15, great for traveling families and even locals. The tortillas are made in house, as can be viewed through a display area where ladies mix dough and flatten them out the way your abuela used to make them.
Kitschy decor and Elvis themes pervade at Chuy's and in the bar area, nachos are served out of the back of a make shift Chevy. The original owners of Chuy's first struck popularity after dressing up the original restaurant in Elvis paintings and decor and the theme stuck ever since; there is even a dish called the Elvis Presley Memorial Combination – a fittingly huge dish not for the faint of heart. The Tres Leches cake is a must for dessert – the best I've had in Orlando!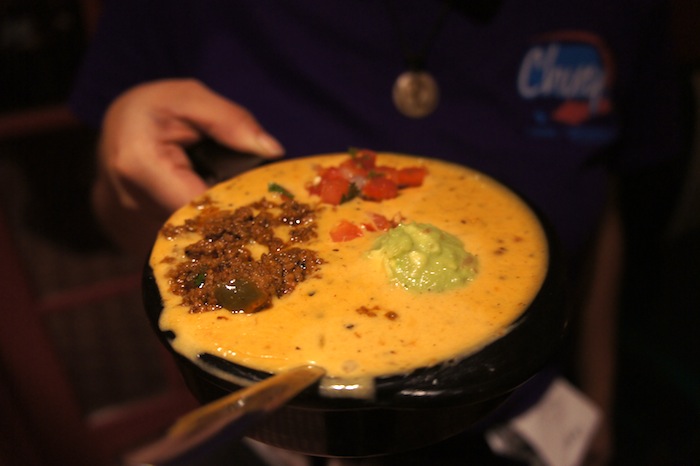 Crispy Tacos – $8.29 – Hand-formed corn tortillas filled with seasoned ground sirloin, lettuce, cheese & tomatoes
Chuy's Margarita
The Elvis Presley Memorial Combination $10.99 – Beef Tex-Mex enchilada, cheese Ranchero enchilada, chicken Tomatillo enchilada, a  seasoned ground sirloin crispy taco & homemade tostada chips dipped in chile con queso
Fried Tortillas Dessert
Flan
Tres Leches – the best Tres Leches cake in Orlando