This week I was invited to a Meet, eat and tweet at Barnie's CoffeeKitchen hosted by edible Orlando, Central Florida Home & Garden Show, and Barnie's CoffeeKitchen – Coffee…it's more than just a drink – it's FOOD.
This event was a preview event for the Central Florida Home & Garden Show on April 4-6 at the Orange County Convention Center, also educating the world about the art of coffee.
Chef Camilo Velasco was born and raised in Cali, Colombia. Immigrating to the United States in 2004 to finish his education, he enrolled at Valencia College with the mindset of furthering his love in the culinary arts.
Chef Velasco traveled from coast to coast before and after attending Valencia College, studying under Chef Norman Van Aken in Miami as well as here in Orlando. He eventually returned to Winter Park, FL to take his position as Executive Chef of Barnie's CoffeeKitchen.
Barnie's CoffeeKitchen is a home grown Florida original coffee company for over 30 years with over 50 hand-selected coffees. At CoffeeKitchen, they treat their coffee as food. The quality of the beans from the beginning on a farm to how roasters and baristas prepare the coffee defines a "real cup of coffee".
The event began by introducing a few wines to please the palate as fellow guests mingled and got to know each other.
First "on the table", there was the Cream of Carrot Shooters with hints of ginger and coriander. This was my all time favorite of the night! It demonstrated each flavor – from carrot to ginger to coriander – in every sip and was great to have in the chilly Orlando weather!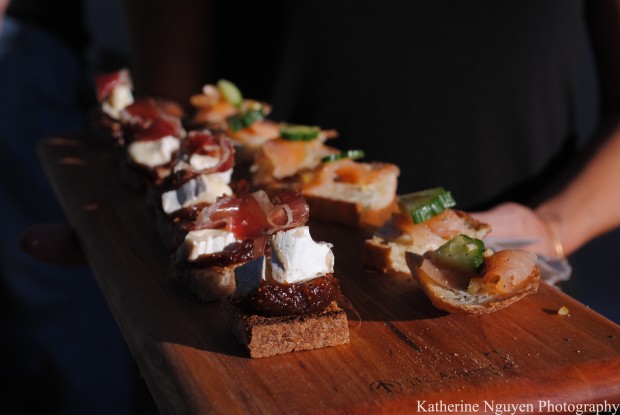 Next, I sampled the Mini Fig & Brie Tartine with house cured duck prosciutto (left) and Mini Smoked Salmon Tartine with crème fraiche and lemon oil (right). To those who like a little sweetness, I'd suggest the fig and brie tartine; however,the flavors of duck prosciutto was a bit lost in the fig and brie tartine and I can only assume that the prosciutto itself would have been delicious to have on it's own…
The freshness and savory taste of the smoked salmon made me prefer the smoked salmon tartine over the fig and brie.
The Mini Caprese Tartine with heirloom tomatoes, mozzarella and balsamic glaze was great: every ingredient came together to make this dish pop. It was so delicious that I forgot what type of bread it was on – I wanted to stuff the tartine all in my mouth as soon as I could!
Key West Pink Shrimp Skewers (Mojo marinated) were served with an herb aioli. The shrimp was a delight with a sweet finishing taste. Chef Velasco did a great job in cooking the shrimp just right – juicy, not too raw and not too dry.
Flank Steak Skewers with salsa verde were very delicious, but weren't my favorite of the night. If I was in the mood for protein, this would be my "go to" snack.
Mini Chicken and Lentil Tagine with Mediterranean spices and preserved lemon was delicious when eating it all in one bite – I really loved how the chicken was moist and juicy.
However, I couldn't taste the lentils in this dish at all. It was more of a moderate flavor in the dish where the Mediterranean spices were leveled with the amount of lemon added to it.
The Brazil Sitio Primavera, a 2013 Cup of Excellence Winner, was made by the pour over method at the CoffeeKitchen. This was a smooth cup of coffee that isn't very strong as the coffee is quickly filtered through when hot water travels through the coffee grounds into a glass vile and given to patrons.
The Greenwell Farms 100% Hawaiian Kona was created and served using the Chemex Method. This little cup of Joe was VERY smooth. If desired for a plain, black coffee…this cup is for you. Not the least bit "plain", it is sweet and has a tropical twist that was unique to my tastebuds. The best of the best can only give you that nirvana feeling any coffee lover would hope to experience.
CoffeeKitchen barista's special: Thai Tea Latte with espresso served hot.
CoffeeKitchen barista's special: Thai Tea Latte with espresso served iced. Served hot or iced, you'll enjoy a lovely Thai Tea unique from other Thai Teas when you're at Barnie's. At Barnie's, they use their own lemongrass and herbs straight from their gardens that are picked daily to give you that fresh desire after a long day of work!
After reading this blog, I hope you realized that you can get more out of your visit at Barnie's CoffeeKitchen than just a cup of Joe…you can order food, wine, champagne, etc! Speaking of champagne, there's one with an infused apple "juice" of sorts.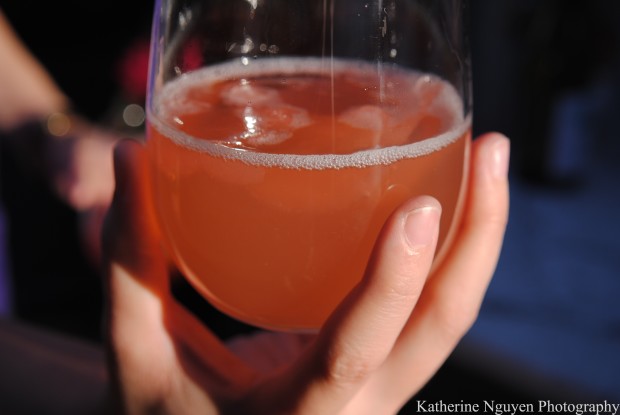 Another, an infused grapefruit and ginger "juice". Both "juices" were in ice form and served with a splash of champagne. Both are quite tasty, but I like the grapefruit and ginger option because I am a citrus lover. Not to mention, it's also great for digestion and the general health!
The Central Florida Home & Garden Show is April 4-6 so be sure to stop by and be one of the first to find innovative products, new ideas and practical advice!! What's more is that you'll be able to receive deals in remodeling, home improvement and gardening with hundreds of experts all under one roof.
Also between April 4-6 at the show, Edible Orlando will be heat up with mouth-watering cooking demos by Central Florida's top chefs throughout the weekend at the Cooking Stage. Chef Velasco will be on stage as well as several other greaet chefs. Full Schedule here: http://www.centralflhomeandgardenshow.com/CFHGS/AtTheShow/422.aspx
For more information, visit http://www.centralflhomeandgardenshow.com/CFHGS/EventsHome.aspx