On Saturday, April 26, 2014, we were invited to RanGetsu's 67th Anniversary Celebration in Maitland, FL. The original RanGetsu in Tokyo was founded in 1947, initially led by Mr. Konaka's son Masayasu Konaka and currently by his grandson Masaaki Konaka, President of RanGetsu.
In 1986 RanGetsu opened on International Drive in Orlando as part of their contribution to the cultural enrichment of the City Beautiful and the multi-cultural themes of the opening of Epcot Center. The restaurant stood for a quarter century until moving for the 2011 opening of "RanGetsu at Lake Lily," a new and unique dining experience in the City's Maitland-Winter Park area.
RanGetsu welcomes you with complimentary valet and a relaxing ambiance. The lighting is dim all around to augment the modern styles within the restaurant.
The hosts, waiters and waitresses work as a team here – every now and then, the general manager would come by, greet you and talk about your evening at RanGetsu.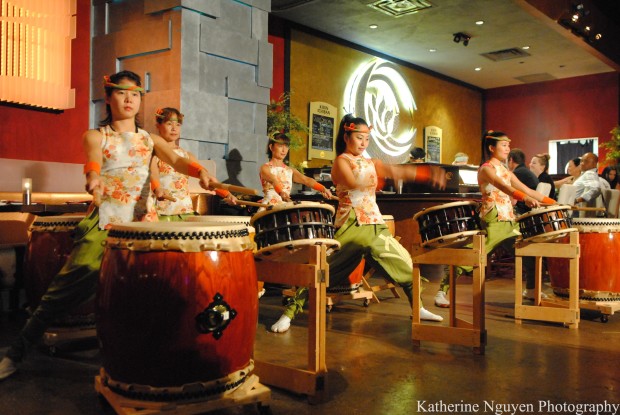 At 8:30pm, the Taiko Drummers performed a heart stopping show filled with power and emotions. However, not only are the ambiance and family of RanGetsu amazing, but also the food is absolutely distinctive and fit for the emperor himself.
The Tuna Flatbread is raw seared tuna garnished with a sweet and spicy Asian slaw, avocado and crumbled feta cheese. The sweet and spicy Asian slaw heightened the fresh tuna. You can definitely taste both the sweetness and spiciness of the appetizer in every bite.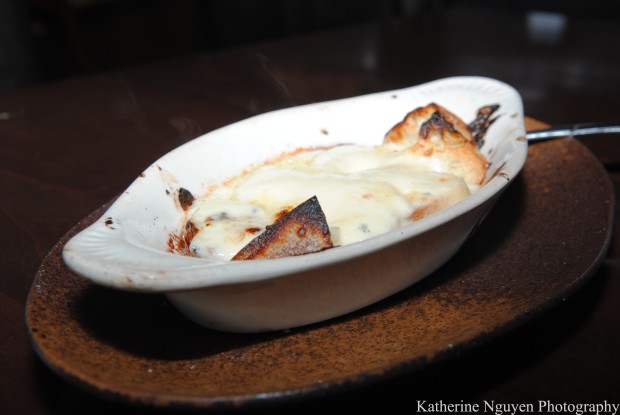 French Bread Cheese Gratin contains 7 Imported Gorgonzola and Gruyere cheese sauce baked over French bread crostinis. This dish comes out sizzling hot and melts in your mouth. Not only is this great, but also ask your waiter for the story of what this dish represents.
Next, we tried a sample of the sushi/sashimi menu that included seared Kobe beef, Blue Fin Tuna and Flounder. Each is simple with a light sauce on each to bring out the flavors of the main items. Not only does the flounder sashimi is appealing and contains a beautiful color to it, it had a few unique flavors brought out individually.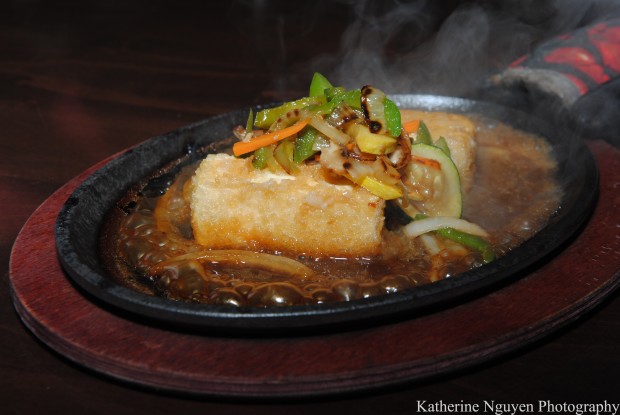 The Sizzling Tofu is firm fried tofu served on a sizzling cast iron skillet with stir-fried vegetables and finished in tantalizing ginger teriyaki sauce. The tofu is great and can easily be cut apart to share – even with using only chopsticks – but it also doesn't fall apart on its own and make a mess! Together with the vegetables and ginger teriyaki sauce, it is a simple delight to enjoy after a long and tiring day. Although, if soaked in the sauce for too long, it may be a bit high in sodium, so make sure you enjoy it while it's hot!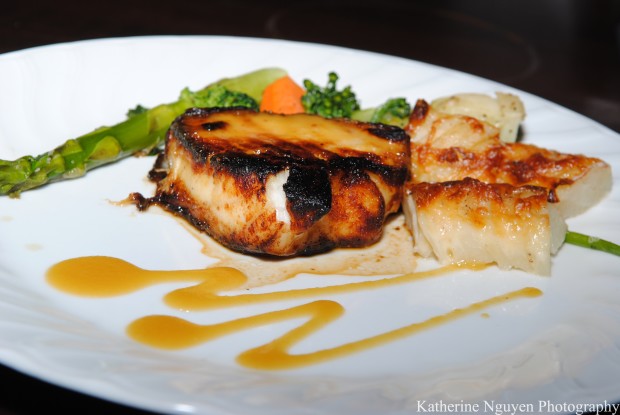 The Chilean Sea Bass Miso Teriyaki is perfectly baked sea bass to release its subtle and sweet flavor; it is served with a side of vegetables. The sea bass is subtle and sweet as they insisted it to be as well as fresh with a buttery texture.
Sukiyaki is a traditional Nabe course describing thinly sliced Wagyu Kobe beef quickly simmered in a traditional sweet soy broth. This dish is cooked at your table and includes: the Wagyu Kobe beef, baby bok choy, enoki and shiitake mushrooms, napa cabbage, onions, tofu, and udon noodles. When they said it was served traditionally, you may find it uneasy to be eating it all with raw scrambled egg, but it will add a buttery texture to each item of the dish. The sauce provides a sweet taste where the beef, etc can be enjoyed without the raw egg, but you won't want to eat it without the raw egg once you try it once!
Last, but not least, dessert was served: Vanilla Ice Cream, Chocolate Cake and Green Tea Crème Brulee. Each item can be enjoyed individually, but mixing is also suggested. The ice cream was made just right and cannot be complained about because it has the right amount of sweetness! The chocolate cake is very fluffy/airy and mouthwatering! Mixing the chocolate cake with the vanilla ice cream as well as the fruit that comes with it creates a sense of heaven in your mouth for every bite you take!!! Personally, I enjoyed the Green Tea Crème Brulee more than ice cream and chocolate cake that night, as it was very, very smooth and cooling beneath its candied surface!
Again, I highly recommend this restaurant for anyone who would like to experience fine dining alone or with family and friends. RanGetsu will satisfy your every visit and it's quite possible you'll see me at a table when you decide to visit RanGetsu.
Also, after dinner, you could head over to Lake Lily park within view of RanGetsu for a nice stroll.