By Veronica Brezina
The third Table Talk panel was led by Chef Norman Van Aken on April 1 at the 4 Rivers Smokehouse test kitchen in Winter Pak. Central Florida's extraordinary chefs that attended the event: John Rivers (4 Rivers & The Coop), Scott Hunnel (Victoria & Albert's), Hari Pulapaka (Cress Restaurant), Kathleen Blake ( The Rusty Spoon & Pine 22) and Brandon McGlamery (Luma on Park & Prato). The event featured some menu items on John Rivers' newest restaurant, The Coop a Southern Affair.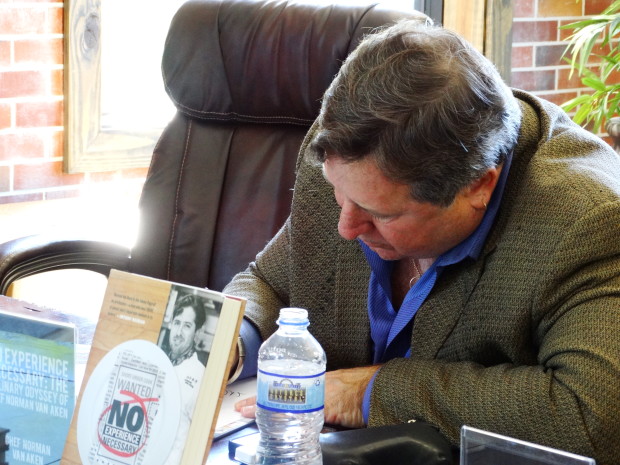 Chef Norman Van Aken, owner of Norman's, and the guest chefs discussed how Orlando's food scene is largely credited to East End Market among other growing factors. They all agreed that East End Market encourages the concept of sourcing food from local farmers and only producing the freshest ingredients.
Hari Pulapaka spoke about what his duties are that go beyond being a chef.
"If you eat at a restaurant, you're putting food into your body. You trust us. We don't just have to be chefs, we have to be dietitians. We have to know the food laws."
Pulapaka is the executive chef and co-owner of Cress. He studied at Orlando's own Le Cordon Bleu College of Culinary Arts. In 2008, he opened Cress with his wife. Pulapaka has been a three-time semifinalist for the James Beard Awards for the Best Chef South category. The James Beard Awards are the highest honor for food and beverage professionals working in North America. Cress was also rated the no. 1 restaurant in the Greater Orlando area by ZAGAT in 2013.
Aken led the panel by asking a handful of ranging questions to which he addressed to all the chefs and some individually.
With the question, "How do you climb the ranks in Orlando?"
Scott Hunnel answered, "Bring in the local guests and focus on them. People are coming in for you. Each restaurant has its own identity." Hunnel attributed his answer to guests he had come in and said they were travelers, they've been to places across the country and Hunnel wanted to know what they thought of his food and asked about their experiences.
Hunnel's restaurant, Victoria & Albert's, had been nominated for two categories in the 2013 James Beard Awards.
Because Orlando is a large diversified food scene, there is a lot of friendly competition that heats up among restaurateurs to be the best.
Kathleen Blake, chef and owner of The Rusty Spoon & Pine 22 and semi-finalist for Best Chef of the South in the 2013 James Beard Awards, looks at competition at a different angle.
"It's a collaborative effort. I'm a collaborator, not a competitor," Blake said.
Blake carries a farm to table approach.
John Rivers, owner and chef of 4 Rivers and The Coop who has won numerous awards, added to why it might be a struggle for thousands of tourists to view Orlando as more than a giant theme park.
"People just don't know about it [Orlando's food scene]. When people hear 'Orlando,' they think about attractions, not food, Winter Park or the East End Market."
The answer may be part of Hunnel's response to a similar question. The chefs need to focus more on the locals than the tourists. It's the locals who will keep coming back.
Aken then asked a question which was the topic of his book, "No Experience Necessary," asking, what experience or credentials are you looking for in a chef or their resume?
Brandon McGlamery, co-owner and executive chef at Luma on Park and Prato who was nominated as a James Beard Award semi-finalist for Best Chef South in 2013, expressed his thoughts on the subject.
"Kids are spending $40,000 or more on culinary school. I try not to look at resumes."
Blake joined in.
"We are still sharing our experiences."
She approaches those getting into the culinary scene by saying, "I know you learned this in school, but let me show you this."
Hunnel stated that there are three ingredients to finding success in the food industry. "You need passion, energy and desire."
The questions kept rolling in as each responded with brilliantly formulated answers. The panel was excellent in delivering quick responses that Norman and the press asked. And of course, there was the outstanding food in the test kitchen.
Rivers' The Coop, which will be located in Winter Park, will focus on fried chicken and other Southern comfort foods Rivers grew up eating.
The samples included chicken biscuits, which were warm, fired appetizer-sized chicken rolled up in a biscuit. Delicious, sweet maple bourbon drizzle accompanied it.
There were poached eggs in spicy tomato sauce, biscuits with an assortment of jellies and jams, and much more to stuff your face into.
I ate so much that I apologized to Rivers for eating everything in the test kitchen. He just patted me on the back and said, "That's great."
Rivers has just recently opened up his sixth lactation for 4 Rivers Smokehouse, which is on University Boulevard.
"This is the best turnout we've ever had for an opening," Rivers said in an interview with the Central Florida Future.
At the end of the event, the chefs stayed for their book signing: John Rivers, "The Southern Cowboy"; Norman Van Aken, "No Experience Necessary" and "My Key West Kitchen" ; and Brandon McGlamery, "9 Courses."
About the Author – Veronica Brezina

Hello foodies! My name is Veronica Brezina, a journalism student at the University of Central Florida. Currently, I write for the Central Florida Future, UCF's student-run newspaper, where I'm a contributor and a food blogger for the blog called Orlando's Tastebuds. I also write for hypeorlando in my blog, Crave Central, and a contributor for Financial Ops magazine. In the past, I was a visual team member and writer for UCF's magazine Centric in fall 2013.
I grew up in Tampa and spent a lot of time traveling to places in and out of the U.S. to experience different cultures, from eating Guatemalan cuisines in my grandmother's kitchen to American dishes in my parent's home. I know from first-hand experience, food is a huge part of everyone's culture. Here in Central Florida, it's a huge melting pot that gives me a hunger for writing and an appetite for adventure.